Britney Spears Pens New Open Letter to Jamie Lynn: "I Love You Unconditionally"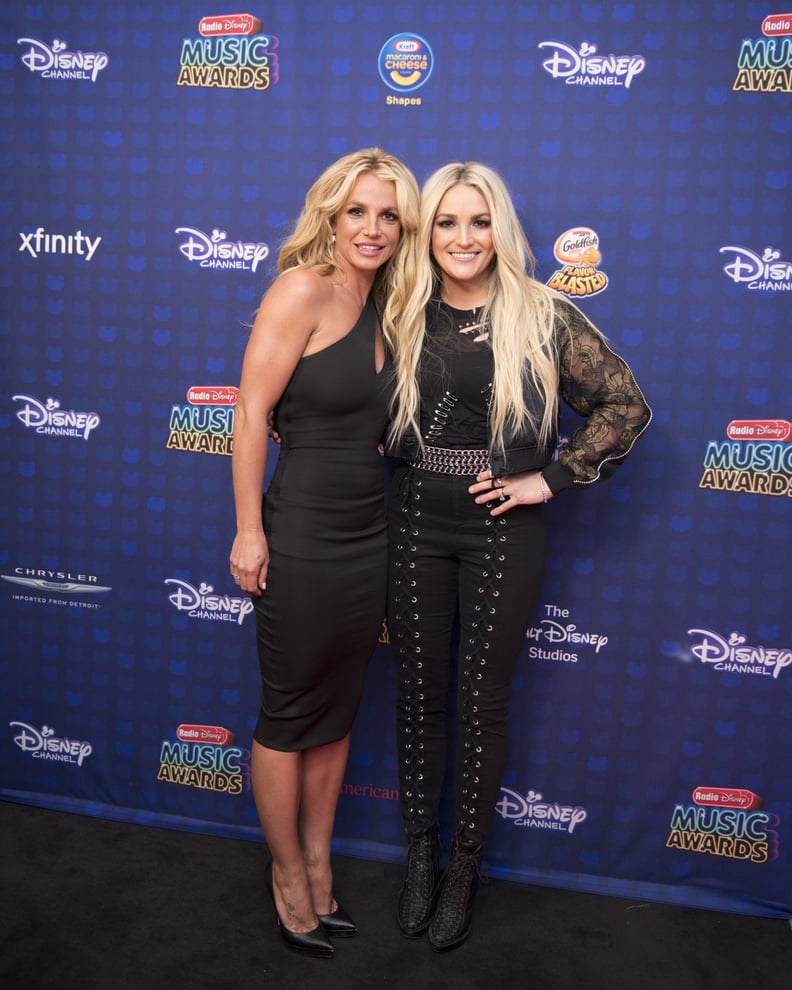 Britney Spears seems to be open to the idea of making amends with her younger sister, Jamie Lynn Spears. Following Jamie's interview with Good Morning America on Jan. 12, the 40-year-old pop icon shared a series of Notes App screenshots on Twitter on Saturday.
"Jamie Lynn ... I don't think your book 📚 is about me at all ... I said some harsh things because you obviously hurt me by the things you are making up about me !!!" she wrote. "When I said only a scum person would make up things like that about someone, I could have sworn I said "but you are not" 🤷‍♀️🤷‍♀️ ... but it doesn't make sense at all to me what you are saying !!! I know you worked hard for the life you have and you have done amazing ⭐ !!!!! But I think we would both have to agree to the fact that the family has never been remotely as hard on you as they have been on me !!!"
"I admire you for being strong ... just know I love you and I think you know that already more than anything !!!"
Britney also accused Jamie of not doing enough to help end her 13-year-long conservatorship. "I think the thing that saddens 😭 me the most is that when this all happened to me and when I called 📞 you from that place ... you would take days to respond !!! You would just text me days later and I was so scared ... I needed you ... my family, my blood 🩸 and you guys did absolutely nothing UNTIL a year ago !!! I said something on Instagram and you and Bryan showed up at my house ... because of an Instagram post !!! THAT makes me the saddest 😢"
She continued, "Say whatever you want to say just know that I do know your real heart ❤️ more than anyone !!! It's your life and you deserve a beautiful life !!!! I wish I would be able to do what you're doing and do interviews !!! I'm scared of all of it ... I admire you for being strong ... just know I love you and I think you know that already more than anything !!!"
During Jamie's interview, the 30-year-old actor discussed Britney's conservatorship as well as their complicated relationship. "I was happy . . . when it was put into place, I was a 17-year-old, I was about to have a baby, so I didn't understand what was happening, nor was I focused on that," she said of learning about Britney's conservatorship. "Once I realized that, 'You know what, she's in a conservatorship,' I felt like I just didn't want be part of [it] until maybe she was out of the conservatorship, so there was no like, me overseeing funds or something like that. And if it was, it was a misunderstanding, but either way, I took no steps to be a part of it."
Jamie also alleged that Britney once pulled out a knife and locked the two of them together in a room. "It's important to remember that I was a kid in that moment. I was scared. That was an experience I had. But I also was fearful to, like, really say anything because I didn't want to upset anybody or anything," Jamie said of the reported incident. However, Britney is accusing Jamie of spreading lies.
In a follow-up tweet on Friday, Britney called her sister out for stooping to a "whole new level of low." She tweeted, "I've never been around you ever with a knife or would I ever even think to do such !!! The only knife I ever saw you with at home was cutting the biggest pieces of squash I ever saw in my life and it was way too big for me to cut ... So please please stop with these crazy lies for the Hollywood books !!!"
Britney continued, "NOW and only NOW do I know only a scum person would make up such things about someone.... I'm actually very confused about you making that up because it's honestly not like you at all!!!! Around the kids???? Jamie Lynn, seriously??? Come on!!! Congrats on introducing your older sister the concept of getting LOW... LOWER... LOWEST... because you win on that one, babe!!!!"
Read Britney's full statement in the tweets ahead.