A Full Breakdown of Channing Tatum's Dating History
Channing Tatum is one of the biggest heartthrobs in Hollywood. He's made us swoon by playing the hunky lead in romantic movies like "Dear John" and "The Vow" and also made us laugh with comedies like "21 Jump Street" and "Magic Mike." Still, we can't forget the movie that made us first fall for him: "Step Up," in which Tatum plays a hip-hop dancer named Tyler Gage opposite Jenna Dewan's Nora Clark. The pair's chemistry throughout the film is on fire, so it was no surprise they eventually took their romance off-screen.
Tatum and Dewan dated each other for three years before tying the knot in 2009. After seven years together, the stars welcomed their first child, a daughter named Everly Tatum, in 2013. However, in 2018, Tatum and Dewan announced their separation after nine years of marriage.
Since then, Dewan has moved on with fellow actor Steve Kazee, while Tatum has dated Jessie J and currently Zoë Kravitz.
In honor of his recent engagement to the latter, let's revisit Tatum's dating history ahead.
01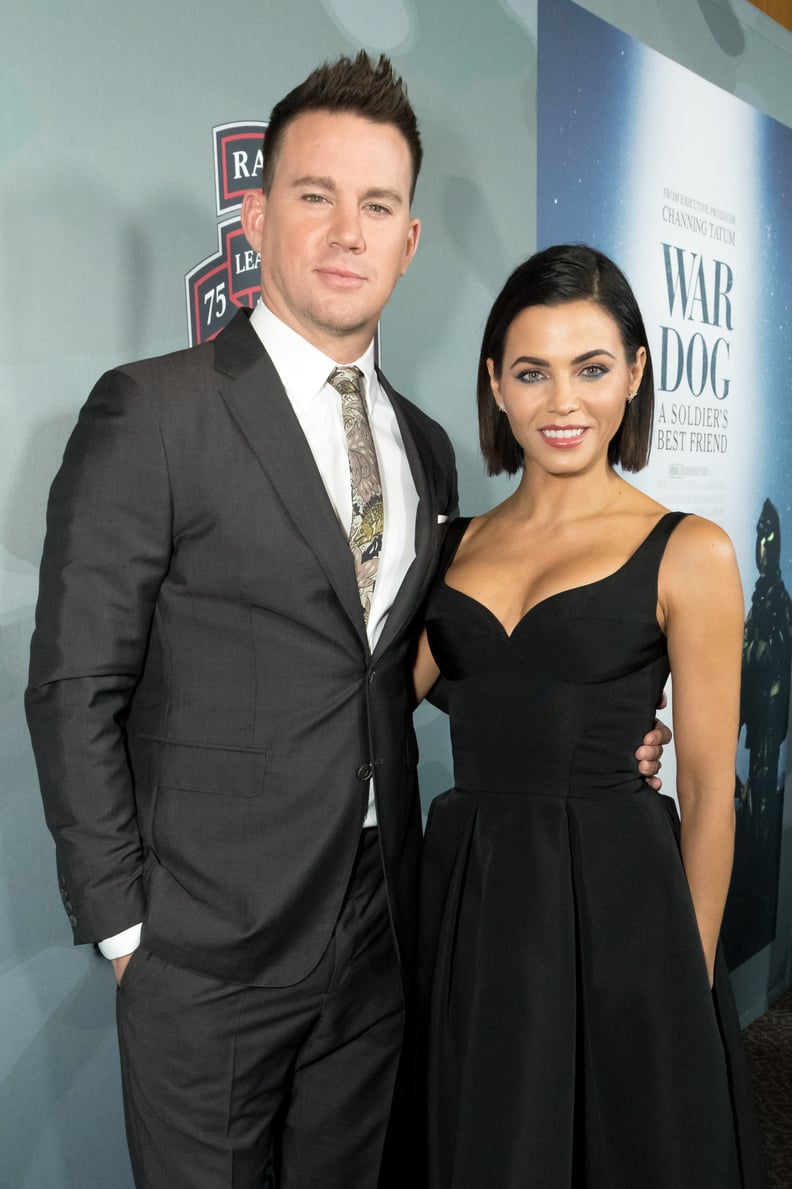 Jenna Dewan (2006-2018)
Tatum and Dewan began dating shortly after meeting each other on the set of "Step Up" in 2006. They were together for two years before Tatum proposed to Dewan during a vacation in Hawaii in September 2008. According to People, the "21 Jump Street" actor popped the question while surrounded by the couple's closest friends, who flew all the way out to Maui to witness the special moment.
The pair exchanged vows in July 2009. That same month, Tatum raved about life as a married man in an interview with People. "I'm as happy as I possibly can be on the planet right now," he said. "We've been together, and nothing's really changed. It's pretty much the same as I've felt every day since I met her — and that's just about perfect."
In May 2013, Tatum and Dewan welcomed their daughter, Everly Tatum. Dewan gave birth in London, where Tatum was filming his movie "Jupiter Ascending" at the time. Tatum later opened up about parenting with Dewan in a July 2015 interview with Vanity Fair. "It's scary. You made this thing and have to bring it into the world together. You think people are going to be there, but ultimately you just have each other," he said, before praising his wife. "Jenna is a super mom. There's no other way to say it. She is there every single second, every single day."
After 12 years together, Tatum and Dewan announced their breakup in April 2018. "We have lovingly chosen to separate as a couple," they wrote in a joint statement on Instagram. "We fell deeply in love so many years ago and have had a magical journey together. Absolutely nothing has changed about how much we love one another, but love is a beautiful adventure that is taking us on different paths for now."
The stars clarified that "no secrets nor salacious events" caused their split. They just decided to go their separate ways because they realized they needed "space" in order to "live the most joyous, fulfilled lives as possible." Tatum and Dewan ended their statement by saying they were "still a family" and would "always be loving dedicated parents to Everly."
In October 2018, Dewan officially filed for divorce, which was finalized in November 2019.
02
Jessie J (2018-2019)
Tatum's first relationship following his split from Dewan was with Jessie J. They were first romantically linked in October 2018 after Tatum was seen supporting the "Domino" singer at her concerts in Seattle and Salt Lake City. However, Us Weekly reported that the couple had been dating for "a couple months" before news of their relationship first broke. At the time, a source reportedly told the publication that Tatum and Jessie J were "having fun together."
That November, Tatum took his daughter, Everly, to one of Jessie J's shows in Los Angeles, per E! News. Jessie J also attended the opening night of Tatum's "Magic Mike Live" show in London and shared a photo from the event on Instagram, according to the outlet. "Congratulations @channingtatum what a show," she wrote. "Ladies and Gentlemen you don't want to miss this."
Over the next few months, the couple continued flaunting their love on social media. For example, after Jessie J shared a steamy bikini photo on Instagram in March 2019, Tatum commented, "Hottest Instagram food model in [the] game right now." Later that March, he also dedicated a post to Jessie J for her 31st birthday. "Wishing you the happiest day filled with all the love and all the light," he wrote. "You came into this world on this day and lit it on fire. You have blessed our eyes, our ears, our hearts and our lives. So thank you for just being you. You are so very special. Happy birthday Baby."
In May 2019, Tatum and Jessie J showed off some PDA by holding hands and embracing each other while taking a trip to Disneyland. That September, Tatum showed his support for Jessie J again by attending another one of her concerts in Brazil, where he was pictured taking videos of his girlfriend on stage, per The Sun.
Tatum and Jessie J's relationship came to a halt by the end of 2019. "Channing Tatum and Jessie J broke up about a month ago," a source told Us Weekly that December. "They are still really close and still good friends."
03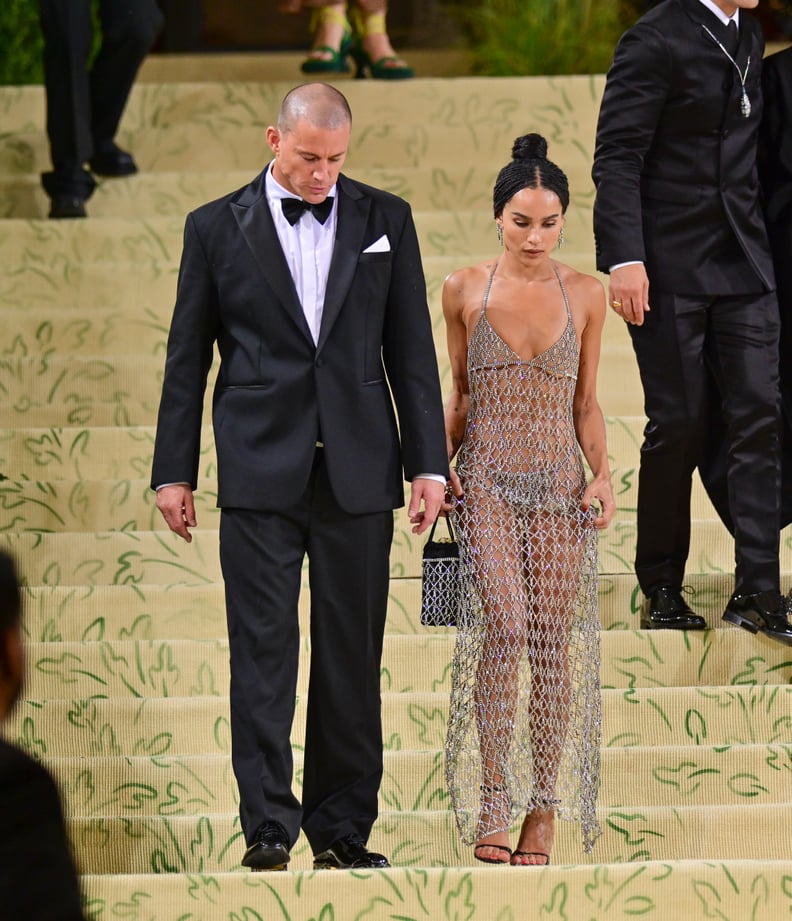 Zoë Kravitz (2021-Now)
In August 2021, Tatum sparked rumors that he had moved on with Kravitz when the pair were seen hanging around New York City together. The speculation came around the same time Tatum had begun filming "P*ssy Island," a thriller that Kravitz cowrote and directed.
After they were spotted leaving a supermarket together a few days later, Entertainment Tonight reported that Tatum and Kravitz were a couple. "It started out as a friendship and eventually turned to be more," a source reportedly told the outlet. "The duo was recently spotted at a restaurant in New York City being very affectionate."
That September, Tatum and Kravitz continued to heat things up by leaving the Met Gala together. According to People, they attended the afterparty together, where they supposedly "did not take their hands off of each other" throughout the whole night. Tatum and Kravitz also spent Halloween together that year. They dressed up in matching "Taxi Driver" costumes, which they showed off on their Instagram Stories, per People.
By February 2022, it seemed Tatum had become besties with Kravitz's stepdad, Jason Momoa. The "Aquaman" star shared photos with Tatum on Instagram that showed the pair getting ready to board a plane for the premiere of Kravitz's "The Batman." Momoa also wrote the cutest caption: "SO EXCITED @channingtatum and I are on our way to see our ZOZO."
Kravitz opened up about her relationship with Tatum in an interview with GQ that November. "He's just a wonderful human," she began. "He makes me laugh and we both really love art and talking about art and the exploration of why we do what we do. We love to watch a film and break it down and talk about it and challenge each other."
The actor also said that while she was busy directing "P*ssy Island," Tatum would offer to help her whenever he could. "Whether it was making me tea or pouring me a drink or going to whip someone into shape or whatever — he really was my protector and it was really wonderful and sweet," she said.
In that same interview, Kravitz explained why she and Tatum hadn't really talked about their relationship up until that point. "You want to keep it sacred and private as long as you can," she said. "So that you don't have to even think about what the world thinks about it."
In October 2023, Tatum and Kravitz took their relationship to the next level when multiple sources told People that the couple had recently gotten engaged! The weekend right before Halloween, the two were seen leaving a party together wearing matching costumes, and photographers captured snaps of Kravitz wearing what appeared to be an engagement ring. The couple have yet to comment on their engagement news.