Chris Noth Accused of Sexual Assault and Predation
Chris Noth Accused of Sexual Assault by a Fourth Woman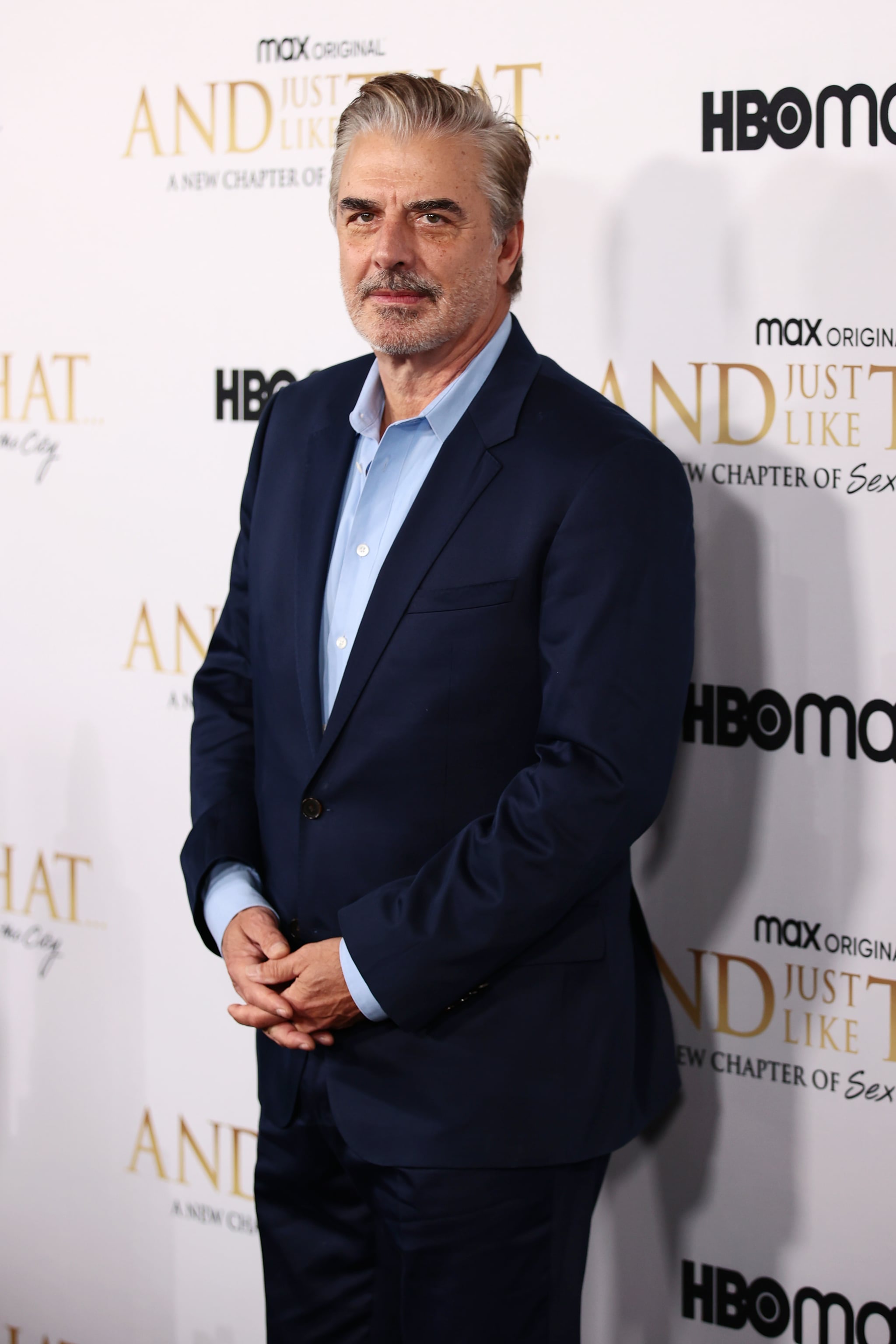 Image Source: Getty / Dimitrios Kambouris
Chris Noth has been accused of sexual assault by four women and "sexually inappropriate" behavior by another. Two of the alleged survivors told The Hollywood Reporter — under the pseudonyms Lily and Zoe — that the Sex and the City reboot, And Just Like That, triggered them to come forward. A third alleged survivor, under the pseudonym Ava, spoke to The Daily Beast and POPSUGAR about how her story initially went unheard. Country-pop singer Lisa Gentile spoke out about her alleged sexual assault on Thursday.
Lily, a 31-year-old journalist, reached out to The Hollywood Reporter in August to share her story, and Zoe, a 40-year-old working in the entertainment industry, reached out to the outlet in October. "Seeing that he was reprising his role in Sex and the City set off something in me," Zoe told the outlet. "For so many years, I buried it." Now, Zoe has decided "to try to go public with who he is."
Zoe recalled meeting Chris in 2004 while she was working at a firm in Los Angeles that celebrities conducted business with. She was 22 and he was 49 at the time. "This was peak Sex and the City," she told THR. "He was like a god to us." The now-40-year-old alleged that Chris began calling her work number and leaving "kind of flirty" voicemails. Her former boss backed up the claim while speaking to the outlet. Things then escalated when he reportedly invited her over to the pool at his apartment building, where her friend also lived. While in the jacuzzi, Chris allegedly left a book for her to read and asked her to return it to his apartment when she had a chance to look through it. Zoe alleged that at his apartment, he raped her.
Meanwhile, Lily told THR that she met Chris while working as a VIP section server in a New York City nightclub when she was 25 and he was 60. He was married with children at the time. The journalist said she was "truly star-struck" at the time and was thrilled when he asked her out to dinner. The two reportedly had drinks and then went to his apartment, where Chris allegedly raped her. "I was feeling awful. Totally violated. All of my dreams with this star I loved for years were gone," she told THR.
In a statement to THR, Chris responded to the sexual assault allegations, calling them "categorically false." "These stories could've been from 30 years ago or 30 days ago — no always means no — that is a line I did not cross," he said. "The encounters were consensual. It's difficult not to question the timing of these stories coming out. I don't know for certain why they are surfacing now, but I do know this: I did not assault these women."
Ava came forward with her story to The Daily Beast on Friday. The woman, a 30-year-old tech CEO, claimed the alleged assault took place when she was 18 working as a hostess at the New York City restaurant Da Marino. At the time, she was pursuing an acting career. Ava was open about the experience to her family and friends at the time of the alleged assault. She also spoke out about it in 2017 amid the height of the #MeToo movement, when survivors would share their stories of alleged sexual assault by other celebrities in email chains. Regardless, her accusations of Chris were never reported on.
POPSUGAR spoke with Ava about how she felt about the resurgence of Chris in the spotlight amid the AJLT reboot and the now-fallout amid sexual assault accusations. "It did take me finding my own success in business to feel confident enough to share my story in 2017 . . . Much of me hoped my experience with Noth was unique or at least not something that happens anymore," she shared. "Reading the 2015 account from Hollywood Reporter and Noth's statements in response to our stories was disappointing." Ava admittedly said that when the SATC movies came out years after her assault, she and her friends "boo'd and flung popcorn every time he came on screen. Not the most mature response, but honest."
Following her decision to share her story with The Daily Beast, Ava said, "My family and I have spent a week in fear." She's also had a sense of relief that other women are being heard. Rather than stick behind their longtime costar, Sarah Jessica Parker, Cynthia Nixon, and Kristin Davis released a statement in support of "the women who have come forward and shared their painful experiences." Ava told PS she feels "grateful for the support of these powerful women, and hopeful it encourages others to feel safe sharing their accounts." The tech CEO added, "Their commendations remind me of why I shared my experience in the first place: for the well-being of other women, for personal closure, and as a catalyst for his self-reflection."
After Ava moved on from life as an actor, she had a big moment of realization about how instances of sexual assault continue to plague the industry. "Actors are taught they are expendable and replaceable. After starting my own company, I understood a major issue when I was acting was that there was rarely, unlike in business, harassment prevention training or an HR department to file complaints with," she shared, noting, "But this is changing. The industry is listening now, and it's important to come forward with honesty if something happens to you."
Ava alleged that on one occasion, Chris pulled her onto his lap and groped her. At first, she said, she found it "electrifying" because he used those same hands to hold the fictionalized Carrie Bradshaw. The tech executive told The Daily Beast that on another night, the actor followed her through the kitchen of the restaurant and into the office where she went to get her paycheck. "He acted as if we had intentionally snuck off together clandestinely," Ava said of Chris, whom she claimed was heavily intoxicated. The SATC actor then began to digitally penetrate her until he felt a tampon, she claimed. "At first, it felt as though I was the only person in the universe who could hear me saying no," she reported. "I was so hopeful that would be the end of it." However, Chris allegedly continued to pursue her. "He wasn't hearing 'no,' but he heard me when I said 'not here' and convinced him that I would meet him somewhere else," she said, adding that he allegedly offered to send a car to her place but she did not answer.
The tech CEO reported it to her parents, who then told Da Marino, but they wouldn't believe her. The restaurant did not respond to The Daily Beast's request to comment. Chris's publicist told the outlet the actor "denies this as ever happening and has no idea who this woman is."
In the wake of Zoe, Ava, and the actress Zoe coming forward about their alleged sexual assault, Lisa has claimed she experienced the same. During a press conference on Thursday, the singer, alongside her attorney Gloria Allred, gave a testimony of the alleged assault in 2002. Like Ava, Lisa said she met Chris at Da Marino.
The two "became acquaintances," Lisa claimed. On one night, Chris offered to drive her home and asked to go into her apartment, the singer alleged. While in her apartment, "He started kissing me almost right away. Then he leaned against the kitchen countertop and forcibly pulled me against him," adding that he "became more aggressive" as he groped her breasts, the country-pop singer claimed. Chris then exposed himself and pulled Lisa's hand down to touch his erection, she claimed at the press conference. "No, I don't want this," she recalled telling the actor, who then reportedly stormed out of her apartment calling her "a tease and a b*tch." Lisa alleged that Chris called her the next day and threatened that if she ever told anyone what happened, "he would ruin my career, that I would never sing again, and that he would blacklist me in the business." The singer decided to speak out about the alleged sexual assault "in support of the other four women who have courageously come forward before me." She then suggested other alleged survivors seek legal action against Chris. "I feel that we should have our day in court to seek to hold Mr. Noth accountable for what he did — and also speaking out to ensure the rights of my nieces, my goddaughter, and future victims of sexual harassment and assault," Lisa concluded.
The singer and her attorney, Gloria, also responded to the statement from the leading AJLT women who condemned Chris. "Lisa and I appreciate their words of support for the previous accusers of Chris Noth, and now we urge Sarah, Cynthia, and Kristin to take action to speak out in support of the Adult Survivors Act as Lisa and I are doing today," Gloria said, nothing that the statute of limitations to seek criminal action against Chris has expired in Lisa's case.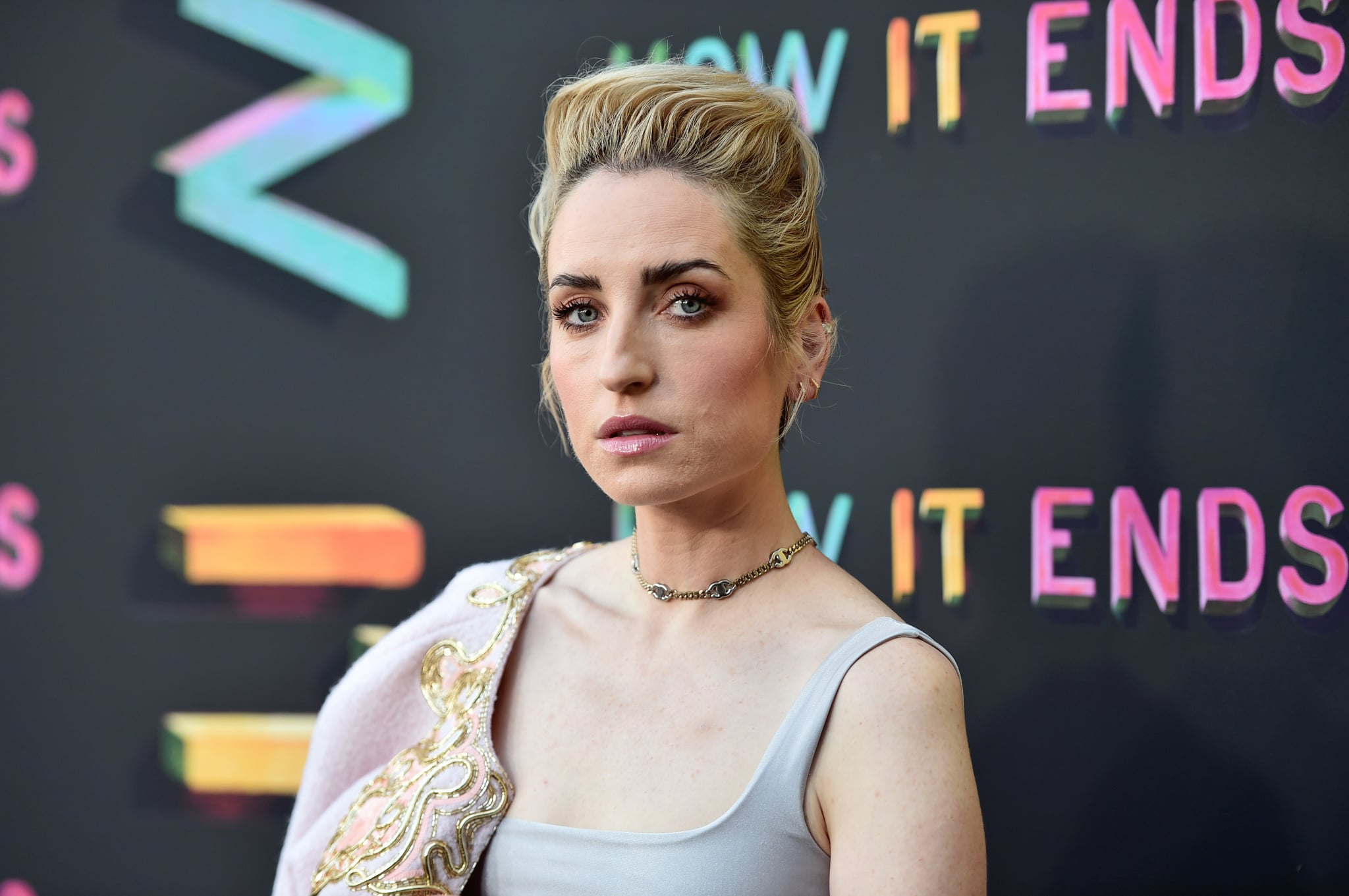 Image Source: Getty / Alberto E. Rodriguez
Zoe Lister-Jones also spoke out about her alleged assault following the THR report. In an Instagram post, the actress said a friend had asked her for her reaction about Chris's And Just Like That character, Mr. Big, dying in the first episode, to which she candidly admitted, "I felt relieved." "I couldn't separate the actor from the man, and the man is a sexual predator," Zoe alleged. "I hadn't thought of this man for so many years, and yet there was a virility to my language that came from somewhere deep and buried."
Zoe claimed that while working at a New York City nightclub owned by Chris (The Cutting Room in Manhattan), the Sex and the City actor was "consistently sexually inappropriate" toward her and a fellow female promoter. She also alleged that while she worked as a guest star on Law & Order, Chris was "drunk on set." "During my interrogation scene he had a 22 oz. of beer under the table that he would drink in between takes," Zoe claimed. "In one take he got close to me, sniffed my neck, and whispered, 'You smell good.' I didn't say anything. My friend at the club never said anything. It's so rare that we do."
She continued, "My experiences are small in comparison to the accounts of assault that have so bravely been shared today. But navigating predation at any level is a burden all women have to bear. And for the most part there is no accountability, and no consequence." Zoe added, "Chris Noth capitalized on the fantasy that women believed Mr. Big represented." A rep for Chris did not respond to People's request to comment on the allegations. However, a source told the outlet, "To allege Chris was drunk on the set of Law & Order is also entirely false."
After the first three alleged victims came forward, Chris was dropped by his talent agency and CBS crime drama, The Equalizer. Though Chris will no longer be a part of the TV show, he is seen in "one original upcoming episode" as well as encore episodes of the show that may air in the future, Variety reports.
Chris's And Just Like That character, Mr. Big, dies of a heart attack in episode one of the reboot after completing a ride with his favorite Peloton instructor, Jess King. In an effort to combat the association of its bikes with death, Peloton released a cheeky commercial spearheaded by Ryan Reynolds's Maximum Effort marketing company on Dec. 13 featuring Chris and Jess. The ad emphasized the health benefits of cycling.
Following THR's report on Chris's sexual assault allegations, Peloton removed the ad from all of its social media outlets. Ryan, who does a voice-over in the commercial, also took down the ad from his Twitter account. In a statement to THR, a Peloton spokesperson said, "Every single sexual assault accusation must be taken seriously." They further explained, "We were unaware of these allegations when we featured Chris Noth in our response to HBO's reboot. As we seek to learn more, we have stopped promoting this video and archived related social posts."
If you or someone you know would like to speak with someone who is trained to assist sexual assault survivors, please call the National Sexual Assault Hotline at 1-800-656-4673.