There Is No Better "A-Team" Than Ed Sheeran and His Celebrity Pals
Ed Sheeran may be BFFs with Taylor Swift, but it seems like he's also friends with everyone else. From his early friendships with Courteney Cox and Jennifer Aniston to his more recent relationship with The Weeknd, the "Shape of You" singer has no shortage of celebrity pals. Sadly, he's also lost a few friends on his road to stardom. In the March issue of Rolling Stone magazine, the British crooner blamed the Forbes list for "f*cking it up." "I was getting texts from people with pictures of cars going, 'I'd like this for my birthday, please. This one's only .06 percent of your annual income,'" he said, referring to when they reported that he made $57 million in 2015. Still, something tells us Ed is doing just fine.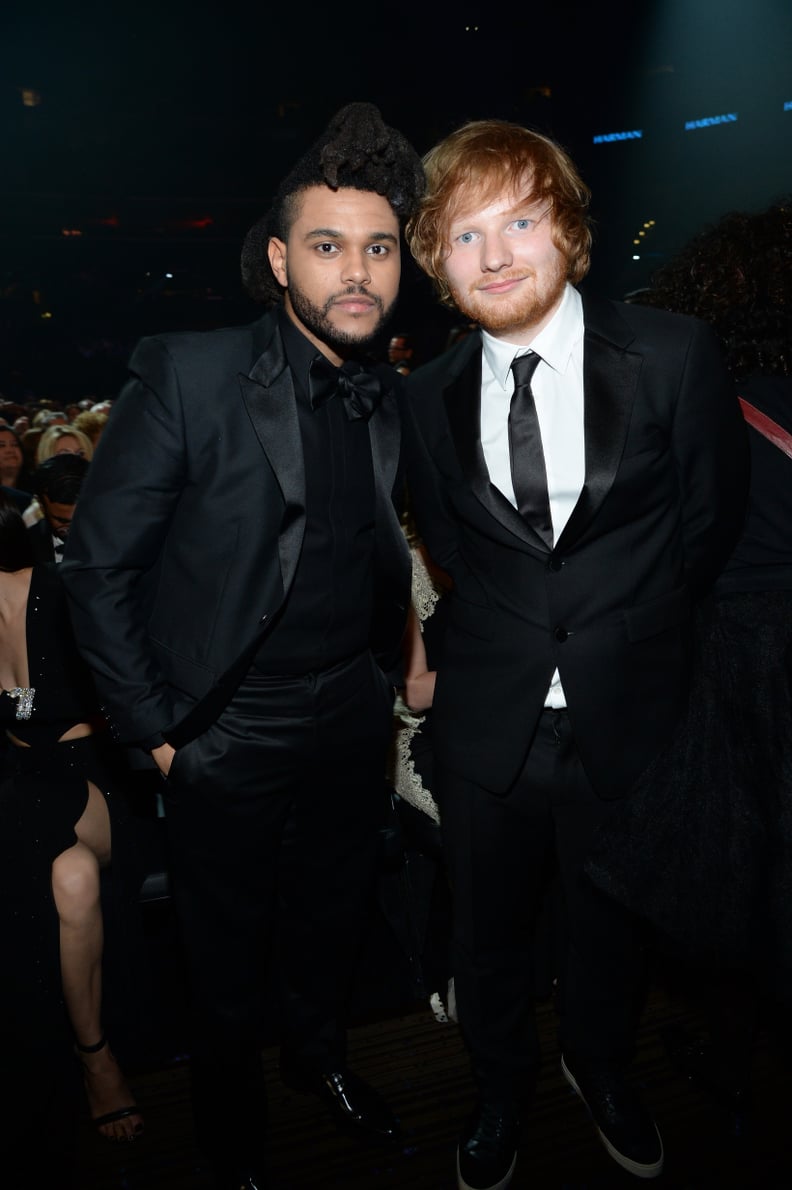 The Weeknd
The Weeknd and Ed Sheeran's 2015 "Dark Times" duet marked the beginning of their friendship. During an interview with Beats 1 back in July 2015, the "Shape of You" singer revealed "he ended up at The Weeknd's house" when he was in Toronto. "When we were at the party, we were really drunk, and he was like, 'You should come to my house tomorrow! We should write a song!' And in my head, I'm like, the Weeknd doesn't wanna write a song — The Weeknd doesn't work with anyone. He's got one feature on his album, which is Kanye West. He doesn't wanna do that. And then the next day, he hit me up again, so I went, and we wrote this song, which is really, really f*cking good."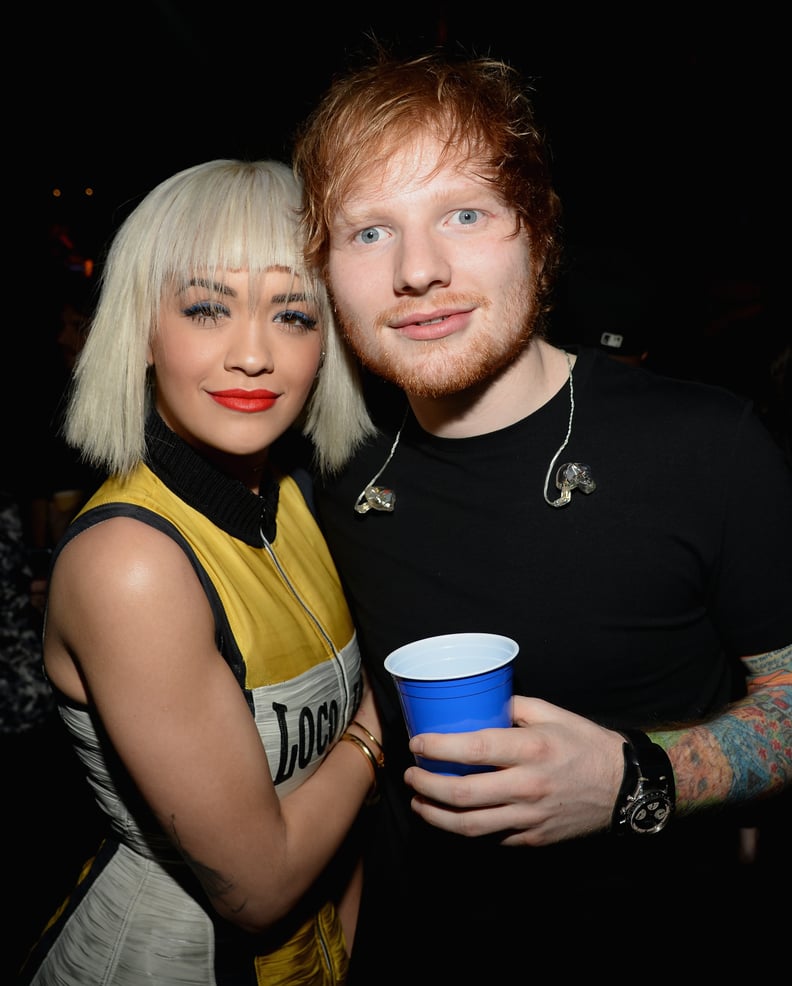 Rita Ora
Not only has Ed written songs for the "Body on Me" singer, but Rita even wrote a song about their friendship. In an interview with Noisey back in May 2015, Rita referred to Ed as "one of my best friends," saying, "It's amazing having a friend in this industry of the opposite sex that you haven't hooked up with. He's such a legend. I respect him in so many ways."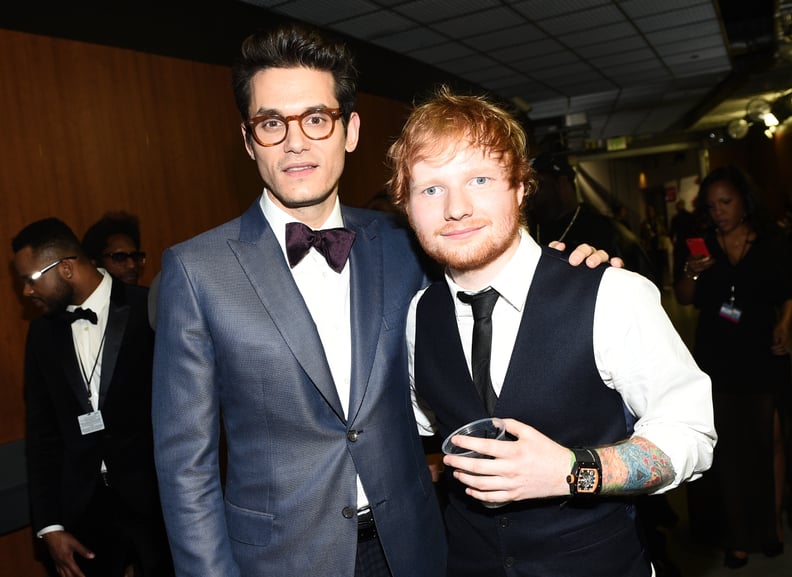 John Mayer
While it's unclear whether or not Ed and John met through John's ex-girlfriend Taylor Swift, the duo both agreed to design tattoos for each other and they debuted them during an appearance on The Late Late Show in 2015. Ed has the words "Kool Guy" on his right arm, while John has a cat on his chest.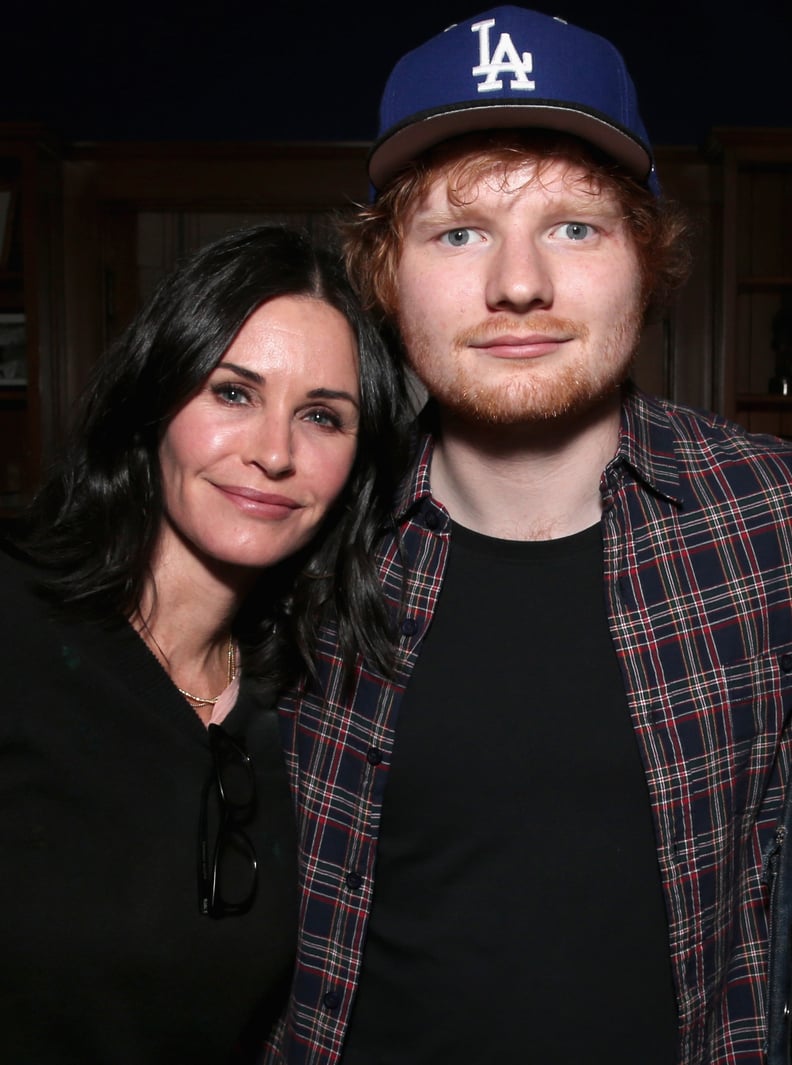 Courteney Cox
Before Ed made it big, he attended a party at Courteney's house and they hit it off. Courteney then let him crash in her Malibu beach house for free while Ed was writing his 2014 album, X, and in return, Ed introduced Courteney to her fiancé, Johnny McDaid. Although Courteney and Johnny later called off the wedding in December 2015, they reunited a few months later.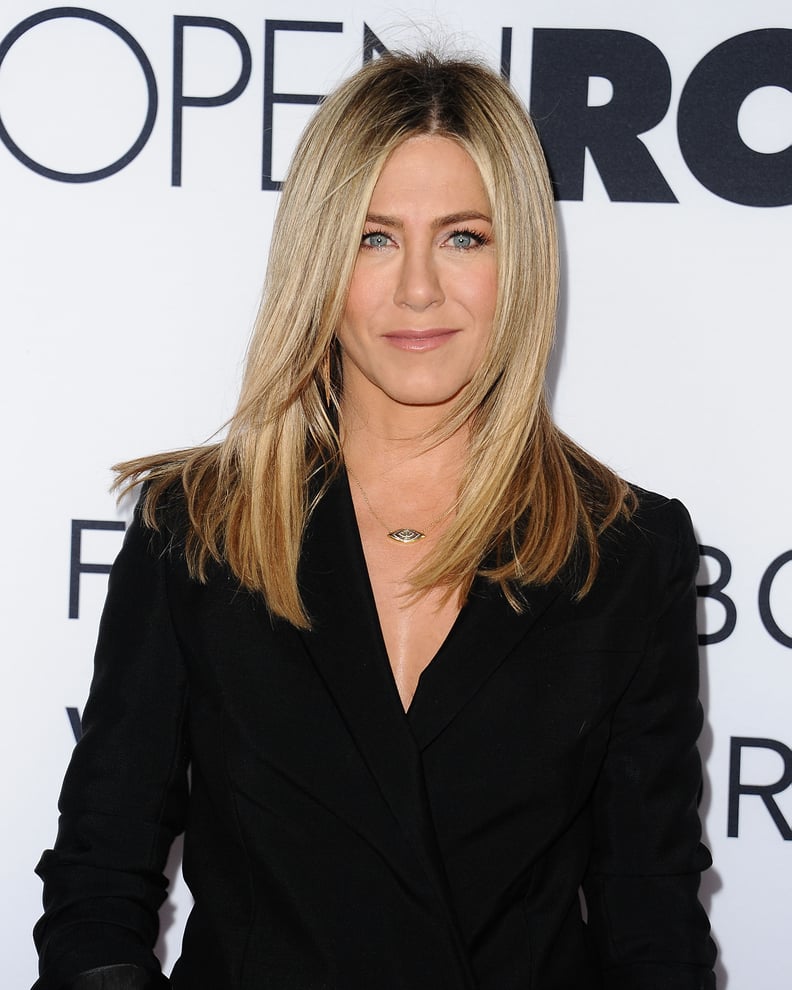 Jennifer Aniston
Ed met Jennifer when he was living at Courteney Cox's beach house in 2013. In a previous interview with Yahoo, the British crooner revealed that he spent Thanksgiving Eve passed out at Jennifer's house. "We spent Thanksgiving Eve at Jennifer's before spending the day at Courteney's," he explained. "I passed out . . . she has this crazy house with a big staircase that goes down to the pool. I had drunk a bit too much and needed a time out, so I went down and laid on one of the beds outside by the pool and passed out there."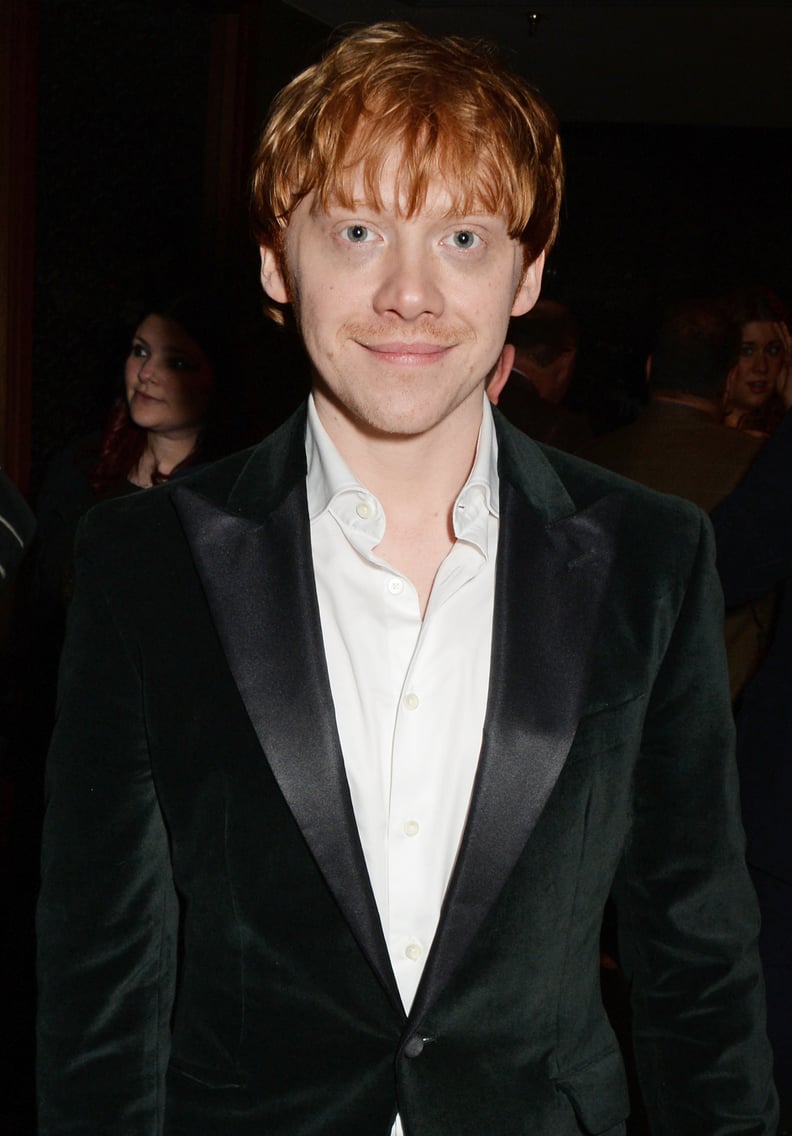 Rupert Grint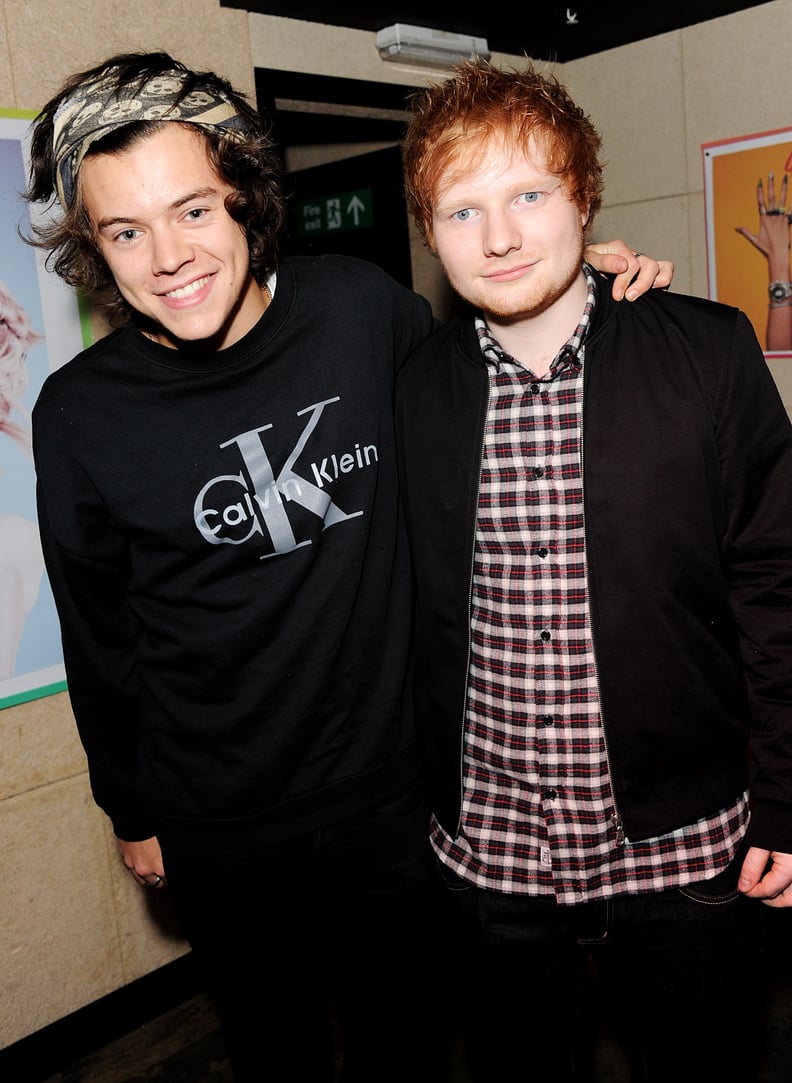 Harry Styles
Despite Harry's split from Taylor Swift, the pals have managed to remain close. Ed actually tattooed a padlock on the One Direction singer's wrist, which Harry has now come to regret. In 2015, Ed spoke with New Zealand's ZM Online and confirmed what we had all been wondering at the time: Harry does not have a small penis.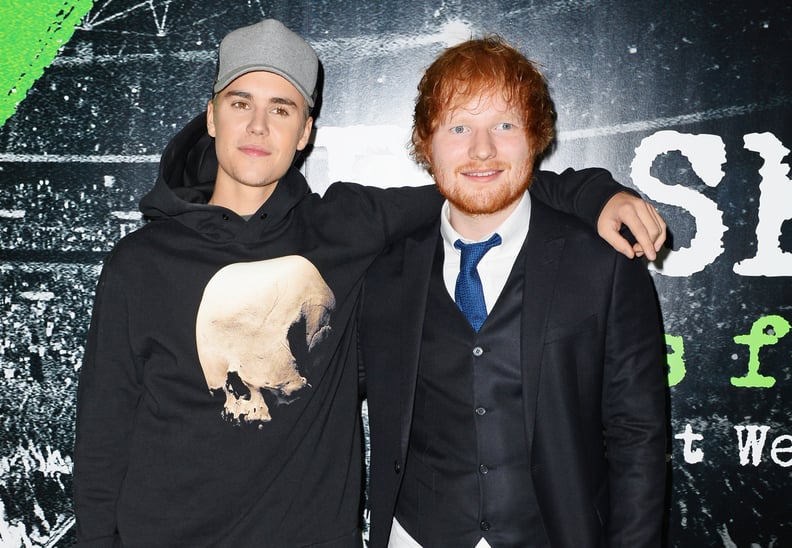 Justin Bieber
Ed and Justin have been friends for quite some time now, and the English singer even wrote both "Love Yourself" and "Cold Water" for Justin. In an interview with The Guardian in March, Ed revealed he once accidentally "smashed" the "Sorry" singer in the face with a golf club. "We were in Japan," Ed explained. "We'd been out to a dive bar. He just drank water and I got hammered. Then we went to a golf course, and he lay on the floor and put a golf ball in his mouth and told me to hit it out of his mouth."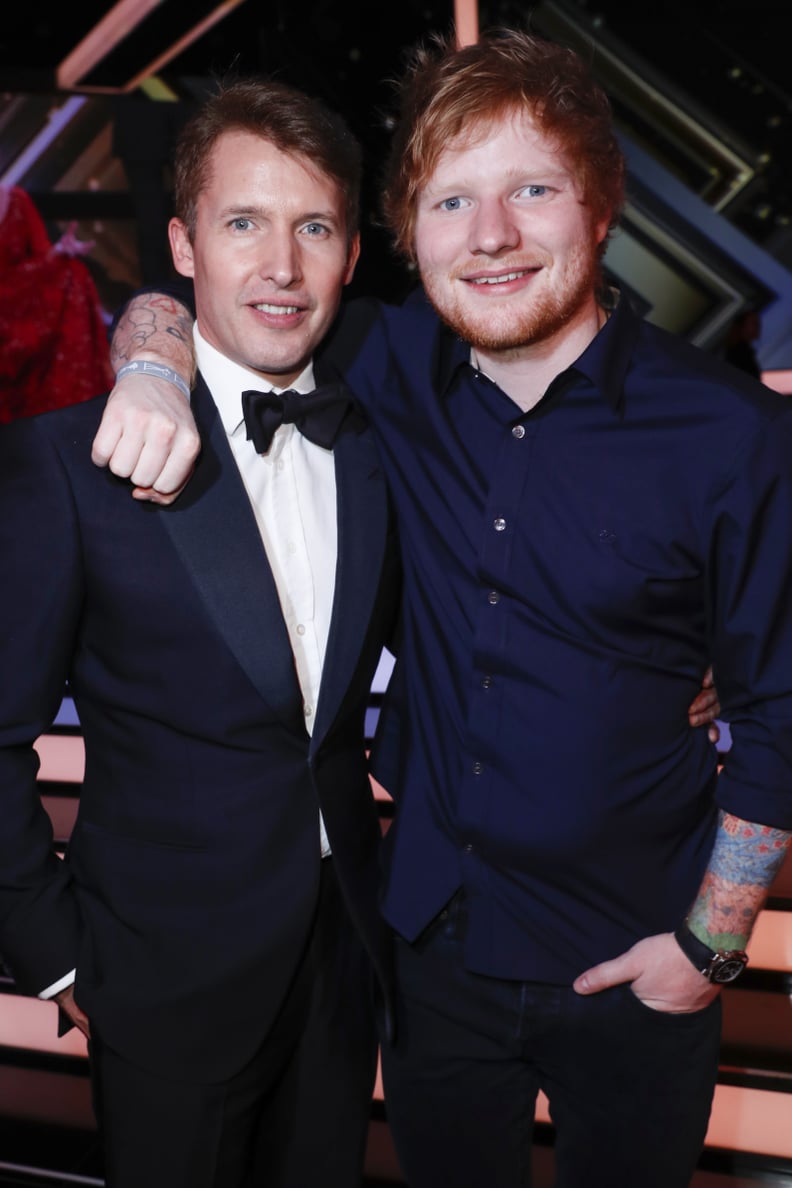 James Blunt
It's not clear when Ed and James first met, but the "You're Beautiful" singer recently revealed that Ed played a big part in helping him rethink his career. "After my first album that got a bit of criticism, I probably shut down a little bit," he explained. "Ed Sheeran is a remarkably open, direct lyricist. He just opens up and says something honest." James also recently told a story about how Ed's face got sliced open by Princess Beatrice during a prank knighting ceremony, which he later admitted was a hoax.
Taylor Swift
Taylor and Ed first met after he heard she'd been writing his song lyrics on her arm during a show in Australia. From there, he linked up with her manager, the singers collaborated on "Everything Has Changed" in 2012, and Ed ended up joining Taylor for several dates on her Red tour throughout 2013. Since then, the duo has shared plenty of wonderful moments together, including Taylor's reaction to Ed's win at the Grammys in 2016.