Eladio Carrión's "3MEN2 KBRN" Album Features Many Collabs
Eladio Carrión's "3MEN2 KBRN" Album Is Silencing Doubters and Pushing His Genre Forward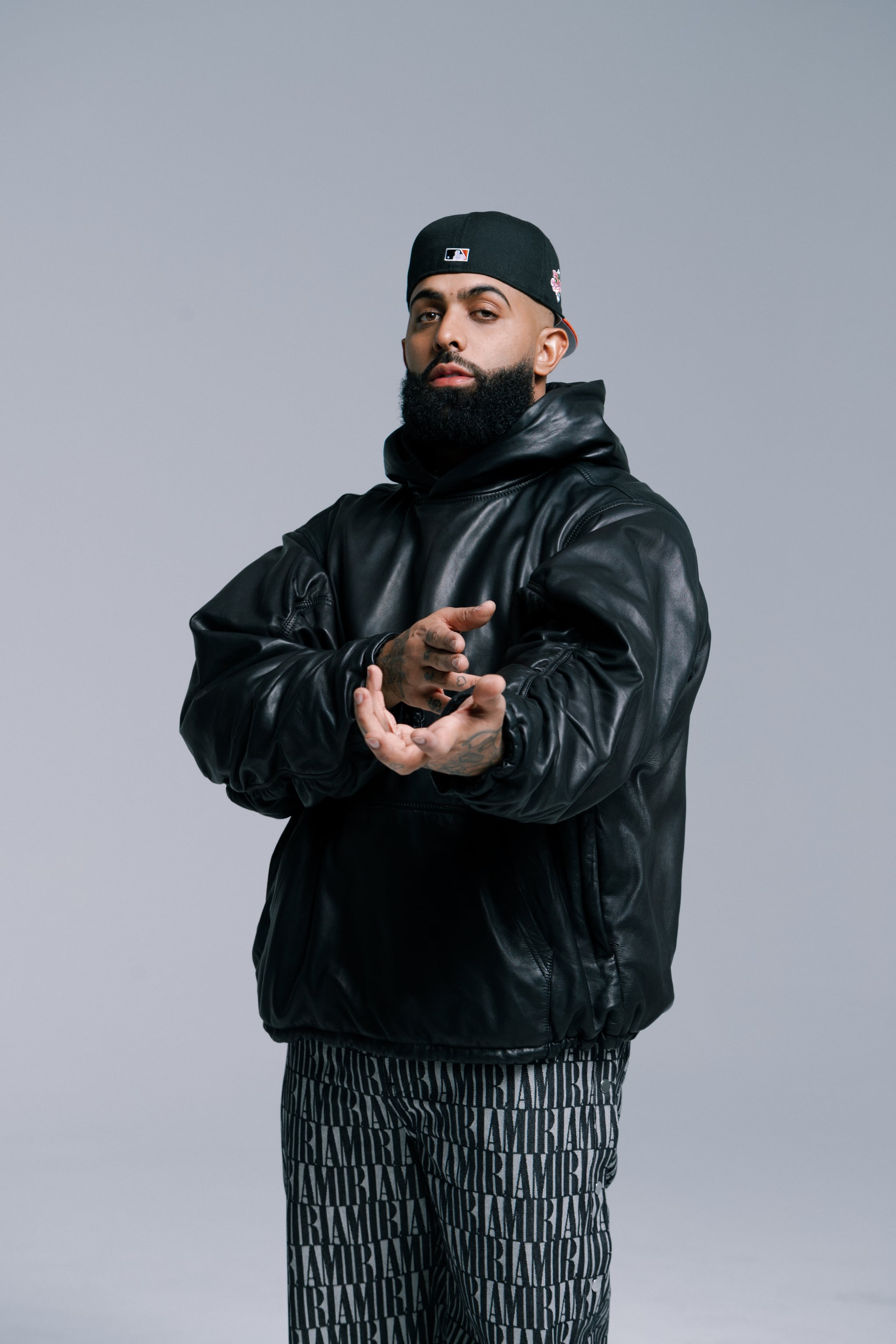 Eladio Carrión is a busy man — even by industry standards. Since the release of "SEN2 KBRN Vol.2" last November, the artist has been traveling, filming videos, and doing press interviews pretty much nonstop. Whenever his docket is clear, Carrión can be found in the studio putting in more work, or "practice," as he calls it. So much so that getting a moment to chat with him required months of staying in communication and shifting around schedules. But when he finally sits down, dressed in a black hat, a black hoodie, and a glistening chain, he's wearing the smile of a job well done.
"I just turned in the album yesterday, so I'm happy. I've got a little bit of a chip on my shoulder," the artist tells POPSUGAR.
The album in question? It's titled "3MEN2 KBRN" (which stands for "tremendo cabrón"), the third and final installment of the "SEN2 KBRN" series (released March 17), and it's available across all streaming services. As for the chip on his shoulder, it's well deserved. Featuring a who's who of both English-language and Latin trap stars, Carrión has been involved in every aspect of this project from beat selection to securing some of its biggest collaborations since before the last volume dropped.
"It's been a lot of hours in the studio . . . like 16-hour sessions every day just trying to get the right sound with the producers making the beats," the rapper says. "The last three months have just been work. Just going to the gym musically."
Now, with the finished product in the hands of his label, Carrión beams with pride at the fruits of his artistic labor. "At the end of the day, the feeling you get when you tune into that album and see that track list, the way I'm feeling right now, it's worth every hair I've lost, every sweat I broke, and every sacrifice I've made so far," says Carrión.
But for the 28-year-old, hard work and sacrifice are all just a part of the path he feels he has been chosen to walk, one that he's been preparing for since before he even thought about doing music professionally.
But if his path to music was preordained, it was anything but a straight one. Born in Kansas, Carrión was comfortable being on the go from a young age. He had to be. Having a father in the Army meant moving around a lot. The trapero recounts a childhood spent living "everywhere," including places like Hawaii and New York (and even Alaska), before eventually settling in Humacao, Puerto Rico.
"It was kind of hard in the beginning, when you're a kid you've got your friends and you have to say bye and make new friends," he says. "But I'm so glad I was exposed to that type of lifestyle at such a young age, because now, with what I'm doing musically, I'm never home. I feel like God prepped me for what was coming."
But along with helping him develop a comfort for being always on the go, the constant change of scenery exposed the young lyricist to new cultures and music, helping him develop the versatility that's become his trademark. "I think I have one of the richest musical backgrounds in the industry," he says. "You know I was born in the States, and my sisters are like 10 years older than me, so they're big hip-hop heads. So, when I was like 6 or 7, I was listening to Eminem and 50 Cent, but I also had my sisters listening to Pac, Nas, and Big L. And then there was also a time when I was only listening to punk rock."
This diverse musical taste means that when Carrión steps into the studio, he has a wealth of musical knowledge to draw from — something that's evident even in some of his earliest work: his song parodies produced on the now-defunct social network Vine. While the overall intent of the parodies was to be funny, Carrión displayed a knack for songwriting that saw him create comical narratives while effortlessly impersonating popular artists. And as his following grew, his parodies became more complex.
"Yal," for example, which has its own official video, sees a young Carrión mashing up two different songs, Keyshia Cole's "Love" and Rihanna's "Work," to weave an ode of appreciation a todos las yales (Puerto Rican slang that comes from the Jamaican word "gyal" and Carrión uses to describe a woman who is street and loves reggaeton). The single is significant not only for its standing as one of Carrión's best parodies, but because it was also the catalyst for him seriously pursuing a career in music.
"That [song] went crazy in Puerto Rico. I was doing shows off of that. And at that time I was already writing for other artists," he says. "So, I had a sitdown with Noah [Assad, the cofounder of record label Rimas], and I said, 'Noah, we can do this. I have music. We can do this.'"
That conversation coincided with Carrión feeling more disenchanted as just a writer. His spot-on impressions of reggaetoneros had caught the attention of more than a few who then brought him on to write for them. But as he transitioned from writing songs in their respective styles to writing songs on his own, Carrión felt like he was giving more of himself away. With the success of "Yal" and the feedback from fans, he owed it to himself to give music a serious shot. Albeit with one caveat.
"I said, 'Hey, if it doesn't work out in two years, and I don't have not one hit song, I'll stay as a writer.'"
"I said, 'Hey, if it doesn't work out in two years, and I don't have not one hit song, I'll stay as a writer,'" says the reggaetonero.
But failure wasn't in the cards. Shortly after that conversation, Carrión went on to collaborate with major artists such as reggaeton crooner Zion and the biggest artist in the world — Bad Bunny. Despite catching some early flak for being an influencer trying to make it as a musician, Carrión knew that the best way to silence his critics was to ignore the hate and to keep putting out quality music.
"In my head, I was like, 'If you keep on dropping hot sh*t, there's going to be a time where they can't talk sh*t anymore. Because, well what are they going to say?'" the rapper boasts.
With this latest album, Carrión has done just that. "3MEN2 KBRN" closes the book on the sophomore chapter in Carrión's career while heralding his latest era in triumphant fashion. Whereas the second volume of the series was moody and minimal, volume three goes bigger in just about every way. Originally conceived as a deluxe version of its predecessor, only a handful of those songs receive remixes. The rest are all new cuts Carrión cooked up with his "Avengers squad" of producers with the express purpose of getting some of the biggest names in trap to rhyme alongside him. And while the emcee has never been shy about sharing the spotlight, with dozens of collaborations under his belt, this time around feels different.
One of the standout tracks on the album, "Gladiador," sees Carrión rapping alongside childhood idol Lil Wayne on a beat the Puerto Rican hitmaker says was tailor-made to evoke "Tha Carter III" vibes. On "Si Salimos," 50 Cent channels the essence of his "Get Rich or Die Tryin'" era while Carrión switches seamlessly between English and Spanish to showcase some bilingual bars. There's even a track on the album with Bad Bunny titled "Coco Chanel" about living the high life. Fans have been quick to suspect that Bad Bunny is shading Kendall Jenner's ex Devin Booker in his lyrics.
There is a weight behind these features, with Carrión establishing himself as the bridge between hip-hop's past and its future, proving that he can hold his own with even your favorite rapper's favorite rapper.
If there were any lingering doubts that the former influencer wasn't an elite artist, Carrión has demolished them.
Carrión's career has been filled with the kind of success that hip-hop dreams are made of. He's gone platinum, earned a Latin Grammy nom, and worked with the biggest names in the urban genre. And he shows no signs of slowing down. Even with his first Coachella appearance coming up in April and a subsequent stateside tour in May, the artist is already thinking about his next album.
"I'm already thinking, 'Damn, what am I gonna do now?'" the rapper says. "I always tell myself I'm going to take a good two months off of the studio, but I always come back a week after and, you know, get back to practice. Because it's just like playing basketball or any other thing. It's not about how talented you are but how much you practice."
As a former swimmer representing Puerto Rico at the international level, it's no surprise that Carrión approaches his career with more of an athlete's mentality than that of an artist. He actually credits his years in the sport with showing him how good it can feel to set a high goal and find accomplishment. It's a feeling he chases every time he's in the booth.
But on "3MEN2 KBRN," Carrión takes inspiration from a different sport, with the official media and visualizer videos showing the rapper kicking back on the lush links of a golf course. The album's 18 tracks even match up with golf's 18 holes. It's a fitting analogy for where Carrión is at in this stage in his career.
Despite its perception as low-energy, golf is exceptionally challenging. It can take years to master, and it's often said that while there are other competitors on the course, the real game is the one played against yourself. And in this respect, the young rapero's choice of aesthetic for his latest offering makes perfect sense.
Every time he steps into the booth, Carrión is engaged in a game of one-upmanship against himself. Every bar needs to be better. Every beat needs to go harder. And for the most part, he succeeds. With every at-bat, he's giving us a slightly different look. Sometimes it's more intimate rhymes that detail the artist's inner struggles. At other times, it's a beat that straddles the line between EDM and trap. But regardless of how he chooses to mix it up, it's clear that when Carrión pushes himself, he pushes the genre forward.
"I make this for people to say, 'Oh sh*t — he did that. How did he do it again?' I love that feedback. I love giving my fans something better than what came before," he concludes.
Image Source: RIMAS/Gabriel Perez Silva