How Did Lily-Rose Depp and Timothée Chalamet Meet?
Lily-Rose Depp and Timothée Chalamet Can Thank Netflix For Their Steamy Romance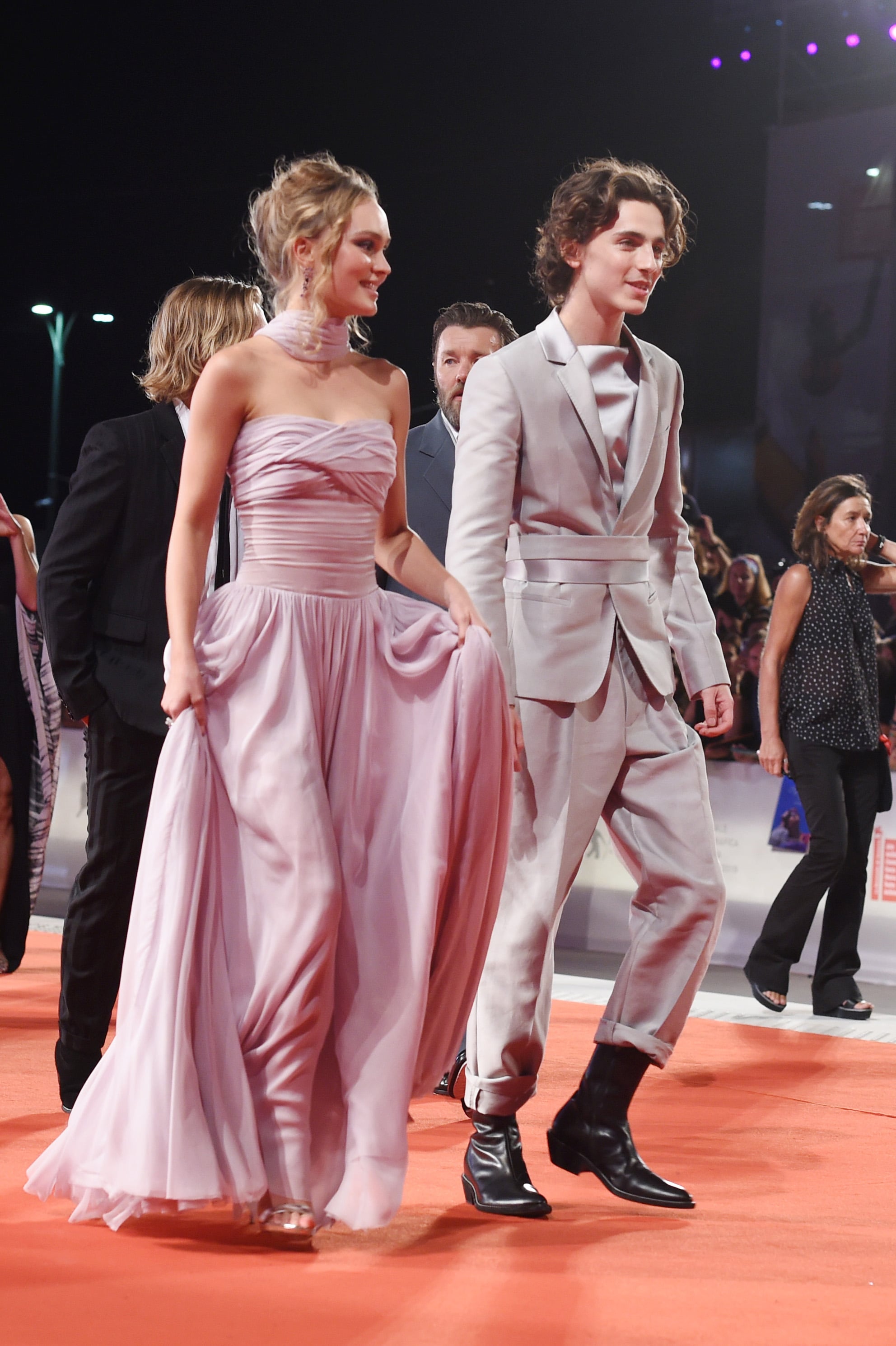 There has been a ton of buzz lately around Hollywood sweethearts Timothée Chalamet and Lily-Rose Depp — especially since the two were spotted kissing on a yacht and became a meme (more on that later). Call Me by Your Name star Timothée, 23, and 20-year-old actress and model Lily-Rose have been dating for quite some time now — since October of 2018, to be exact — and never seem to fail at getting the paparazzi to snap the perfect picture of their PDA. While the pairing may seem a little out of the blue, we assure you it's not, as the duo are rumored to have started their relationship not long after meeting on the set of upcoming the Netflix drama The King.
With Timothée cast as King Henry V and Lily-Rose playing the role of Catherine of Valois, the two lovebirds have spent a lot of time together on and off camera since filming began in 2018. They were first spotted getting close by photographers in New York City back in October of 2018, which sent the romance rumors flying. Then, as if to seal it with a kiss, they were photographed smooching in the rain (yes, like in the movies), which pretty much confirmed their relationship.
And then most recently, there was the boat photo. In September, Timothée and Lily-Rose were caught in a steamy makeout session while on a boat ride in Capri, Italy, in which the two stars turned the PDA all the way up. Lily-Rose wore a leopard-print bikini and Timothée a pair of neon swim shorts as they spent the day diving into the water and cozying up close to each other. It didn't take long for the photo of them locking lips to become a meme (because it is 2019, after all) and spread everywhere. If you didn't already know they were a thing, you certainly couldn't have missed it after their displays of affection went viral.
Lily-Rose, daughter of actor Johnny Depp and model Vanessa Paradis, had her first role when she was 15 years old in the film Tusk. More notably, she was cast alongside Natalie Portman in the 2016 movie Planetarium. Timothée, on the other hand, had his first breakout role in the movie Men, Women & Children (2014), playing a character named Danny Vance. He also starred in notable films like Interstellar (2014), Lady Bird (2017), and Hostiles (2017). By far his most famous role was in Call Me by Your Name in 2017, for which he even scored an Academy Award nomination for best actor.
If you're dying to see these two play opposite each other on the big screen — or rather, your laptop — you won't have to wait too much longer. The historical drama film The King — directed by David Michôd and written by Michôd and Joel Edgerton — isn't out just yet, but is set to begin streaming on Netflix on Friday, Nov. 1. And if their red carpet appearance at The King's premiere is any indication, they'll look like true royalty in the movie.