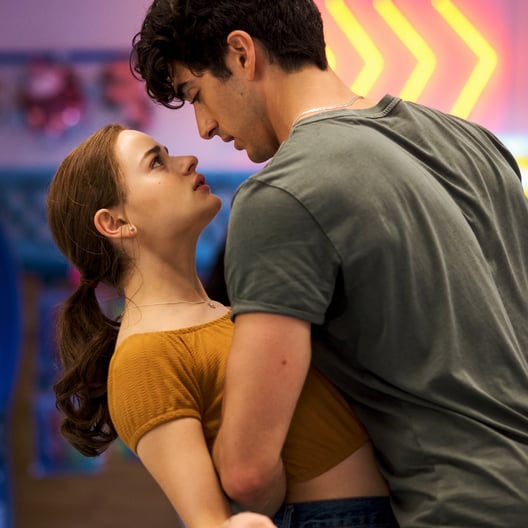 With such strong chemistry on screen, it's no wonder that Taylor Zakhar Perez and Joey King have the cutest real-life friendship. Since Taylor joined The Kissing Booth trilogy in 2020, the actors have had nothing but good things to say about each other. Taylor even referred to his costar and onscreen love interest as "the loveliest, most supportive, and present scene partner" in a July 2020 interview with Glamour. The close bond these two share is evident, and in honor of the third and final film, which released on Aug. 11, you can check out some Taylor and Joey's cutest pics together (as well as Taylor's sweetest quotes about Joey).
The first time Taylor watched The Kissing Booth, he was instantly smitten with the story . . . and also Joey. "I love how it pays homage to John Hughes, it has elements of Grease in it," he told Entertainment Weekly during a July 2020 interview. "It's such a throwback, and I just thought Joey was freaking adorable."
According to Taylor, he and Joey clicked right from the start. "The first time I met Joey in the chem read, she came in, she was wearing jean overalls and she had maybe like two inches, maybe less, of hair because she had just come off The Act. And she was just glowing," he gushed to EW. "She was like most beautiful thing, and so kind and open and fun. Right off the bat Joey and I had really great chemistry, and we just hit it off."
Taylor told EW that he and Joey bonded in a totally relatable way. "We hung out a lot, we practiced a lot, we talked on the phone, we'd crash in each other's rooms all the times, we made dinner with each other, we just hit it off right away," he said. "I think I fell in love with her at the chemistry read when she walked in the room and was just her, just 100 percent her and not trying to be someone she wasn't."
In his Instagram post for Joey's 21st birthday, Taylor opened up about all the reasons he's grateful for Joey. "She is the reason I joined the KB2 family, she welcomed me with open arms and love, she supported me, she pushed me, she made me laugh (like pee my pants laughter and had to check my underwear), she inspired me to be a better actor, she shared her family with me, THE LIST GOES ON," he wrote.
Taylor doesn't just enjoy Joey's company — he also admires her talent as an actor. "Joey has the smallest ego — I don't think she has an ego," he explained to EW. "She's very powerful and always gives 100 percent on her end. She's tearing up at the table just reading through the script. She's always so present for all the other actors."
When asked by Glamour in July 2020 whether he would ever date a fan, Taylor had a cheeky response prepared. " . . . I'm a fan of Joey and wish that she would date me, you know what I mean?" he joked. He later shut down those dating rumors in an interview with ET, adding, "I love her. I love her dearly. I'd do anything for her. We're not dating. I'll end it with that."
"Either a friend or my sister's, like, 'That girl's going to want to take a picture with you.' I'm, like, 'No, she's not. Let's go.' And then they follow you,'" he told WWD about his newfound stardom. He also credits Joey with helping him through the transition. "When we were shooting down there, people came up to her all the time, and she was nothing but lovely. I was, like, 'I have to do that, too,'" he added. "I've looked at other actors and how they interact, and it turns me off."
"Found this in my junk drawer and realized it was a gem. "The Best" rehearsal," Taylor captioned an adorable video of the duo from The Kissing Booth 2 back in December 2020.