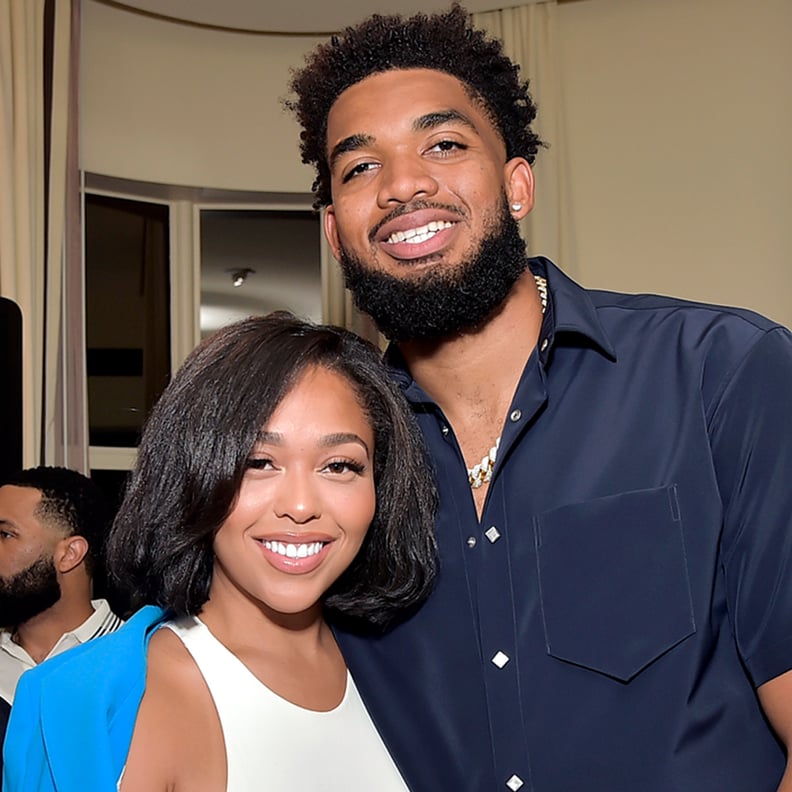 The full moon is high and there's howling in the distance, but Jordyn Woods is beyond ready to take on the Big Bad Wolf in her sexy Little Red Riding Hood costume this Halloween. "Come alive in the nighttime.. 🐺❤️," she captioned an Instagram Reel of herself and boyfriend Karl-Anthony Towns in a scary-good couples costume for the Minnesota Timberwolves's annual Halloween party. Ready to put a dark twist on classic story from our childhoods, Jordyn and Karl, aka the Big Bad Wolf, managed to keep their costumes simple without sparing a spooky single detail.
"Stumbled out of the towns and into the woods," Jordyn jokingly captioned a series of photos that gave a closer look at Karl's tattered shirt, pointed ears, and massive fangs straight out of a 1940s horror film. Jordyn's look consisted of a gingham mini skirt, a black corset over a white peasant blouse, matching fishnet tights, Mary Janes, and a velvety red cape perfect for taking cover on the way to grandma's house. She finished the look off with a blood-red manicure, matching lipstick, a picnic basket, and a few bloody claw marks on her cheek. Little Red and the Big Bad Wolf might be enemies in the original story, but Jordyn and Karl's outfits have us ready for a reimagined movie reboot.
Take a closer look at their costumes ahead and check out more creative couples costume ideas here.