Kenzie Ziegler Talks About Songs "Donuts" and "Cozy With Me"
Kenzie Ziegler on Filming the "Donuts" Video, Finding Her Confidence, and Binging The Office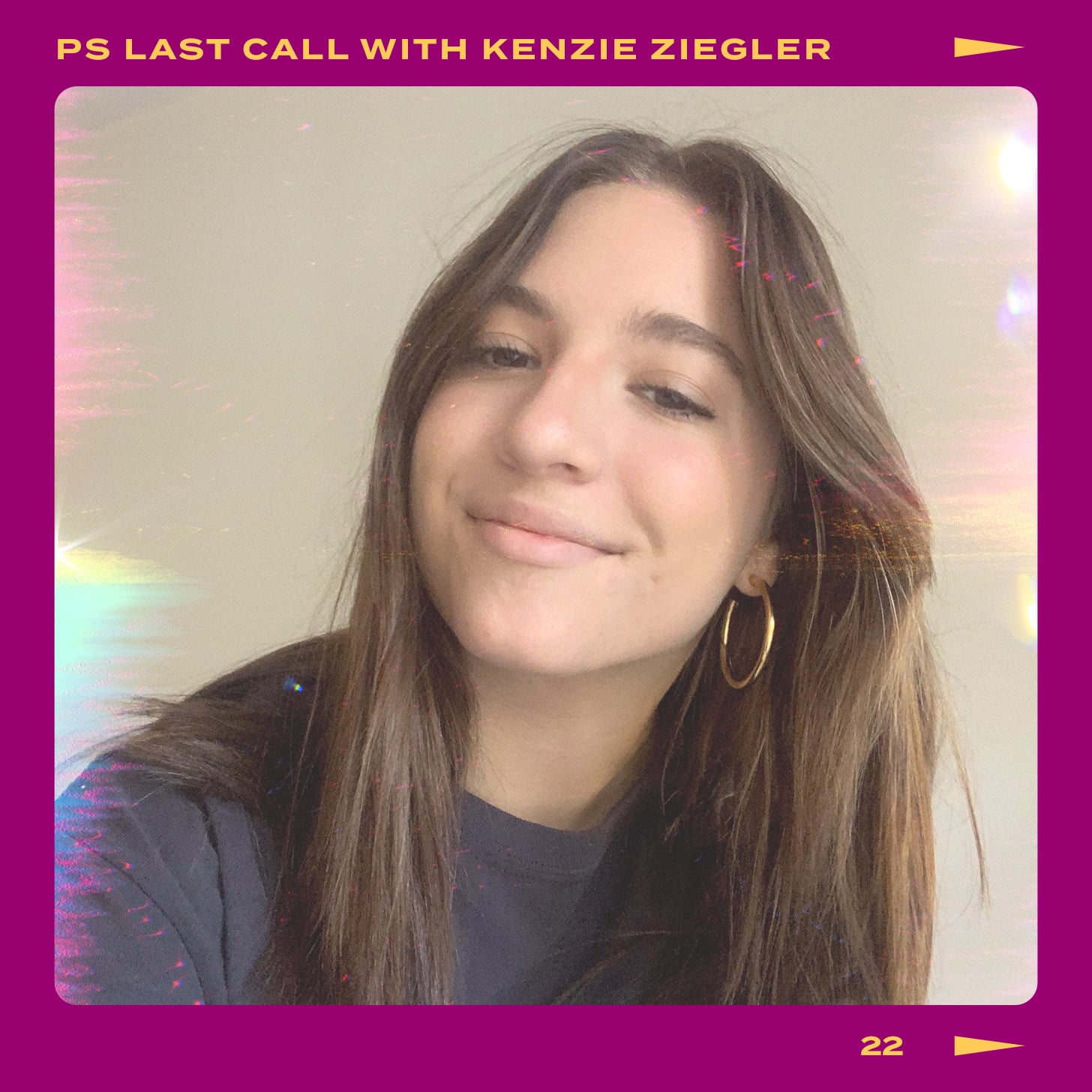 In our Q&A series Last Call, we get down to the bottom of every last thing with some of our favorite celebs — from the last thing they texted to the last thing they binge-watched. This week, singer Kenzie Ziegler takes our call.

Kenzie Ziegler is taking her music to another level. On Nov. 18, the 16-year-old star dropped her new jam "Donuts," marking an evolution in her sound and style. The latest tune — which comes four months after she and Sia unveiled their collaboration, "Exhale" — features cool disco-inspired elements that are sure to get you dancing.
"The song is such a fun vibe and kind of retro," Kenzie told POPSUGAR on Nov. 4. "I'm excited for everyone to listen to it because it's a more mature sound." The singer also released the track's music video, which was filmed in accordance with COVID-19 safety precautions and guidelines. "It was super fun," she said. "I got to film with this cool retro vintage car, which is a dream car of mine. This is one of my favorite songs that I've done, and I think a lot of people are going to like it."
Kenzie is also preparing to drop her holiday song, "Cozy With Me," featuring Ant Saunders. "It's coming out on the 25th, and I recorded it a couple of weeks ago," she said. "I'm already in the Christmas spirit because of it. It's a really cute song." In celebration of Kenzie's new releases, we spoke with her about filming the music video for "Donuts," receiving life-changing advice from her sister, Maddie, and more!
What was the last day of recording the song and video for "Donuts" like?
I recorded this song with Frequency, a producer of mine, and we had so much fun because it's such an upbeat song. It was just so cool to record. So, after, we were all excited about it, I was jumping up and down, listening to it in the recording studio. The last day of filming it — we actually did two days of filming "Donuts" — there was this really cool shot that's going to be in the music video. The camera is flipping upside-down doing circles, and it's really awesome. That was the last shot I filmed, and I was so excited about it. Everything about the video is cool.
What's the last piece of advice you received that changed your life?
A few years ago, I was not confident, and I was scared to put myself out there. I was in this nervous, sad state because, obviously, I was so young and shy. My sister was just like, "Don't worry about anyone else. Just do the things that you love, even if someone doesn't love it. If you make music, and everyone doesn't like it, it doesn't matter. You're making music because you love it." Now, I'm doing things that I love, and I'm not really worried about what other people say.
What's the last thing you did with your sister?
The last thing I did with my sister was help her move into her apartment. She just moved out, so I feel like an only child right now. It's really sad, but our relationship has gotten so much better. We never really fought other than when we stole each other's clothes, and now we can't steal each other's clothes. So, we're even closer than we were before. It's great having your sister as your best friend. She is an amazing person.
What's the last thing you texted?
The last thing I texted was a TikTok to my friend, and it was about the election. It was this guy being like, "I just want this to be over. Can they just have a dance battle or something?" I have not stopped watching TikToks, it's so bad.
What's the last thing you watched on Netflix?
I'm actually binging The Office right now, which I didn't think I would like. I've watched a few episodes with my friend Sage because he was like, "You need to watch it. I'm obsessed with it." I thought it was really boring at first, but I'm on season five now, and I started it two weeks ago. I really like it. I think that's one of my favorite shows on Netflix.
What's the last thing you ordered online?
The last thing I ordered online was this hair-curler thing. It's a hair crimper, and it has three little wands together — the beach-waver thing. I just want those beach waves without going to the beach.
What's the last photo on your camera roll?
The last photo on my camera roll is a picture of this Arizona Green Tea that I want. Every time I ask my mom to get it for me, she never knows what it is, so she always gets me the wrong one. So that's what she's doing right now. She's getting me some Arizona Green Tea.
What's the last thing you do before going to bed?
Honestly, watch TikToks. I fall asleep watching TikToks or YouTube videos or TV, but mainly TikToks.
What was the last gift you received?
I actually got a gift today from one of my favorite clothing brands called Halotied. They sent me a bunch of sweatshirts and stuff. They're so sweet.
What was your last workout?
I've been dancing a lot recently, so I would say dancing.
What was your last great fashion purchase?
I've been shopping on Depop recently, so I just bought this really cute black button-up sweater from there. If you don't shop on Depop, you definitely should. I got the sweater for like $15.
What's the last book you read?
The last book I read was called The Babysitters Coven. I'm working a job right now, and I have to do school, so I've just been reading a book that my sister had.
What's the last song or album you listened to?
The last album I listened to was Ariana Grande's new album. I think my favorite song is "POV" because she really goes in. Her voice sounds insane.
When's the last time you were starstruck?
This is actually so funny. I never get starstruck. I've gone to so many Teen Choice Awards and award shows like that, and they're all kind of normal to me. But, for so long, my best friend Emily and I, have watched Dr. Phil. Before COVID, he was having a taping, so my manager got me tickets to go see it, and it was at like 6 a.m. It was so early, but in between tapings — because you watch two shows in one day — they brought us back to meet him. I was so starstruck, and everyone was like, "Out of all people, you got starstruck by Dr. Phil?" And I was like, "Well, yeah, he's so cool!" He was really nice.
When was the last time you got dressed up?
The last time I got dressed up was for Halloween. I didn't go anywhere, and I didn't do anything. But my boyfriend and I dressed up as Woody and Jessie from Toy Story, and we just watched Halloween movies all night, and my mom made us play Halloween games with her. It was really fun.
Watch Kenzie's "Donuts" music video:
Image Source: Kenzie Ziegler