Kim Kardashian and Pete Davidson Attend Mark Twain Awards
Kim Kardashian and Pete Davidson Rock All-Black Outfits at Comedy Event in DC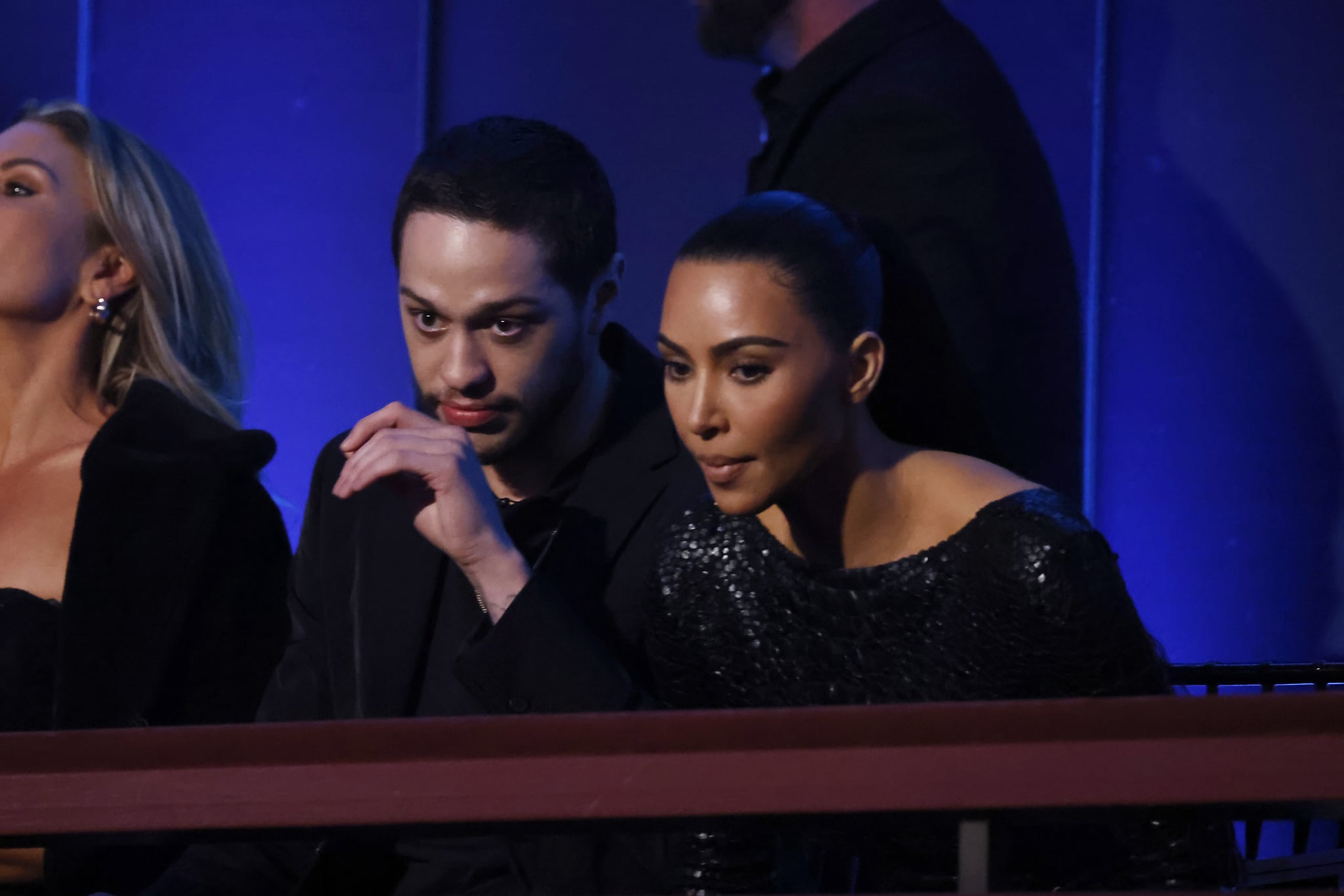 Kim Kardashian and Pete Davidson were spotted wearing all-black outfits at the Mark Twain Awards at the Kennedy Center in Washington DC, which honored Jon Stewart. For the April 24 event, Kardashian rocked a slicked-back pony and a charcoal smoky eye, courtesy of Chris Appleton and Mario Dedivanovic. Davidson matched her monochromatic energy with an all-black suit. The award ceremony's guest list included other A-list comedians, including Steve Carell, Jimmy Kimmel, Samantha Bee, Dave Chappelle, Stephen Colbert, and John Oliver.
Davidson took the stage to honor the former "The Daily Show with Jon Stewart" host, joking, "Who couldn't love this guy? Probably the most controversial thing he's done is being friends with me. . . . Is Jon really my friend? I don't know if we're really friends or if this is a make-a-wish type thing."
Kardashian and Davidson turned the event into a date night, and it wasn't the first time they've publicly supported each other's careers. Earlier this month, Davidson celebrated the premiere of "The Kardashians" by Kardashian's side. Even before Kardashian and Davidson made their relationship Instagram official in early March, they didn't shy away from public appearances. Their first kiss was actually on "Saturday Night Live," which Amy Schumer referred to as an "intimate audience compared to [Kardashian's] Instagram."
Kardashian and Davidson have also broadcasted their affection in more permanent ways. On "The Ellen DeGeneres Show" in March, Kardashian revealed that Davidson has a "few" tattoos dedicated to his girlfriend, including a "Kim" branding on his chest. In an interview on "Good Morning America," Kardashian shared more about her relationship with the comedian. "I am a relationship kind of a girl, for sure, and I wouldn't be with someone if I didn't plan on spending a lot of my time with them. Obviously, I want to take my time, but I'm very happy and very content."