La La Anthony Talks BMF Season 2 and Working With 50 Cent
La La Anthony on "BMF" Season 2 and Being Starstruck by Eddie Murphy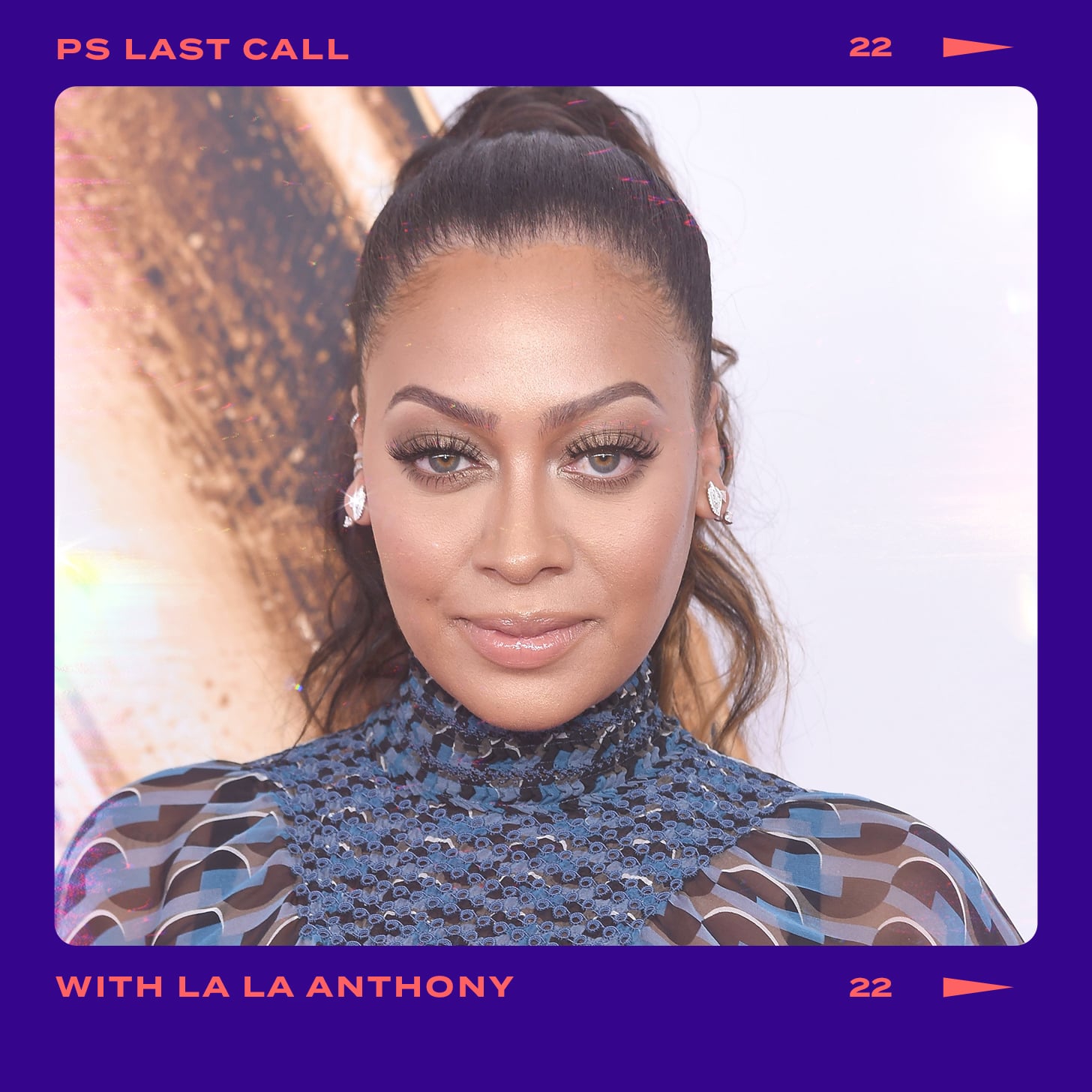 In our Q&A series Last Call, we get down to the bottom of every last thing with some of our favorite celebs — from the last time they were starstruck to the last song they listened to. This week, La La Anthony takes our call.
Fans of Starz's crime-drama series "BMF" can expect to see a lot more of La La Anthony in season two, which is currently underway in Atlanta. After a brief appearance in the pilot episode, Anthony was recently upped to a series regular. For those who aren't familiar with the story, "BMF" stands for "Black Mafia Family," and the show chronicles the real-life story of two Detroit brothers, Demetrius "Big Meech" (Demetrius Flenory Jr.) and Terry "Southwest T" Flenory (Da'Vinchi), who in the late '80s ran one of the largest drug and money laundering organizations in the US. Anthony plays Markaisha Taylor, the wife of flamboyant drug lord Pat (Wood Harris). Details surrounding the second season are still pretty scarce right now, but we do know that Anthony's character Markaisha strikes up a friendship with Terry despite the obvious risk.
"You feel a different responsibility when you're telling a story that's rooted in truth."
Known for her roles in "Think Like a Man" and "Power," the former MTV VJ is no stranger to being in front of the camera, but she's excited to expand her résumé while doing justice to a story she grew up hearing so much about. "You feel a different responsibility when you're telling a story that's rooted in truth," she tells POPSUGAR. "It's a cool thing to experience." She's also excited to reunite with longtime friend Curtis "50 Cent" Jackson, who serves as the show's executive producer, saying, "Anything that 50 Cent is a part of, I'm always going to somehow be a part of."
Between filming "BMF," building her own beauty empire with Inala, a hair-care line aimed at promoting hair growth, and cheering on her teenage son, Kiyan, at basketball games, the 39-year-old entrepreneur runs a tight ship. Still, she promises more is on the way. In addition to "BMF," "Wu Tang: An American Saga," and "The Chi," you can catch Anthony in Eddie Murphy and Jonah Hill's Netflix comedy titled "You People," arriving later this year. The radio-personality-turned-actor was also cast in the streaming giant's upcoming rom-com "The Perfect Find," starring Gabrielle Union.
As we wait for the return of "BMF," read the rest of Anthony's Last Call interview ahead.
You recently partnered with Degree to launch the Bracket Gap Challenge, which seeks to help raise awareness for the NCAA women's tournament. Why is this initiative important?
I'm all about putting women first. It's crazy that we're in the year 2022 and for the first time, the women's NCAA tournament can use March Madness branding. Of course, you wish that it didn't take this long, but it's here now. So it's time to celebrate and be a part of such an iconic moment so that more eyes can be on women's basketball because it's not an equal playing field. The grand-prize winner of the Bracket Gap Challenge gets $100,000 — $25,000 for themselves and $75,000 to be donated by Degree to a women's college basketball program of their choice. Those are some great incentives, but it's really about making women's basketball super exciting for everybody.
What was the last thing you did with your "BMF" costars off set?
We had a cast dinner, which was really nice. Our showrunner Randy Huggins wanted to bring the cast together. It's always good to start building that camaraderie when you're going to be around people for five or six months of your life. I always think those bonds translate through the characters on TV.
Who was the last "BMF" costar you texted?
Da'Vinchi, who plays Terry on "BMF." Most of our scenes are together, so sometimes we do have to talk outside of work and go over our scenes like, "Hey, what are you thinking? Did you read it?"
What was the last song you listened to?
"Bussin" by Nicki Minaj and Lil Baby.
What was the last album you bought or streamed?
Gunna's new album, "Drip Season 4Ever."
What was the last show you binge-watched?
"Love Is Blind" season two.
What were your thoughts on the finale?
In all honesty, I'm on episode eight. I am finishing up the last two episodes today [March 16] . . . everyone's like, "Oh my God, what do you think about this?" I'm like, "Please don't give it away, I'm almost there." So, that's where I'm at with it, but I think it's such an incredible experiment, and I loved season one.
What was the last thing you bought online?
I bought Prada combat boots that I've been looking at for a while.
What was the last thing you did for self-care?
These last couple days, I have been feeling a little bit under the weather just from running so much. So I slowed myself down a little bit, which is nice because I don't get to do that often, which is why I was able to binge-watch "Love Is Blind" season two.
What was the last thing you did for fun?
My son's birthday was on March 7. That weekend, I took him and his friends to Benihana; they wanted to go there. Then we went to see "The Batman," and the kids had a big sleepover here at the house. We laughed so hard that night watching TV and movies.
What was the last book you read?
Right now, I'm reading a daily affirmations book. I'm really working on giving myself positive affirmations and stopping in the morning just to acknowledge and show gratitude for another day. I think we underestimate the importance of it. I wish I knew the name of the book, but it's just a daily affirmation book that's been really helpful. Actually, the affirmations are specific to my zodiac sign Cancer, which is unique.
When was the last time you were starstruck?
Oh, I recently did a film with Eddie Murphy and I was starstruck, although he would have never known it. He was the kindest, nicest person, but there were so many times on set where I said to myself, "I'm literally in a movie with Eddie Murphy," or I'll be looking across the room whispering like, "It's Eddie Murphy. He's right there." Being in this business, you don't have that reaction too often, but I don't care. That's Eddie Murphy! To be sharing a movie with him, that still takes a while to wrap your mind around.
What was the last gift you received?
On Valentine's Day, my son got me balloons and flowers, but he included a nice card that he wrote himself. There was some personal things in there about our relationship and our bond. I know how much he appreciates me because he tells me often, but some of the things he wrote down really touched me. Those are the gifts you keep forever, and it just reaffirms that you're doing a good job as a mom.
What was the last trip you went on?
I went to The Bahamas literally for two days with family. At first, I wasn't going to go because it was such a short trip, but sometimes two days to recharge is all you need. This was right before we started filming "BMF," because I knew that once filming started, things were going to get hectic. It was nice to head down to The Bahamas and just have two days of fun.
What was the last piece of advice you received that changed your life?
Recently, I heard Charlamagne in an interview say, "Staying busy is a trauma response." I posted it on my Instagram Story and I was like, "Wow, I never thought of it that way, that sometimes we work so much and work so hard as a way to avoid dealing with life's issues." So I called him, and we dug a little deeper into it, and it really wasn't a piece of advice, I guess, but it was just something that was said that struck me. I can see how easily a lot of us, myself included, can use work as a distraction from a lot of things, but sometimes you have to slow down and face the music, so to speak.