Lauren Conrad and Heidi Montag were the best of friends when they starred together on MTV's The Hills back in 2006, but their friendship quickly dissolved when Heidi began dating her now-husband, Spencer Pratt. Lauren repeatedly tried to warn her friend about Spencer, calling him "a sucky person," and despite various failed attempts to repair their relationship, Heidi eventually chose Spencer over Lauren, ultimately ending their friendship.
Heidi is currently pregnant with her first child, while Lauren recently welcomed hers, but it's safe to say they won't be planning any play dates. When asked if she and Lauren will ever mend their friendship, Heidi told E! News it was unlikely back in May, adding, "I certainly wish the best for her and her life, and I'm thankful for that time period, but that friendship is long gone." Here's a detailed account of what went wrong.
2006: Kristin Cavallari and Brody Jenner introduced Spencer to Heidi. "I had known Heidi when she was friends with Lauren when we were still filming Laguna Beach. Heidi was like, 'Hook me up with someone. I wanna meet a guy.' And Brody and I were kinda like, 'Well, maybe Spencer? We'll see what happens.' So we all went on a double date and they just hit it off right away and now they're married," Kristin told EW in May 2009.
2007: After several arguments about Spencer, Heidi moved out of the apartment she shared with Lauren and into one with Spencer. Things quickly took a turn for the worse when Spencer leaked a story to the media about Lauren and ex-boyfriend Jason Wahler having a sex tape. Lauren almost immediately took to her website to clear up the entire thing, writing, "I am posting this note on my website regarding the reports that have circulated the internet this morning. Jason and I would like to make it clear that we did not make a tape with us having sex. Jason and I are both shocked and hurt that people would say such horrible things about us. I can't believe that somebody would go to such great lengths to try to damage my reputation." Lauren then ran into into Heidi and Spencer at Frankie Delgado's birthday party and confronted her Heidi on the show, saying, "You're a bad person . . . I feel bad for you . . . . You know what you did . . . . You're a sad, pathetic person."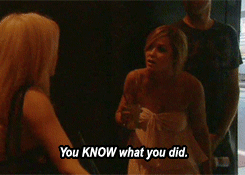 2009: Two years later, Lauren revealed that Spencer admitted to starting the rumor about her and Jason during a panel a PaleyFest in LA. "We actually have it on tape," Lauren told the audience. "[Spencer] takes responsibility and apologizes for it. Sorry! Spoiler!" Lauren reluctantly attended Spencer and Heidi's televised wedding days later. "They literally locked me in the basement with two security guards and wouldn't let me leave! And I was like, 'You can't keep me here!' I was throwing a fit!" she told Us Weekly in May 2016. Lauren and Heidi stopped talking after that.
2015: Spencer finally admitted to spreading the sex tape rumors about Lauren in Complex's October 2015 issue and continued slamming the reality TV star. "Lauren is a cold-hearted killer. That's what people don't get. She will cut you in your sleep," he said. "She tried to destroy us. If you want to throw missiles, I'm throwing a nuke. This is how I operate." "Today, I would be like, 'B*tch, you know what you did,'" Heidi chimed in.
2017: While Lauren seems to have no intention of reaching out to Heidi, Heidi did congratulate Lauren on her pregnancy back in January. "Congratulations @laurenconrad on your pregnancy! you're going to be a great mom!" she tweeted.