LeBron James's Family Photo Shoot For Vanity Fair
LeBron and Savannah James Pose With Their "Dope Family" For an At-Home Photo Shoot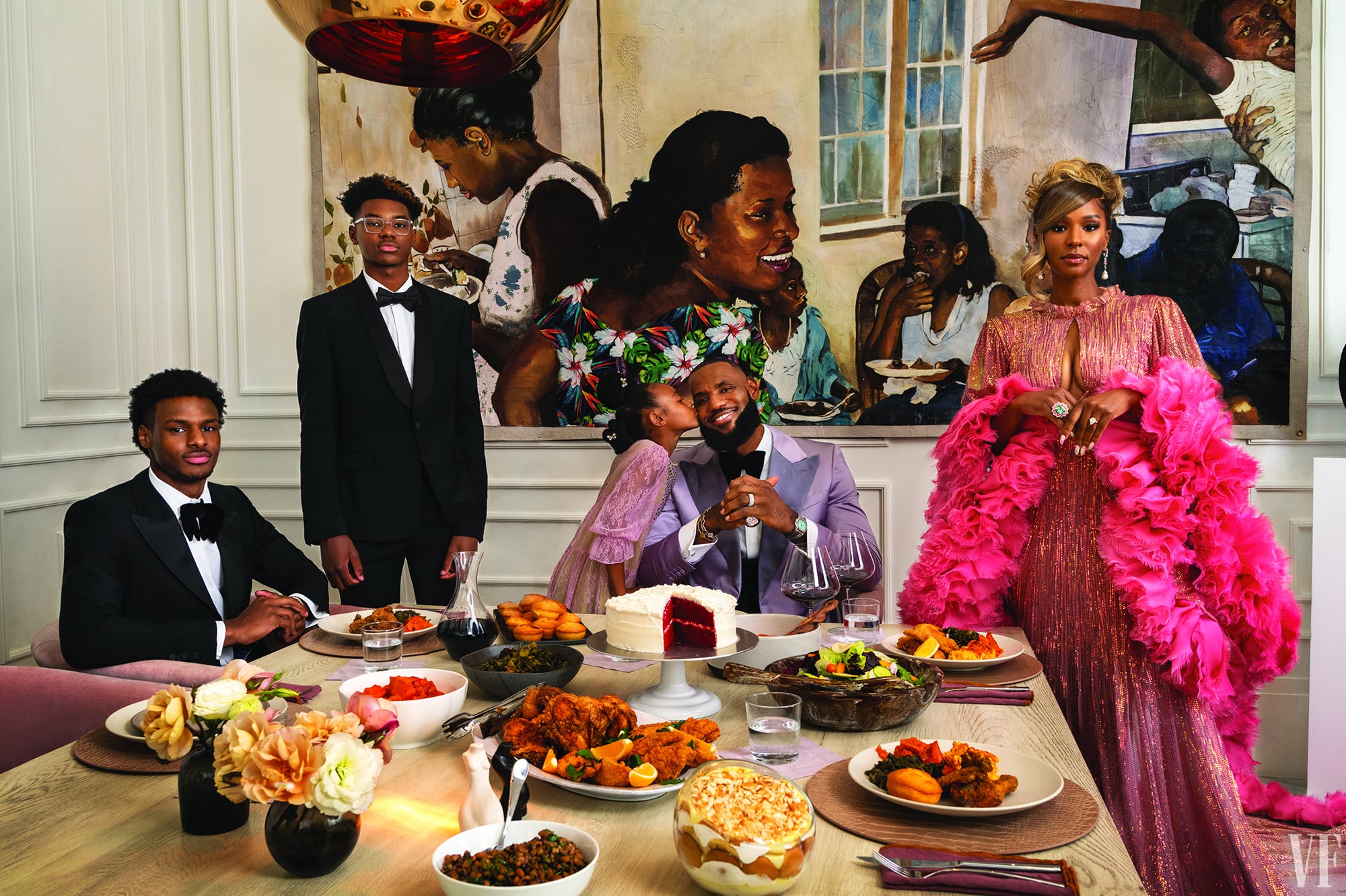 Can you believe LeBron James and his beautiful family are just now having their first-ever magazine photo shoot? The Los Angeles Laker; his wife, Savannah; sons Bronny and Bryce; and daughter Zhuri all posed together for a lavish "photo extravaganza" at their Los Angeles home for Vanity Fair's October 2022 issue, just ahead of LeBron's 20th NBA season. They all gathered for the fun family event in what Savannah described to the outlet as "a transitional moment" for her and her husband's three children.
Bronny, the couple's oldest and current guard for his school basketball team at Sierra Canyon, turns 18 next month and is "getting to a place to start to make decisions about his career and where he wants to go in his life," according to his mother. Vanity Fair reports that LeBron intends for the father-son duo to one day play in the NBA together, a hope sports media have been buzzing about for years. LeBron and Savannah's youngest, 7-year-old Zhuri, also keeps herself busy with her YouTube lifestyle show called "All Things Zhuri" (and her 205,000 YouTube subscribers). Meanwhile, 15-year-old Bryce, whom Savannah calls "the mystery of the family," is another teen basketball prospect who "could go in any direction."
LeBron and Savannah have been together for 20 years now, and the high-school sweethearts tied the knot in September 2013 before starting their family. Though the James clan have shared many a cute moment together over the years, their new profile reveals Savannah's hope for their dynamic as they all continue to grow.
"With LeBron being their dad, it's just automatic," she told Vanity Fair of her children's celebrity status. "It's not something we've pushed or told them that they had to do, or anything like that. It just happened." She also said of the family's "quiet dynamic" at home: "Everything isn't for everybody," adding that she wanted their photo shoot to "reflect the bonds underlying the family's influence" and "show the world their center of gravity." "Excuse my language, but we a dope family."
On Sept. 13, LeBron and Savannah celebrated the release of their photo shoot by sharing their fashionable photos on Instagram. "There's King's and Queen's/Royalty in America as well and I hope I can be one of the ones who showcase that on a daily basis🤴🏾👸🏾🤴🏾🤴🏾👸🏾 James Gang at home!!!" the former captioned his post. "Love our family so damn much!!!!!!! @mrs_savannahrj @bronny @_justbryce @allthingszhuri 🤎🤎🤎🤎 Thank you @gigilaub and the entire @vanityfair team for this beautiful spread. 🙏🏾 👑 #ThekidsfromAKRON #BlackExcellence✊🏾."
In her own post, Savannah wrote, "Wow!!😱 Thank you so much @gigilaub for helping me step way out of my comfort zone, and thank you @vanityfair and @kirapollack for this beautiful feature. I've always known my family was dope, but seeing us in this light, blows my mind! 🤯 Representation is important🤎."