Lizzo and Chris Evans's Flirty Friendship Makes Us Wish They Were a Real-Life Couple
Lizzo and Chris Evans's flirtationship is possibly the best thing to come out of 2021. Between drunken DMs and pregnancy rumors, it's easy to forget that Lizzo and Chris's friendship dates all the way back to 2019 when the three-time Grammy winner shared a video of a young girl busting a move to her hit "Juice." Chris then quote-tweeted the clip, writing: "This kid is cooler than I could ever hope to be." Lizzo replied, "Wow marry me" with a woozy face emoji. From that moment on, every single exchange between them has been nothing short of spicy. Read on to see more of Lizzo and Chris's exhilarating saga ahead.
01
When Lizzo Drunkenly Slid Into Chris Evans's DMs
In April, Lizzo decided to shoot her shot with Chris while . . . drunk. The "Good as Hell" singer unveiled her private Instagram messages with Chris via a TikTok video. "Don't drink and DM, kids," she advised. The Captain America actor followed back Lizzo the next day. He replied, "No shame in a drunk DM 😘 God knows I've done worse on this app."
02
When Lizzo Joked That She Was Having Chris Evans's Baby
Over the summer, Lizzo caused a ruckus when she joked about being pregnant with Chris's child. "This is something that I've been really trying to keep personal and private just between me and the father of my child," she said. "But since we're airing out all the rumors today, I've been sucking in. We're going to have a little America." Of course, Chris had the perfect reaction to Lizzo's very unexpected baby news. "Hi! Just heard about our little bundle of joy," he wrote. "My mother will be so happy lol." The actor's only request? "Just promise me no gender reveal parties lol," he joked.
03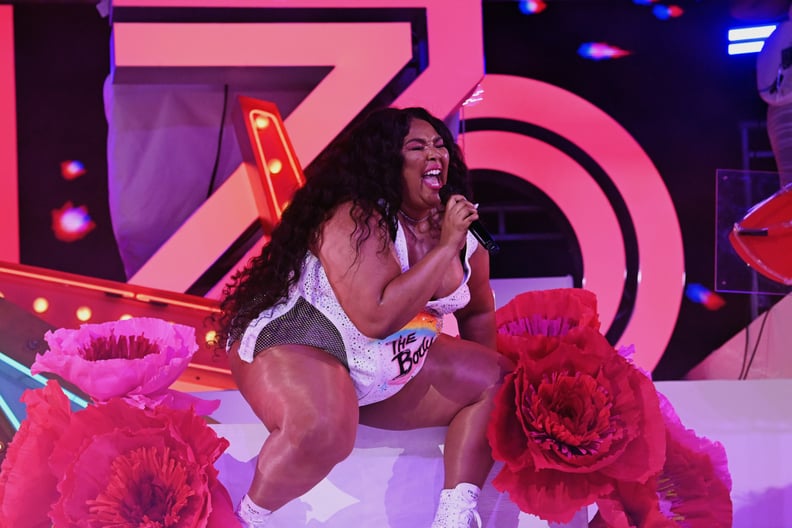 When Lizzo Gave a Shout-Out to Chris Evans While Performing on Stage
Earlier this month, Lizzo covered Erykah Badu's "Tyrone" at American Express's Unstaged concert. "Maybe I should call Chris Evans so Captain America can put another bun in my oven," she sang. Unsurprisingly, her shout-out nearly broke the internet. Lizzo even shared the clip, writing "WHY AM I THIS WAYYYYYY."
04
When Lizzo Divulged Her NSFW Fantasy About Chris Evans
If you've ever wondered what Lizzo would do if she was alone with Chris in a green room, keep reading for the, um, explicit answer. "He's naked . . . and he has body shots all over his chest, and I walk in and I slowly just suck them off," she told Andy Cohen in a SiriusXM interview.
05
When Lizzo Gushed About Chris Evans on the Red Carpet
Lizzo was all of us when she joked about "going home" after learning that Chris wasn't attending the 2019 MTV Movie Awards. When an E! correspondent asked if Chris responded to her "Marry me" tweet, Lizzo kept it real: "It's Chris Evans. He ain't responding. If he responded, I wouldn't be here right now. I would be on my honeymoon."