Maitreyi Ramakrishnan on the Last Thing Mindy Kaling Said to Her on the Set of Never Have I Ever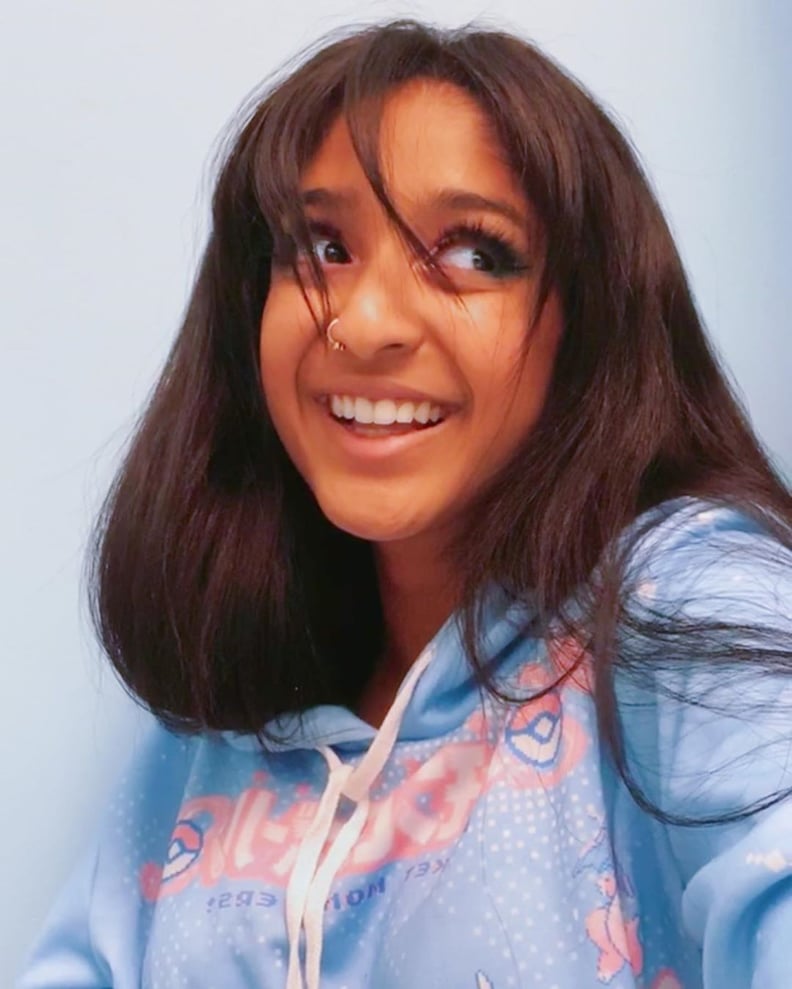 Maitreyi Ramakrishnan
Maitreyi Ramakrishnan
In our Q&A series Last Call, we get down to the bottom of every last thing with some of our favorite celebs — from the last thing they texted to the last thing they binge-watched. This week, actress Maitreyi Ramakrishnan takes our call.
After she starred as the hilariously relatable Devi on Mindy Kaling's Netflix series Never Have I Ever, the world pretty much can't get enough of Maitreyi Ramakrishnan — and luckily, we're gonna get to dive even more into Devi's world, as Netflix announced it's bringing back the show for a second season. While we all wait patiently for it to return, we chatted with Maitreyi all about the show, how she's teaming up with Tazo tea to host Routine Reboot — where she gives a glimpse into the routines of everyone from a professional ballet dancer to an entrepreneur — and more!
PS: What was the last thing you did on the set of Never Have I Ever?
The last solo scene was a shot of me just running into therapy. I think that's a very strong move, just running into therapy — and that's the last thing that I did on set of Never Have I Ever!
PS: What's the last piece of advice Mindy Kaling gave you?
On the last day of filming as well actually, when we all wrapped and we were officially DONE with the season, her and Lang Fisher were both telling me to stay true to myself and stay authentic because I've made it this far doing just that and being myself, so there's no real reason to change it up now. Of course, grow as a person, but stay true to yourself and your roots.
PS: What's the last thing you watched on Netflix?
Avatar the Last Airbender — I'm almost done, and I'm getting really emotional because I don't want to finish it, but I know I need to, but I don't want to, you know?
PS: What's the last thing you ordered online?
This is a very boring answer; I wanted to get [the] book Don't Read the Comments, but they had an offer to get free shipping so I also bought a stapler — so technically a stapler was the last thing I bought online; I wanted a good stapler!
PS: What's the last photo on your camera roll?
I've been playing Mario Kart and getting my little cousin to play it, so he's been sending all of his race times and stats challenging me to beat him — he's not so good, but I still love him, he tries . . . but I send photos back so that's what it is, a photo of my last race time.
PS: When was the last time you switched up your routine, and what did you change?
The last time I switched up my routine was definitely within the first month of quarantine, because I've been home and moved everything to be online. It's been easier for me to be able to do things on my own time, and I try to keep things to a similar schedule every day. I've been going to sleep and waking up much later — and figured out that's what works for me. My schedule has flipped, but it's something that works for me, and that's really what this Routine Reboot campaign with Tazo tea is all about — helping people figure out what works for them, rather than trying to work within a schedule that someone else thinks works for you!
PS: What's the last thing you texted?
The last thing I technically texted was to my publicist telling her I needed to go get some water — hydrate or die-drate, that's what my hair person said on set.
PS: What's the last thing you do before going to bed?
The real thing I do before I go to bed is scroll through TikTok — and I should definitely stop doing that, but it's the truth.
PS: What was the last gift you received?
My agents gave me some awesome Timberlands, which was amazing, customized and everything with camo and black leather. I'm still going to wear them in the middle of the summer, like, I don't care — it is what it is!
PS: What's the last thing you took home from a set?
You know the chair backings that say your name on it on set? As a brown girl with a very long name with about 20 characters, you don't really get to see your name on like quirky little bracelets or water bottles at tourist gift shops, so seeing my name on a chair?! Pretty snazzy! So I took the chair backing, and throughout the last week of filming, I got all of the production and crew to sign it in a cool gold and silver pen, so that's actually framed in my room — pretty nifty!
PS: What was the last song you sang in the shower?
"How to Be a Heartbreaker" by Marina! I love that song, it's so good — straight-up boss, oh god, what a queen!
PS: What was your last workout?
Oh, we can't talk about what we can't remember, it's too far back — but if you want to talk about the stairs, because I go up and down because I forgot something. If it appears on my health app, then that's all I need for validation!
PS: What's the last book you read?
Don't Read the Comments by Eric Smith! It's a good book, finished it recently — and thoroughly enjoyed it!
PS: What's the last song you listened to?
Probably "Heather" by Conan Gray, he's pretty cool — it's a cool song and a great album.
PS: What was your last meal?
I don't know if it counts, but the last thing I ate was a reverse chocolate chip cookie — it's white chocolate chips with a chocolate cookie dough, and it's amazing.