Can We Put the Meghan and Kate Feud Rumors to Rest? I'm Tired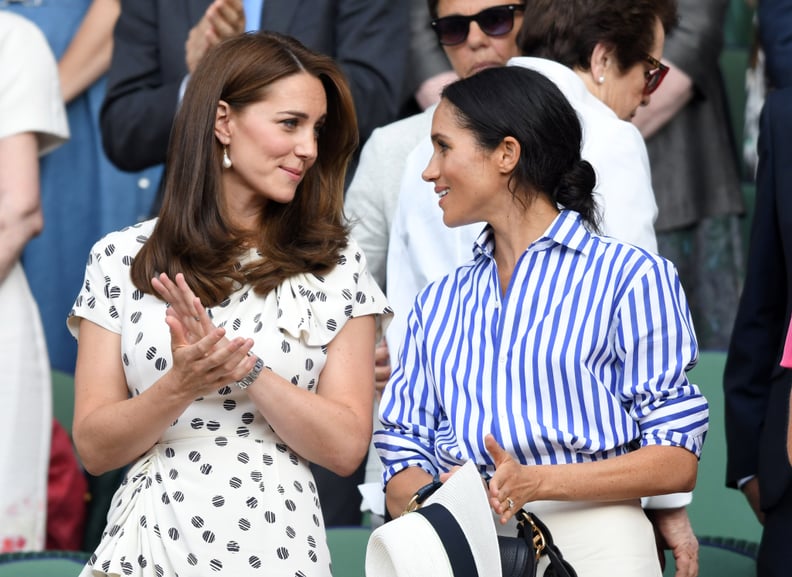 Getty | Chris Jackson
Meghan Markle officially joined the royal family when she wed Prince Harry in May, but even before they tied the knot, there was much speculation over how the former Suits star would fit in with her new relatives — especially her new sister-in-law, Kate Middleton. Not long after Meghan and Harry's engagement was announced in November 2017, all eyes were on the newly-minted "royal Fab Four" as they stepped out together for Christmas church service in Sandringham. And in March 2018 when the quartet attended a panel for the Royal Foundation, Meghan and Kate seemed to get on swimmingly during their joint outing; at the same time, it was reported that the two had shared some sweet private moments as well.
According to Us Weekly, Meghan liked to "pop in" to visit Kate, and would often bring "delicious treats" for the then-pregnant duchess and give "a healthy eating tip she's read or maternity style pointers." In turn, Kate would "share tales of her entry into 'The Firm,'" which is the name the royals have given their own family. They'd drink tea and gossip, and Kate offered up "advice about adapting to the royal family." The publication also reported that Kate told Meghan "that if she ever needed anything, she shouldn't hesitate to get in touch." Aww!
Fast forward several months, and we've gotten to see Meghan and Kate out and about together on a handful of occasions, including official events like Trooping the Colour and RAF celebrations, as well as more laid-back outings like watching Serena Williams's Wimbledon match. And of course, Kate was there to see Meghan walk down the aisle with Harry, and both duchesses seemed in high spirits as they chatted in their seats at Princess Eugenie's wedding.
But because this is 2018 and I can't have any joy in my life, Kate and Meghan's blossoming friendship became the subject of rumors that the two are fighting. It's almost as if these two smart, poised, beautiful women have to be arguing, just because they're women, right? They can't just be two smart, poised, beautiful women with different personalities and roles who might not be on the same page about things all the time. Not only am I personally tired of hearing the rift rumors, but I'd also like to point out the proof that Meghan and Kate are friends — maybe not best friends, because how many people are best friends with their sisters-in-law? — and ask that we shift our focus to their accomplishments (OK, and their outfits) instead. Ahead, see what Meghan and Kate have said about each other, and why I think we should put this latest batch of royal rumors to rest.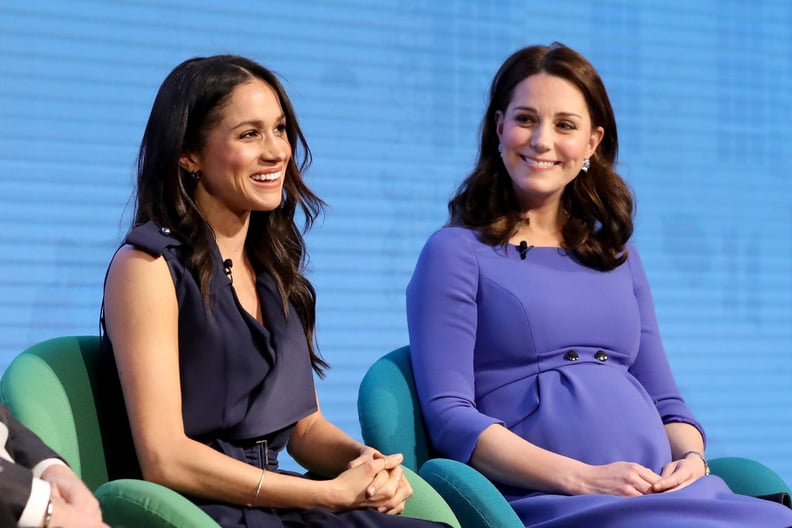 How Does Meghan Feel About Kate?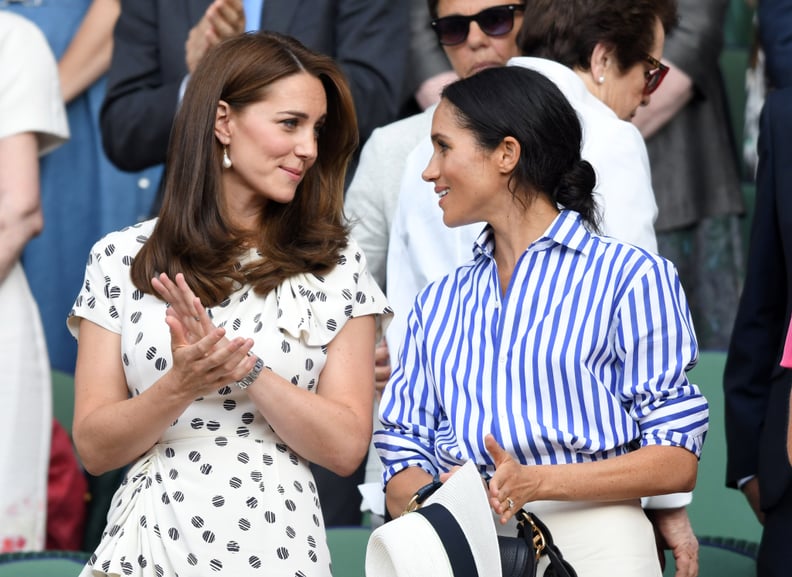 How Does Kate Feel About Meghan?
Meghan was said to be "welcomed with open arms" by Kate and Prince William. It was also reported that Kate found Meghan to be "such a breath of fresh air" when she joined the family, and that the two had "already firmly established a wonderful friendship."
While on a royal walkabout in November, Kate gushed about Meghan's pregnancy, saying that she is "absolutely" excited: "It's such a special time to have little kiddies and a cousin for [Prince] George and [Princess] Charlotte," she told a fan, adding, "It'll be really special."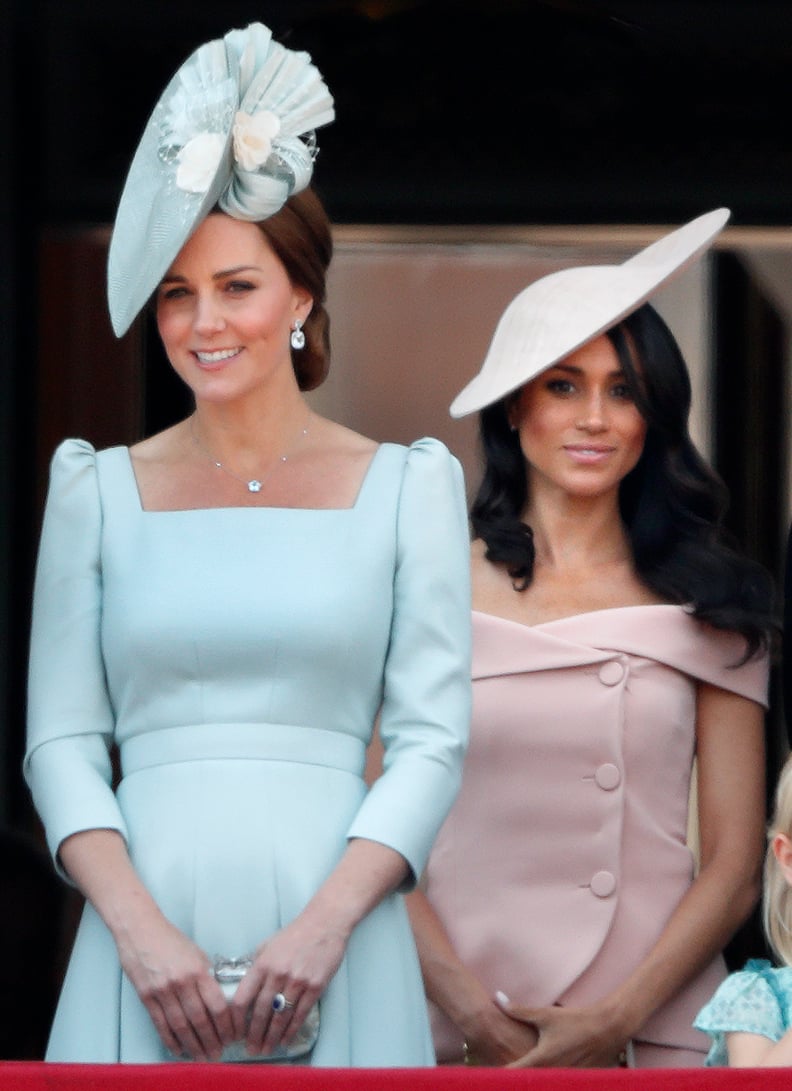 So Like, What About Those Feud Rumors Then?
Rumors of a rift between the duchesses first emerged after it was announced that Meghan and Harry would be distancing themselves a bit from Kate and William, specifically by creating a separate office for themselves at Kensington Palace. "The arrival of Meghan has changed the dynamic of the relationship in a fairly significant way," royals author Sally Bedell Smith told People in November. She described the move as "inevitable and practical," because it "gives Harry and Meghan some freedom to build up their own collection of interests and charities. Meghan has very strong views on what she is interested in and that may be what Harry shares, but not what William and Kate share."
The drama seemed to hit a fever pitch weeks later when it was announced that Meghan and Harry would also be moving homes ahead of the arrival of their baby. The newlyweds will be leaving the Kensington Palace compound and heading to Frogmore Cottage on the Windsor Estate, where they got married. Soon enough, reports that Meghan and Kate were fighting came in steadily from various outlets, and the rumors were getting so rampant that a Kensington Palace spokesperson released a rare statement shutting down the stories, saying, "This never happened."
Despite the physical distance, the foursome will continue to work together on the Royal Foundation, which focuses on mental health, wildlife and conservation, young people, and the armed forces community. We'll also continue to see them out on official engagements and of course at family functions; but it's worth keeping in mind that technically, Meghan and Kate don't have to be best friends. They can be friendly, work together, and even have disagreements from time to time — again, they are two different people, both with heavy tiaras to wear. Can we give them a break?