Prince Harry and Meghan Markle's BBC Interview Quotes
15 Truly Adorable Things Prince Harry and Meghan Markle Said During Their BBC Interview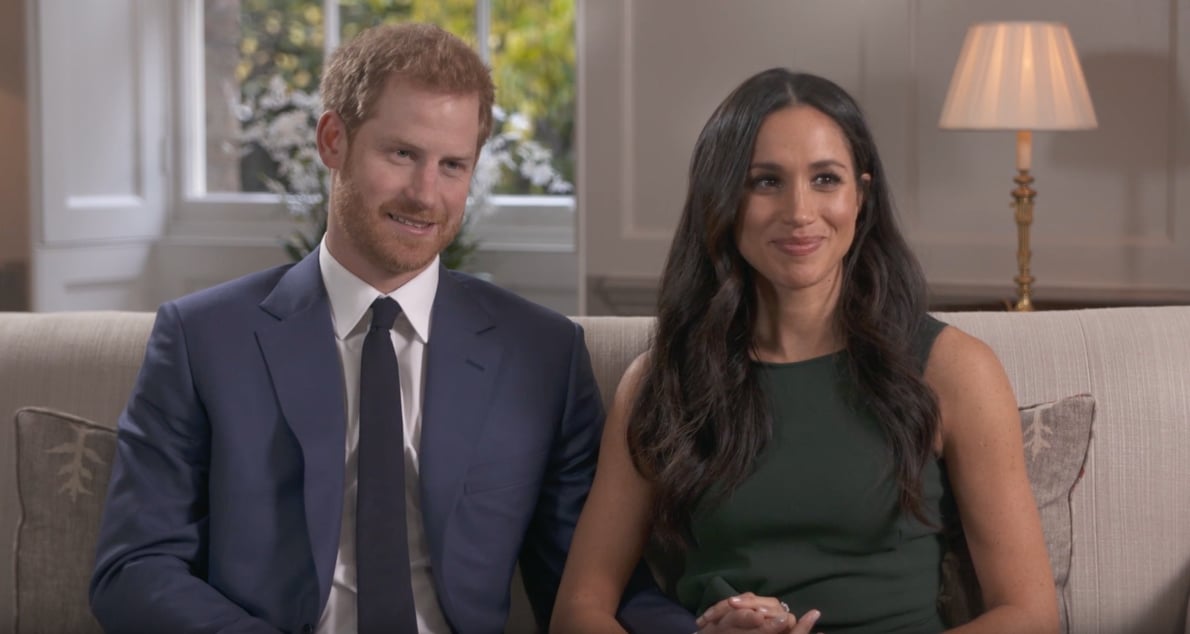 Image Source: BBC
As the world struggles to contain its excitement over the news that Prince Harry and Meghan Markle are engaged, the happy couple are busy celebrating the special milestone in their own way. After sharing the announcement via social media on Monday, they stepped out at Kensington Palace for a gorgeous photocall and were inundated with well-wishes from everyone from Prince William and Kate Middleton to Meghan's Suits costar Patrick J. Adams.
Like any average couple, they also sat down for an exceptionally cute interview with the BBC. While speaking to British news presenter Mishal Husain, Harry and Meghan discussed everything from how the proposal went down to what the queen's corgis think of the royal family's new addition. If you want to fall even more in love with them, read on, because their quotes are golden.
— Additional reporting by Gemma Cartwright
Harry
On their romantic-comedy-worthy meeting: "This beautiful woman just literally tripped and fell into my life."
On how he wooed Meghan: "We had two dates in London last July, and it was I think about three, maybe four weeks later that I managed to persuade her to come and join me in Botswana, and we camped out with each other under the stars."
On why he doesn't see their short courtship as an issue: "The fact that I fell in love with Meghan so incredibly quickly is confirmation to me that all the stars are aligned."
On his reaction to the invasive tabloid coverage: "I tried to warn [Meghan] as much as possible, but I think both of us were totally surprised by the reaction after the first five, six months that we had to ourselves, of what actually happened from then. So I think you can have as many conversations as you want and try and prepare as much as possible, but we were totally unprepared for what happened after that."
On introducing Meghan to his family: "It was exciting! I'd been seeing her for a period of time when I literally didn't tell anybody at all, and then William was longing to meet her, and so was Catherine. They're our neighbors, so we've managed to get that in quite a few times now . . . Catherine's been absolutely amazing, as has William, as well, you know, a fantastic support."
On the corgis' reaction to her: "The corgis took to [her] straight away . . . I spent the last 33 years being barked at; this one walks in, absolutely nothing!"
On what Princess Diana would think of Meghan: "They'd be thick as thieves, without question. And she would be over the moon, jumping up and down, so excited for me."
On why his engagement is bittersweet: "It is days like today when I really miss having [my mom] around and being able to share the happy news. But with the ring and with everything else that's going on, I'm sure that she's with us. Jumping up and down somewhere else."
Meghan
On the night Harry proposed: "Just a cozy night. What were we doing? We were trying to roast a chicken. It was just an amazing surprise. It was so sweet and natural and very romantic. He got down on one knee . . . As a matter of fact, I could barely let [him] finish proposing, like, 'Can I say yes now?!'"
On how they met: "It was definitely a set-up, it was a blind date . . . Because I'm from the States, you don't grow up with the same kind of understanding of the royal family, and so while I now understand very clearly there's a global interest there, I didn't know much about him. So the only thing that I had asked her [the mutual friend] was 'Is he nice?' because if he wasn't kind, it didn't seem like it would make sense."
On what it's really like to date a prince: "I think I can very safely say, as naive as it sounds now, having gone through this learning curve in the past year and a half, I did not have any understanding of just what it would be like. There's a misconception that because I have worked in the entertainment industry that this was something I'd be familiar with, but even though I'd been on my show for six years at that point and working before that, I'd never been part of tabloid culture; I was never in pop culture to that degree."
On the media attention surrounding her relationship with Harry: "We were just hit so hard at the beginning with a lot of mistruths that I made the choice to not read anything, positive or negative. It just didn't make sense, and instead we focused all of our energies just on nurturing our relationship."
On the scrutiny surrounding her ethnicity: "Of course it's disheartening. It's a shame that that is the climate in this world, to focus that much on that, to be discriminatory in that sense. I think, you know, at the end of the day, I'm really just proud of who I am and where I've come from and we have never put any focus on that. We've just focused on who we are as a couple. And so when you take all those extra layers away and all of that noise, I think it makes it really easy to just enjoy being together."
On the first time she met Queen Elizabeth II: "To be able to meet her through his lens, not just with his honor and respect for her as the monarch, but the love that he has for her as his grandmother . . . all of those layers have been so important for me so that when I met her, I had such a deep understanding and of course incredible respect for being able to have that time with her . . . She's an incredible woman."
On having Princess Diana's diamonds in her engagement ring: "Everything about Harry's thoughtfulness and the inclusion of that, and obviously not being able to meet his mom, it's so important to me to know that she's a part of this with us."