Just when we thought Naomi Osaka and Cordae couldn't get any more adorable, they shared their love for one another as part of a cover story for GQ's Modern Lovers issue. Coming from two different worlds — Naomi from the world of sports and Cordae from the world of music — the power couple discussed how they navigate their relationship as celebs and feeling out of their element when they first started dating. Cordae and Naomi first met in June 2019 at a Los Angeles Clippers game, where they had to FaceTime in order to find each other, and have been going strong ever since. Ahead are some of their best quotes about each other from the issue, which also includes Naomi discussing her relationship with Kobe Bryant and Cordae talking about the pressure to make his music meaningful. As a little treat, you can see just how well the couple knows each other in their charming couples quiz.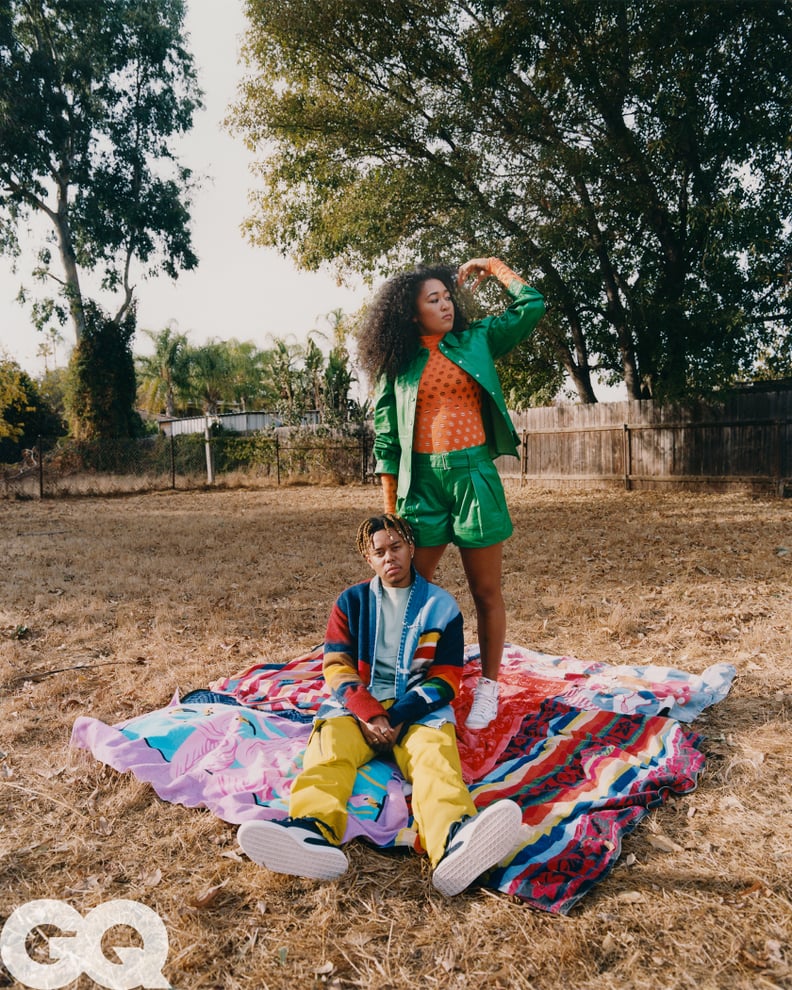 On the most romantic thing the other has done:
Cordae: "She always comes on tour with me. I don't know if that counts as sweet or romantic. But that's pretty tight. It's like she's the only girl in the crew. You know how a tour bus goes: It's me, the band, security, the homies, tour management, lights, sound engineer. You know what I'm saying? She'll just take time out of, you know, whatever she got going on training and things of that nature to just come with us on tour for, like, two weeks at a time."
Naomi: "Honestly, he's quite a romantic dude. This is going to take a little bit of backstory, but you know how in the U.S. Open we had to quarantine and we couldn't really have a lot of people there with us? So for me I'll always have my dad with me, because he's sort of like the guy that keeps me calm and he tells one-liners to keep me happy and stuff like that. He was unable to travel with me there. During the whole New York thing and with everything that was going on, I started to feel really depressed. Sometimes I would call Cordae, and maybe in some of the calls I would cry. I don't remember. And he flew out, even though he was really busy. I really appreciated that."
On navigating their relationship as celebrities:
Naomi: "He had to warm up to me. Eventually he let me listen to his music, which I feel really grateful and honored about, to be honest. He's a perfectionist, and I think that's sort of what I am too. So maybe that's why we get along."
Cordae: "We were dating for almost a year before people knew about us. We don't really post intimate moments, because I feel as though they're sacred. A relationship is really a sacred thing. Once you let outside influences get into it, it becomes less sacred."
On the pressures of dating an artist versus an athlete:
Naomi: "I would say it definitely feels very different. But I never . . . I don't know. I never really thought too much about it."
Cordae: "I don't know if I ever told Naomi this or not, but I felt really out of place. Like, [attending the U.S. Open] was my first time being in an environment like that in my entire life. My elementary school, middle school, high school was 99.9 percent Black. Kids who look like me. It just felt really weird for me being in that space. That was my first tennis match ever."