Swoon! Nick Sagar Is a Fan of Rom-Coms Because He's a "Firm Believer in Love"
In our Q&A series POPSUGAR Crush, we get to know some of our favorite celebs' more intimate details — from their favorite flirty emoji to their most valuable relationship advice. This month, we're crushing on The Princess Switch and Run the World star Nick Sagar.
If you love Netflix rom-coms, especially holiday-themed ones, you're probably already a fan of Nick Sagar. The dashing actor has starred in a handful of notable projects, including Tyler Perry's The Haves and the Have Nots, Shadowhunters, and Queen of the South, but he really stole our hearts with his role as Kevin in The Princess Switch films starring Vanessa Hudgens. While we already have a third film to look forward to, Nick is also set to make an appearance on Starz's anticipated new series Run the World, which is already being described as a cross between Sex and the City and Living Single. So, needless to say, we're all on board.
While the first glimpse of the trailer already has us stoked, one thing that drew Nick to the series was all the incredible female characters. "It's female-driven," he said about the show. "As soon as I saw it, I was like, 'That is incredible.' We need more of these stories. It's [also] very ethnically diverse and it's really nice to see these women in positions of power. I can relate from a guy's point of view when I was younger and looking for role models in not just athletes and sports, I wanted to see financial and all these other avenues, which was harder to see represented on screen. So to be in this era now where we're seeing these things represented is just wonderful."
"I'm a firm believer in love and letting everyone love freely who they want to love."
Even though he didn't want to give too much away about his character on the show, he did tease that his character is "romantically involved" with Ella (played by Andrea Bordeaux). "When it picks up, he's coming back into her life after them being away from each other and then figuring it out," he said. "There's definitely a few things I relate to him with. He is very much a gentleman, very much knows what he wants, treats his woman very well. Although they've been through ups and downs like couples do, they've been together for a long time."
In addition to starring in some of our favorite rom-coms, Nick is also a fan of them. "Especially with what we've been going through with the current world, love is really the most important thing and all we have," he said about the rom-com genre. "So I'm a firm believer in love and letting everyone love freely who they want to love. I love rom-coms. Even when I was single, some of those were my favorite movies. I love The Notebook, I loved Love and Basketball, so many of them. I just loved to dream about love." Swoon! Be sure to see what else he had to say during our POPSUGAR Crush interview ahead.
What is your favorite form of self-care?
Gym and meditation.
What is your signature scent?
It's Arabic — I don't know the name, it begins with a W — but I found it in Italy and I fell in love with it. I don't know the name and I don't know if I want to say the name because it's my signature scent. So I'm going to keep that one to myself.
What is your favorite workout?
I do love my martial arts. I just fell in love with bench press. I remember when I first started the gym, when I had no idea what I was doing, I used to do bench press five days a week because it was like the iconic exercise. But probably martial arts, too. I'm a huge fan of that.
Dogs or cats?
You can't do that to me. I grew up as a cat person. I love cats. I resonate with cats because cats are wonderful. They come to you when they want some love. Dogs I love too, but I would say cats.
What is your best love advice?
Oh, that's a tough one! If it feels right, keep going. Something like that. You know, if you're happy and it makes you happy, don't worry about anything [else]. If it makes you feel happy, go for it.
What is the most romantic thing you've ever done or that's ever been done for you?
I have no clue! I really don't know. When they have listened and got it exactly right, without me hinting. When you know they've really listened and got you something where you're like, I didn't even think you've heard me.
What is your biggest turnoff or turn-on?
I think biggest turnoff would probably be a closed mind.
What's your go-to drink order?
I do love peppermint and chamomile, splash of honey. And I do love a bulletproof coffee.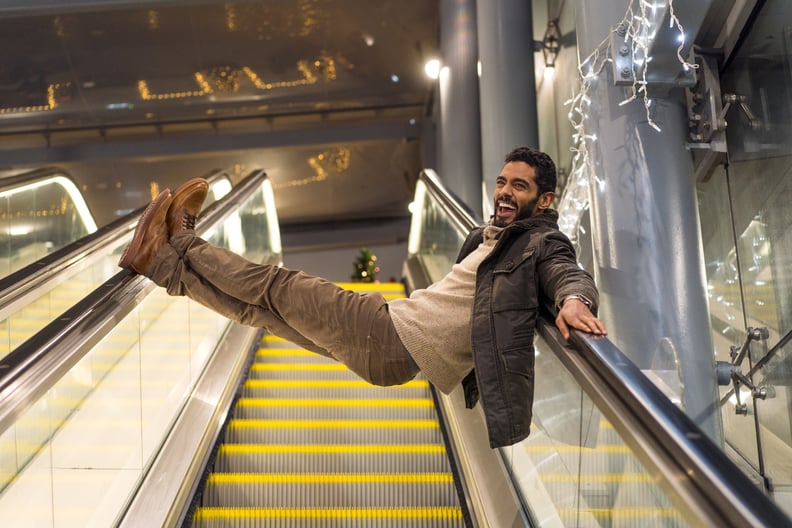 Who was your first celebrity crush?
Britney Spears, that one hit me pretty hard. I remember when I saw "...Baby One More Time" on screen, I ran up to my brother's fiancée at the time — because she knew everything — I was like, "Who is that?" My bro [had a crush on] J Lo. We used to have wars. He had one half of the room, I had the other. I had my poster over there, he had his poster [on his side of the room]. Then when I got to like maybe 17 or 18, I had liked Jessica Alba for a while, but I got into my 20s and those crushes went away.
What is your favorite pickup line?
I never used the lines. I was never really good at it, probably because I get very shy, which is hard to believe in what I do, but I would always look at her and try to find something about her that attracted me to her, not always looks-wise, and I'll try to talk about that.
What is your ideal first date?
I think it depends on the person you're talking to. You know, really listening to her, and then it could be something she likes. I do love a movie date. I'm a huge movie buff. Maybe off to doing something fun, something to break the ice, and then you go to the movies because you can't really get to talk as much in the movies. But I do love a movie date.
What is your go-to movie genre for date night?
Usually rom-coms and comedies are the best go-to to just to break the ice, because sometimes you can go to a movie that's real deep and you can get a little traumatized and then you don't know how you're going to come out. You might want to keep it light.
Most memorable fan encounter?
I've had a few nice people out of nowhere just say some really nice things. I actually had one today. I went for a jog and I was running with my headphones and they stopped me, and two young girls were just like, "You are from that movie!" They were with their little sister. She must've been 2 years old, just adorable, she looked a lot like she had no idea what was going on. Every encounter for me is really meaningful because it took me a long time to get to where I am now. So when I hear people are genuinely like, "I loved what you did," I literally feel like I have to stop them and give them some time, because it does mean so much that they would share that.
What is your favorite thing to cook?
I love fried plantains.
Would you rather get dressed up or wear comfy clothes?
Once again, it depends. I'm a creature of comfort. I'm always in athleisure and sweats, but then I do love to switch it up.
What is the best gift you've ever received?
Oh, friendship and love. I've had people give me some amazing stuff, but when I think of the gifts that come from friendship, like support and laughter, I'd take that any day.