Olivia Rodrigo and Conan Gray's Friendship Moments Through the Years
Singer Olivia Rodrigo dominated 2021 with her many hit singles like "Drivers License," "Deja Vu," and "Good 4 U" off her debut album, "Sour." The Grammy Award-winning singer rose to fame following her days as an actress on Disney Channel's "Bizaardvark" and Disney+'s "High School Musical: The Musical: The Series," and she's since garnered millions of fans worldwide, as well as some new celebrity friends along the way. Singer Conan Gray, known for his songs "Heather" and "Maniac," crossed paths with Rodrigo in 2021 through their mutual music producer, Dan Nigro, and bonded over their love for Taylor Swift.
After helping Swift promote the new version of "You Belong With Me" off her rerecorded album "Fearless" in April 2021, the pair have been inseparable and often share snippets documenting their friendship on social media. From their iconic reenactment of Swift's music video to sentimental Instagram posts, let's revisit the best moments from Rodrigo and Gray's friendship over the years.
March 2021: Olivia Rodrigo and Conan Gray Bond Over Taylor Swift
Rodrigo and Gray first appeared on social media together in March 2021, following the release of Taylor Swift's rerecorded song "You All Over Me" off "Fearless." The two revealed their love for the award-winning singer in an Instagram post, with Rodrigo writing, "Conan and Olivia listening to 'you all over me' but it's a renaissance painting."
Touching on her friendship with Gray, Rodrigo told Capital FM on March 18, 2021, "Conan's a friend of mine, and the guy who produces most of my music produces most of his. We're just pals and I think he's so brilliant."
April 2021: Olivia Rodrigo and Conan Gray Lip-Sync Taylor Swift's "You Belong With Me"
By April 2021, it was no secret Rodrigo and Gray were huge fans of Swift. On Instagram, Rodrigo shared a post of her and Gray reenacting moments from Swift's original music video for "You Belong With Me," which included the friends holding handwritten signs and enthusiastically lip-syncing the lyrics.
Swift herself called the pair "her two kids" in a tweet, writing about their playful collaboration, "You ok? NO cause I sent my two kids @Olivia_Rodrigo and @conangray my new version of You Belong With Me and THEY ARE SO CUTE IT PHYSICALLY HURTS ME ((Album out at midnight!))"
June 2021: Olivia Rodrigo and Conan Gray Go to "Sour" Prom Together
October 2021: Olivia Rodrigo and Conan Gray Celebrate Halloween
Rodrigo and Gray took part in spooky festivities and celebrated Halloween together in October 2021. The "Good 4 U" singer shared pictures of the night on Instagram, appearing to dress as the famous character Elvira Hancock from the 1983 film "Scarface." Along with her stunning costume and wig, Rodrigo included a video of her and Gray blissfully dancing to Chaka Khan's "I'm Every Woman."
November 2021: Olivia Rodrigo and Conan Gray Attend the AMAs Together
Rodrigo and Gray took their friendship to the red carpet in November 2021 for the American Music Awards. The "Deja Vu" singer was nominated for seven awards and ultimately took home the AMA for new artist of the year. She addressed fan support in her acceptance speech, saying, "It means so much to me. Writing songs is my favorite thing in the whole world, and I am so grateful for everyone who has embraced my music."
December 2021: Olivia Rodrigo Gives Conan Gray a Birthday Shout-Out
Rodrigo showered Gray in some birthday love in an Instagram post dedicated to the "Maniac" singer for his 23rd birthday. In the post, she tagged Gray and wrote the caption, "happy birthday sweet cone. i love u more than anyone has loved anyone ever." Along with the sweet birthday message, the pictures showed moments through their friendship, including Gray surrounded by birthday banners and a balloon.
January 2022: Olivia Rodrigo and Conan Gray Ring In the New Year
There's nothing better than starting a new year on a good note. Rodrigo and Gray brought in 2022 together and posed for a picture on the holiday. Rodrigo shared her attitude on embracing the new year, writing in the caption, "so grateful and so stoked for next year!!!!!! love u love u love u."
February 2022: Conan Gray Gives Olivia Rodrigo Birthday Love
In February 2022, Gray posted a collage of pictures on Instagram of him and Rodrigo together for her 19th birthday. Snapshots of the pair included masked mirror selfies and matching jackets. He detailed how much their friendship means to him in the caption, writing, "happy bday my liv. my heart has been looking for yours for a long long time. love u endlessly."
April 2022: Olivia Rodrigo and Conan Gray Perform Together on Stage
As part of Rodrigo's "Sour" tour, the singer made a stop in Vancouver and shared a special moment on stage with Gray during the concert. Side by side, the two sang a stripped, acoustic version of Katy Perry's "The One That Got Away." Rodrigo shared the moment on Instagram and wrote, "ilysm @conangray singing with u is my favorite thing everrrr."
Gray reflected on their time on stage together to People, telling the outlet shortly after their performance that "she's so talented and it [was] an absolute pleasure to witness her talent in front of my eyes for the first time. I've never seen her live."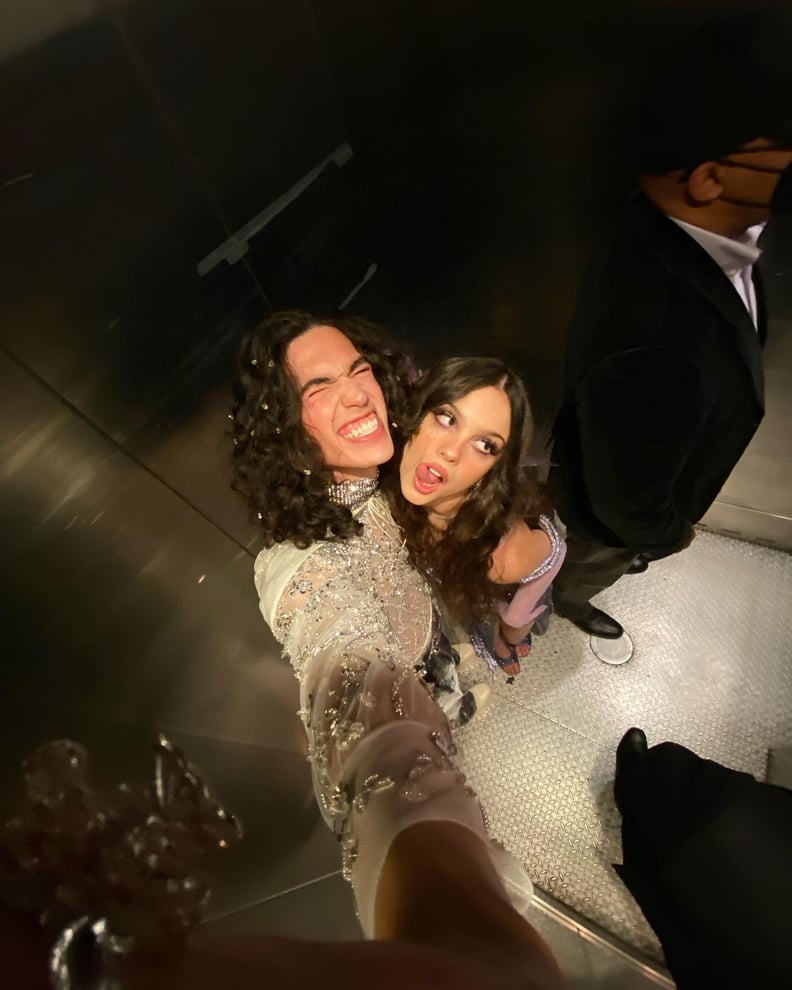 May 2022: Olivia Rodrigo and Conan Gray Attend the Met Gala
The BFFs made their Met Gala debut together in May 2022, with Rodrigo wearing a gorgeous lavender gown adorned with sparkles and butterfly hair accessories to match and Gray flaunting a sheer, white top with stunning silver pants and platform shoes. They caught up at the Met Gala afterparty and snapped a goofy elevator picture together after the event. Iconic.