Are Drake and Rihanna Dating?
A History of Drake and Rihanna's On-Again, Off-Again, Maybe Sort-Of Romance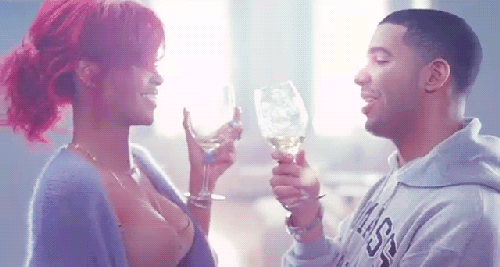 1
Part 1: The Beginning, Then the End
May 2009: After breaking up with Chris Brown earlier in the year, Rihanna is spotted smooching a mystery man at the Lucky Strike bowling alley in LA. He is later identified as an actor-turned-rapper named Aubrey "Drake" Graham.
April 2010: Drake puts his feelings about Rihanna on wax in the song "Fireworks." He alludes to their night at the bowling alley, rapping, "Who coulda predicted Lucky Strike would have you stuck with me? What happened between us that night, it always seems to trouble me," and "I'll never forget it baby, what an experience/You coulda been the one, but it wasn't that serious."
June 2010: In an interview with the NY Times, Drake vents about his short-lived relationship with the singer, saying, "I was a pawn. You know what she was doing to me? She was doing exactly what I've done to so many women throughout my life, which is show them quality time, then disappear. I was like, wow, this feels terrible."
Source: RihannaVEVO