Tan France Is Now a Dad of Two as Newborn Isaac "Completes Our Little Family Perfectly"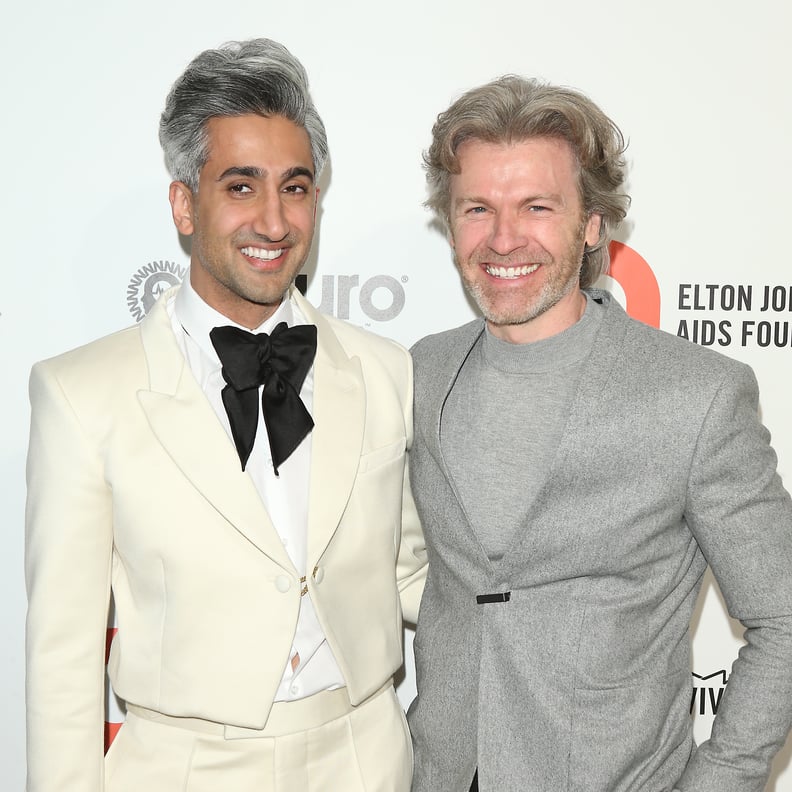 "Queer Eye"'s Tan France is now a dad of two! The fashion expert announced on May 31 that he had welcomed his second son with husband Rob. Baby Isaac was brought into the world via surrogate as Tan wrote on Instagram that "he completes our little family perfectly." He joins the pair's first child, son Ismail, who was born in July 2021. "Becoming dads has been our greatest joy, and we are so excited to grow our family with the help of our wonderful surrogate," Tan shared on Instagram when he announced they were expecting another bundle of joy.
People broke the pair's baby news first, and in a May 7 interview with the outlet, Tan teased that his son wasn't quite ready to become a big brother. "[He's] going to get the shock of his life in a few months," the reality-TV star shared. "All he knows is that he's obsessed with monster trucks and cars. That's all he knows. He doesn't want to know anything else."
The Frances first opened up to the world about their parenthood journey in April 2021 when they revealed they were expecting Ismail. "So happy to finally share that WE'RE HAVING A BABY!!" Tan captioned a shirtless photo on Instagram. "No, I'm not pregnant, despite this VERY realistic pic. With the greatest gift/help of the most wonderful surrogate, Rob and I are lucky enough to be on our way to being parents, this Summer. Something we've wanted for SOooo many years. Our hearts are so full right now. I cannot wait to hold this baby, and to show him so much love."
Though the pair haven't shared any recent photos of their son's face on Instagram (which they hide with an emoji), they still post snaps of him every now and then. On April 16, Tan posted a photo captioned, "Daddy/Emoji day out. Emoji chose his own outfit."
Back in 2018, Tan told The Press Association that he'd love to have six kids, so this next little one may have some future France babes as siblings. "I truly do want six," Tan said. "I will settle for minimum four. And no, six is not loads. It's just enough."
Keep scrolling to learn more about Tan and Rob's growing family.
Ismail France
Tan and Rob welcomed their first child, Ismail, on July 10, 2021. The little one was born seven weeks early and spent time in the NICU before the new dads were able to bring him home on Aug. 2.
"Give our son a warm welcome," Tan wrote in his announcement post on Instagram. "We love him so, so much. Like, fully obsessed. Our Surrogate is doing so great, post labor, and we couldn't be more grateful for the greatest gift in our lives." Rob shared the same photo on his account, writing, "My two loves."
During an interview on "A Little Late With Lilly Singh" ahead of Ismail's birth, Tan shared that he'd known what he'd name his future son since he was a teenager. "Here's the thing," he said. "I have had a name picked out for my son since I was like 16 or 17, possibly even earlier — I've always known."
Since his birth, Ismail has been a cute addition to his dads' Instagram pages, though the pair don't show the little one's face. Ismail is now an older brother after his sibling, Isaac, arrived.
Isaac France
Tan and Rob welcomed their second son, Isaac, via surrogate, over Memorial Day weekend 2023. The fashion expert posted two photos of their new addition wearing a knitted hat, alongside big brother, Ismail, on 31 May, declaring that "he completes our little family perfectly."
More Photos of Tan France's Kids