The Weeknd Opens Up About the Darkest Time in His Life and His Album After Hours in Rare Interview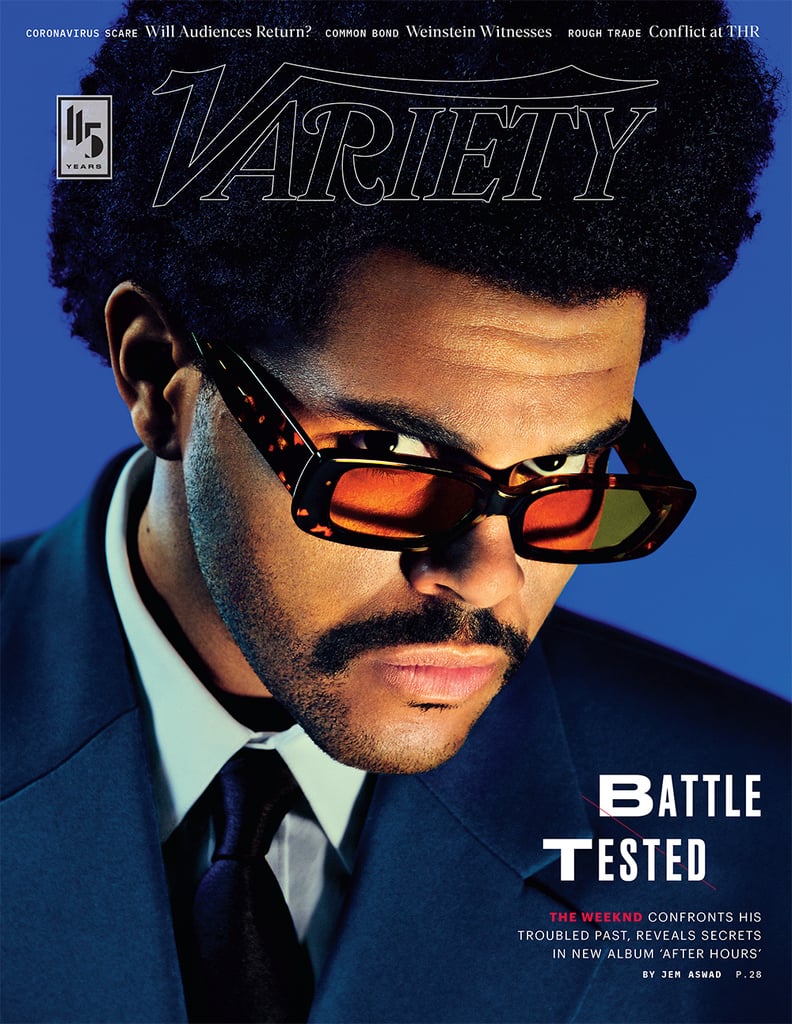 Variety | Pari Dukovic
We're not used to seeing The Weeknd give interviews, but he seems to have had a change of heart coming into 2020. After gracing the cover of Carine Roitfeld's CR Men March issue, the 30-year-old R&B crooner recently sat down for another interview with Variety. Yep, that's two interviews in nearly five years! That's a pretty big deal for The Weeknd. In the April issue, he talked about everything from ringing in his birthday with Jim Carrey to his After Hours album, which is filled to the brim with references to his ex Bella Hadid.
The Weeknd was originally set to hit the road later this year for his After Hours Tour. Things were supposed to kick off on June 11 with stops all across the US, Canada, the UK, Belgium, the Netherlands, Germany, and France, but the dates are now being moved around due to the novel coronavirus pandemic. "The tour is still happening — we're not canceling. We just have to rearrange the dates, which is unfortunate but certainly understandable," The Weeknd said. While we wait for the new dates to be announced, read ahead for everything we learned about The Weeknd, straight from the artist himself.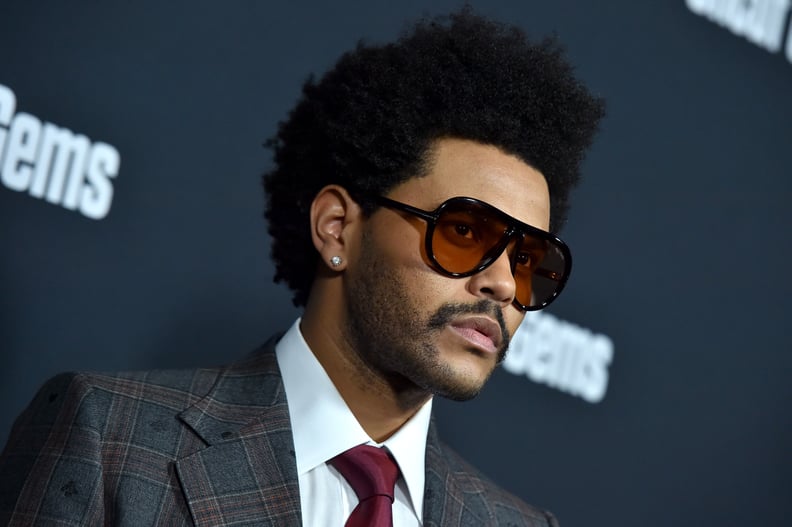 He's binge-watching Peaky Blinders, Shameless, and Mindhunter while social distancing.
He rang in his 30th birthday with Jim Carrey on Feb. 16. "The Mask was the first film I ever went to see in a theater — my mom took me when I was 4, and it blew me away. I texted [Jim Carrey] the address of my condo in LA and he said, 'I can literally see your place from my balcony.' We got out telescopes and were waving to each other and when I told him about my mom taking me to see The Mask and he knew the theater!" The Weeknd explained. "Anyway, on my [30th] birthday, he called and told me to look out my window, and on his balcony he had these giant red balloons, and he picked me up and we went to breakfast. It was surreal. Jim Carrey was my first inspiration to be any kind of performer, and I went to breakfast with him on my first day of being 30."
Speaking of turning 30, The Weeknd says this is just the beginning of a new chapter in his life. "I think people say your 30s are your best years because you're becoming the person you're supposed to be," he said. "And this is the beginning of not just a new chapter but my second decade [as a performer]. I feel like my career is just starting."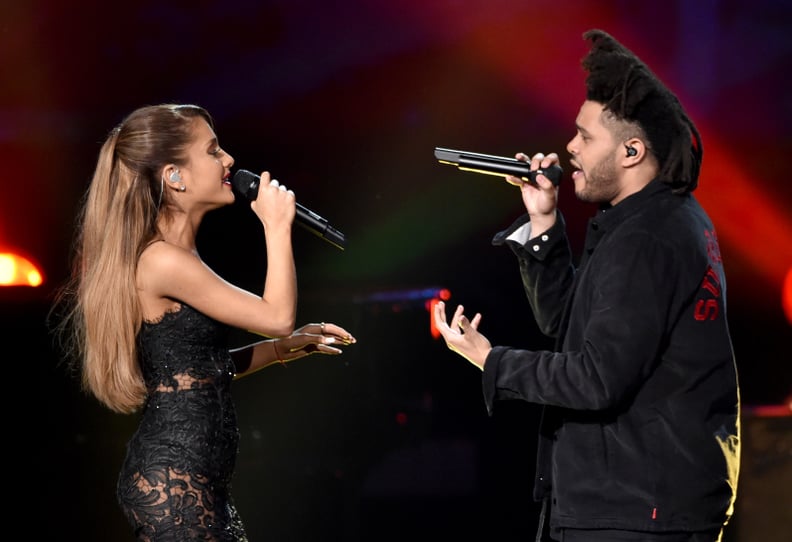 He has Ariana Grande to thank for connecting him with Swedish songwriter and record producer Max Martin. "Ariana [Grande] was kinda my foot in the door with Max [Martin], my chance to show him 'I can play this game,' y'know? But when we got in the room together, we didn't really connect as much," he explained. "Then someone invited him to a show I did at the Hollywood Bowl, and he saw 15,000 people singing along, and I think he was like, 'OK, there's something I'm not getting.' So we sat down again, and the first song we created was 'In the Night.'"
Music saved his life. "I didn't know that I had a gift with music, but I was always singing. I was actually getting in trouble because I would sing in class — my poor mother, it became a real problem. I was really shy so I wasn't really singing to my friends or girls, but when I was maybe 13, somebody said, 'You actually have a pretty nice voice,'" he revealed. "It was tough growing up where I was from. I got into a lot of trouble, got kicked out of school, moved to different schools, and finally dropped out. I really thought film was gonna be my way out, but I couldn't really make a movie to feel better, you know? Music was very direct therapy; it was immediate and people liked it. It definitely saved my life . . . It's easier to talk about songs that are just about me; I don't like to talk about what I'm going through with other people."
Despite the coronavirus outbreak, The Weeknd moved forward with releasing his After Hours album for his fans. "I cut that discussion off right away. Fans had been waiting for the album, and I felt like I had to deliver it. The commercial success is a blessing, especially because the odds were against me: [Music] streaming is down 10%, stores are closed, people can't go to concerts, but I didn't care. I knew how important it was to my fans," he said. "It's been amazing to see the real heroes in our world: health care workers, grocery store clerks, first responders. If I could do something even as small as taking people away from what's happening in the world for an hour, then what better time?"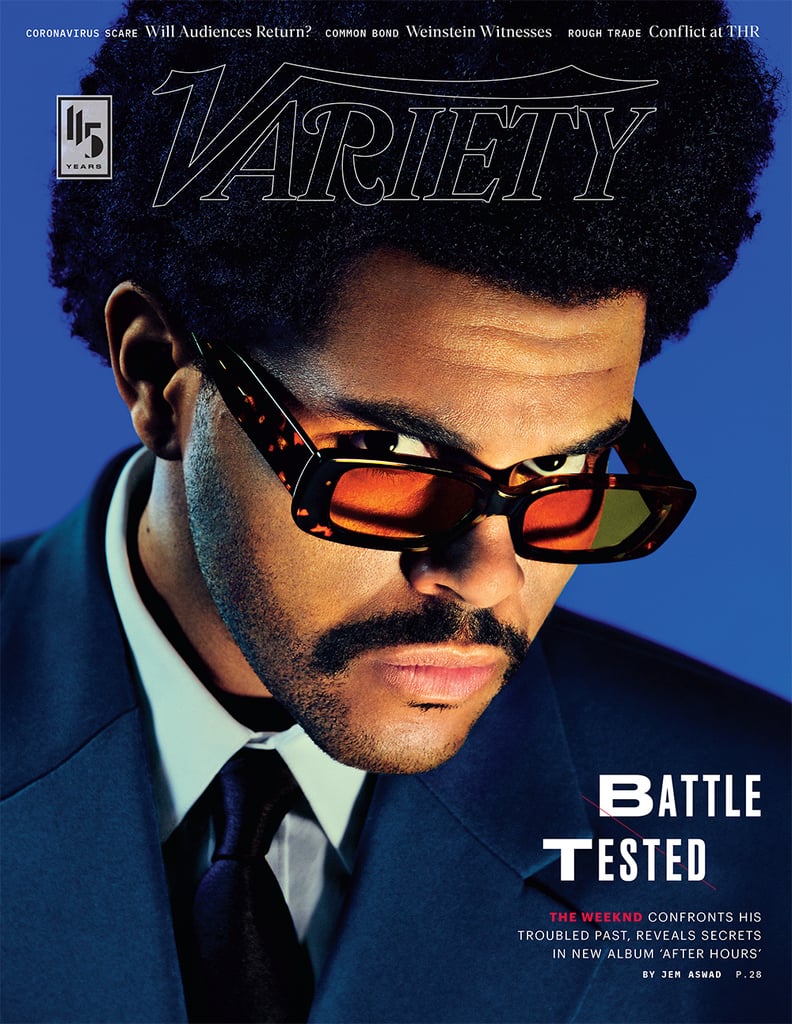 He felt it was important to revisit his demons and let his guard down on After Hours. "I didn't want to, but sometimes you try to run away from who you are, and you always get back to that place. By the end of this album, you realize, 'I'm not that person.' I was, but I'm growing and wiser, and I'm gonna have children someday, and I'm going to tell them they don't have to be that person," he explained. "You could hear the vulnerability in the music before, but there was such a shield, such a f*ck you to the world, and now I'm very comfortable with letting the world know that I can be that way."
"Faith" is about the darkest time in The Weeknd's life. "So, ['Faith'] is about the darkest time of my entire life, around 2013, 2014. I was getting really, really tossed up and going through a lot of personal stuff. I got arrested in Vegas. It was a real rock-star era, which I'm not really proud of," he said. "You hear sirens at the end the song — that's me in the back of the cop car, that moment. I always wanted to make that song but I never did, and this album felt like the perfect time, because [the character] is looking for an escape after a heartbreak or whatever. I wanted to be that guy again — the 'Heartless' guy who hates God and is losing his f*cking religion and hating what he looks like in the mirror, so he keeps getting high. That's who this song is."
He got Elton John's seal of approval for "Scared to Live" (which features an interpolation of Elton's "Your Song"). "Before I played it for Elton, I was like, 'F*ck, I hope he likes it.' But he was freakin' — he was like, 'Mate, you're gonna be doing this for a long time!'" Elton added, "[The Weeknd] has his own unique artistic voice — that's the hallmark of a genuinely great, long-term artist. I'm utterly thrilled that the DNA for 'Your Song' has found its way into 'Scared to Live.' It's the greatest compliment a songwriter can ever receive."