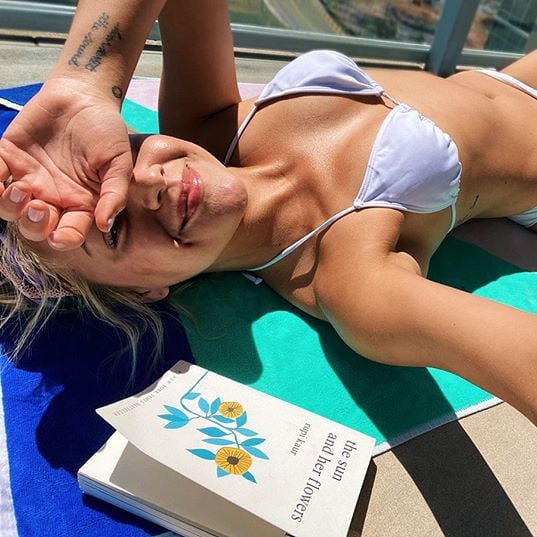 Celebrities love a good book just like the rest of us, and luckily, they also love to Instagram them, making it easier for the rest of us to get some inspiration for what book to pick up next. Several celebrities lately have been sharing their current reads on Instagram — from poetry collections to compelling novels you won't be able to put down. We've already got so many ideas for what to pick up next, so we thought we'd share the wealth with you. Scroll through to see what everyone's reading, and feel free to add all of them to your TBR pile ASAP.
Kelsea Ballerini
Kelsea Ballerini had Rupi Kaur's The Sun and Her Flowers by her side while sunbathing. The book is an illustrated collection of work about love.
Zoey Deutch
Zoey Deutch snapped this picture of an excerpt from Esther Perel's The State of Affairs. The bestelling book from the popular couples' therapist discusses infidelity and all its nuances.
Kendall Jenner
Kendall Jenner had Fariha Roísín's How to Cure a Ghost with her on the beach. This book is a collection of poetry from the perspective of a queer Muslim woman.
Reese Witherspoon
Glennon Doyle's Untamed is Reese Witherspoon's book-club pick for April and a book she said spoke to her "so loudly and clearly." The memoir, according to Reese, is "packed with incredible insight about what it means to be a woman today , what did we learn as young girls about how to behave or believe, and why we need to free ourselves from a lot of these ideas that don't work anymore."
Ali Wong
Ali Wong shared Ocean Vuong's On Earth We're Briefly Gorgeous on Instagram. The book, written as a letter from a son to his mother, tells their family's story and touches on the topic of race and class throughout history.
Nick Cannon
Nick Cannon's been very busy reading this spring, and one book he picked up is The Heart of a Woman by Maya Angelou, the fourth book in her biographical series.
Nicole Kidman
Nicole Kidman's currently in the process of adapting Janelle Brown's Pretty Things, a story about two women who come from completely different worlds but cross paths in the wake of a scam.
Demi Moore
Demi Moore, Bruce Willis, and their whole family sat down with Laura Day's How to Rule the World From Your Couch, a book on doing exactly what the title says — getting what you want with less work and more payoff.
Emily Lind
The Gossip Girl reboot's Emily Lind is immersing herself in Joan Didion's The White Album, a powerful collection of essays about her own life and life in the 1960s.
Storm Reid
Storm Reid's reading Cleo Wade's Where to Begin, a collection of inspirational poems about life.
Emma Roberts
Emma Roberts chose Lily King's Writers & Lovers as a book-club selection. The bestselling novel tells the story of a woman whose life starts to crumble around her and who has to figure out a way to move on.