Everything We Know About "Partner Track" Star Dominic Sherwood's Dating History
If you've already binge-watched all 10 episodes of Netflix's new legal drama series "Partner Track," then you are probably very familiar with actor Dominic Sherwood — and possibly have a new face pinned to your billboard of Netflix heartthrobs. Some may remember Sherwood from his three-season stint on Freeform's "Shadowhunters," in which he played series lead Jace Wayland from 2016 to 2019. On "Partner Track," he stars as Jeff Murphy, lawyer and boyfriend to series protagonist Ingrid Yun (portrayed by Arden Cho). From his character's swoonworthy side-eye to his irresistible charisma, fans are eager to see Jeff's redemption arc play out in a possible season two.
Meanwhile, some are curious as to whether Sherwood is currently single or taken. Despite their fiery onscreen chemistry, Sherwood and Cho are not an item in real life. Albeit, that wouldn't be the first time Sherwood entered a relationship with one of his costars. In recent years, the actor has stayed rather mum about his romances, but he is in a relationship at the moment.
Read more about Sherwood's dating history, which includes the newly married Sarah Hyland.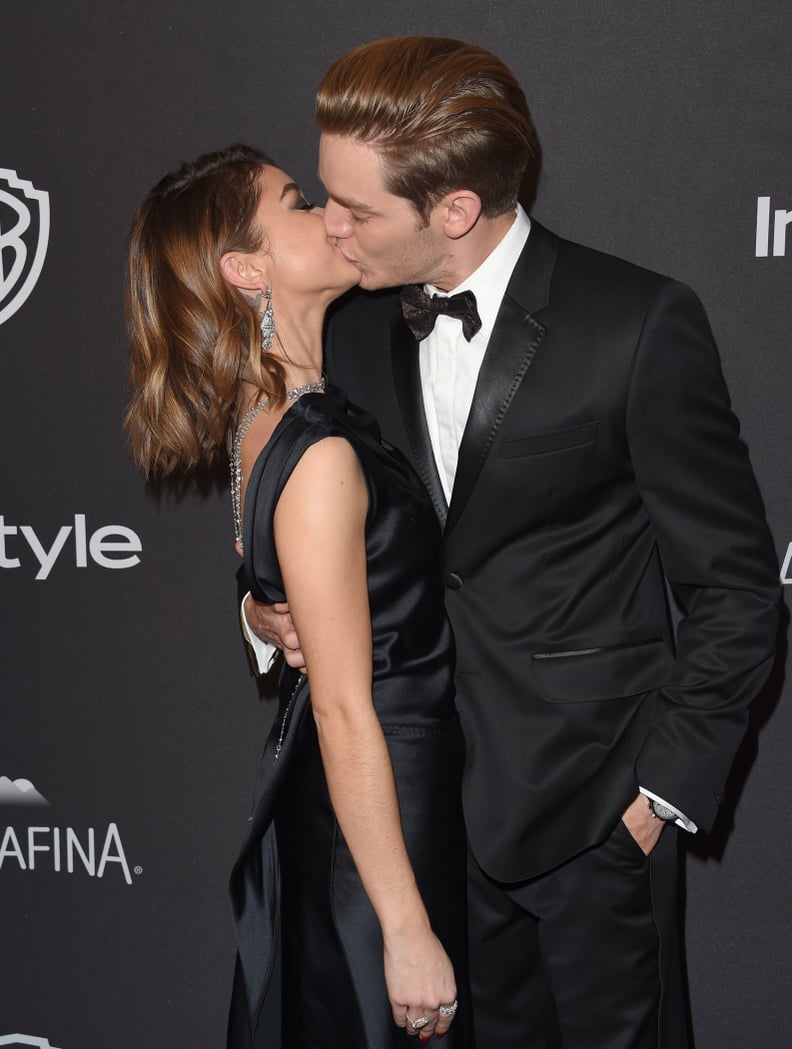 Sarah Hyland (2015-2017)
The duo first met while filming their 2014 dramedy "Vampire Academy," but it wasn't until a year later that they seemingly confirmed their romance when they were spotted kissing outside of the Warwick in Los Angeles in February 2015 and again at a basketball game later that March, per People. That same month, Entertainment Tonight reported that they got matching arrow tattoos.
"Sarah makes me want to be a better version of myself," Sherwood told ET in 2016. "That's what I love most about her. She inspires me to be the best version of me." After two years of dating, Sherwood and Hyland went their separate ways in 2017. "They aren't dating anymore but they both have mutual respect for one another and remain friends," a source told People about their breakup at the time.
Niamh Adkins (2018)
Sherwood was romantically linked to the model in 2018, though it's unclear how and when the two first met. However, Adkins confirmed their relationship on Instagram when she shared a photo of them kissing on Sherwood's birthday. "28," she captioned the since-deleted Instagram post along with a heart emoji.
Decker Sadowski (2022)
Sherwood is currently dating fellow actor Decker Sadowski. While neither has publicly commented on the status of their relationship, both Sherwood and Sadowski have made multiple (and PDA-packed) appearances on each other's Instagrams. In March 2022, following the world premiere of "Juniper," which Sadowski stars in, Sherwood shared a video of him and Sadowski sharing a celebratory kiss. "I'm so proud of you @deckersadowski and the whole @juniperfeaturefilm team!!" he captioned it.
Later, in April, Sadowski shared a carousel of behind-the-scenes photos from her 30th birthday weekend featuring Sherwood. And in July, Sherwood gave fans a glimpse into their vacation in Italy on Instagram.