American Horror Story: Freak Show Premiere Recap
The 5 Freakiest Moments of the American Horror Story: Freak Show Premiere
Welcome to the freak show, friends! A new season of American Horror Story has begun, and after much time speculating about every teaser and picture, I'm inclined to say it was worth the wait. Jessica Lange's German accent is pitch perfect, especially when she's inexplicably singing David Bowie tunes. Evan Peters's lobster hands are being put to good use (more on that later), and the first episode is filled to the brim with murder, mayhem, meltdowns, and really disturbing sex. We'll be bringing you some choice GIFs from the premiere later on, but for now, let's go through the five freakiest moments so far.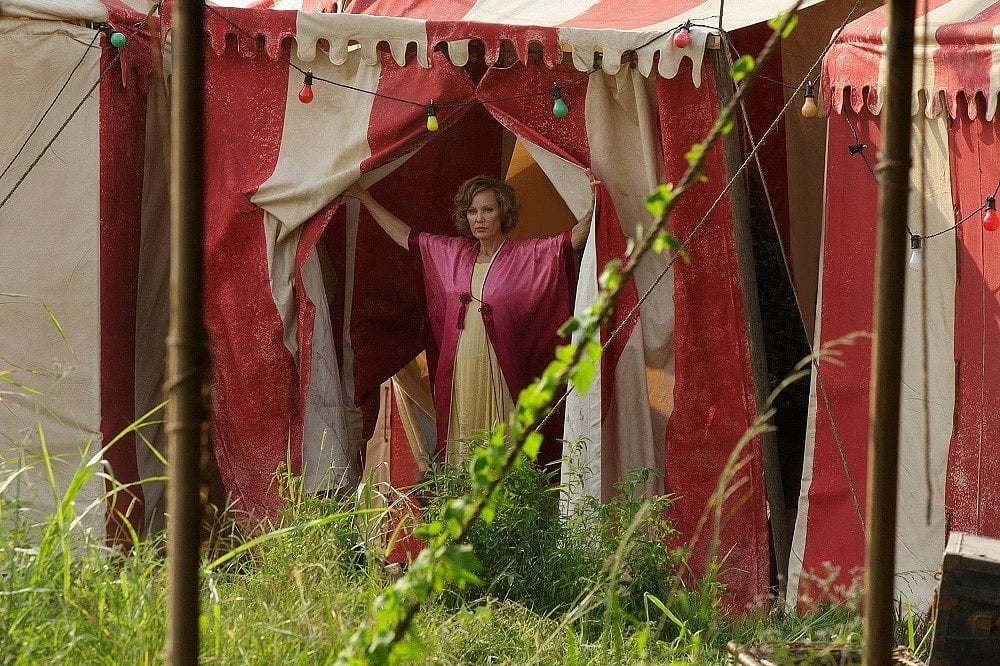 Twisty the Clown stabs a man to death. YOU GUYS. Twisty is terrifying. He shows up by the lake in a scene bizarrely reminiscent of Zodiac — which, strangely, also features John Carroll Lynch — and interrupts a lovely date. A couple of frisky teenagers are just trying to get lucky when he walks up, and when the dude tries to fight him, Twisty just takes him down. The girl wakes up just as he's repeatedly stabbing her boyfriend. He's still alive, and his gurgles are sickening. It's fantastic.
Jimmy's day job is pleasuring bored housewives with his lobster hands. Because you can't really maintain a good life on the salary of a sideshow act, Jimmy's been earning extra cash as the main attraction/dirty little secret of bored housewives. The civility of this retro party scene is so bizarre; it's like a Tupperware party, but instead of plastic cake platters, there's Jimmy and his weird hands. He seems to be enjoying himself, but later he complains to his mom (aka The Bearded Lady played by Kathy Bates) that he's really over slipping out of back doors. (Euphemism alert?)
The freaks drug and rape Penny the candy striper. If you recall, Grace Gummer turned up on Coven as Millie, the witch who murders The Axeman. This time, she's in a less badass position as the candy striper at the hospital that Bette and Dot are taken to. She and Elsa interact in the beginning, but I thought that was it for her cameo. Nope. She shows up later in shambles at the freak show. She says she's been drugged and abused, but Elsa flips on the projector and tells her that no, she liked her experience with the freaks. What, pray tell, does that mean? It means she was involved in an orgy with the freaks and the tape shows her smiling and laughing — but she's completely drugged! What is Elsa getting out of this perversion? This scene is so disturbing and sad.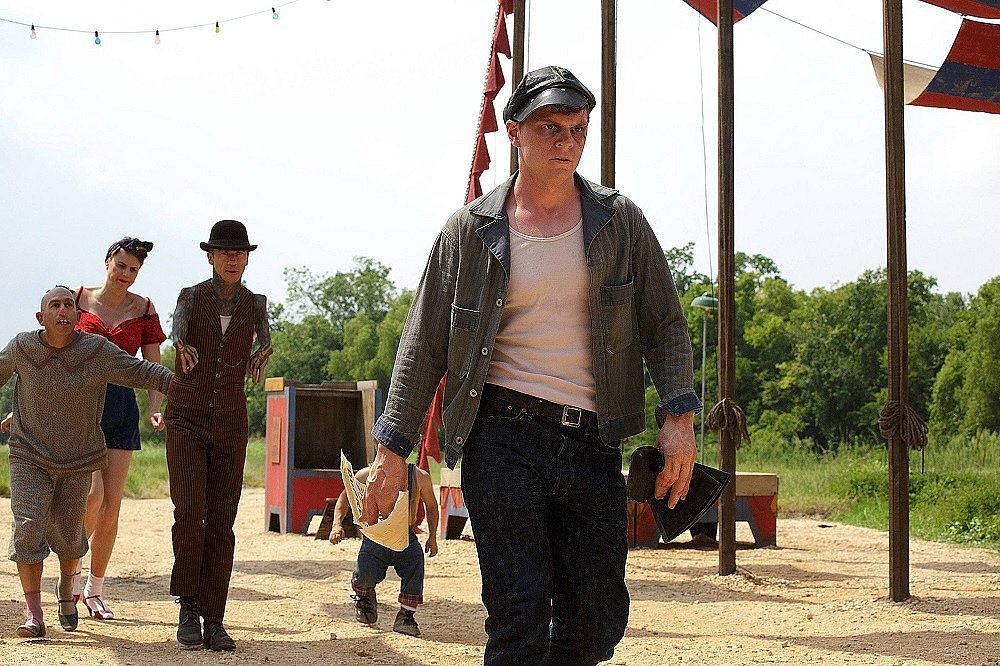 Jimmy slices the detective's throat. I really want to like Jimmy, but he's got a gnarly temper. He just wants to protect Bette and Dot, the newest member of his freaky family, but when a cop turns up to arrest them for the murder of their mother, Jimmy gets upset and slices his throat with a butterfly knife. Once the deed is done, the freaks rally together to chop him up and bury him. Just another day at the circus, I suppose.
Elsa takes off her legs. This isn't gruesome, but it is certainly shocking. The whole episode I kept wondering, "Why does Elsa feel so strongly for these freaks?" Now we know: she feels like a freak herself. Once a beautiful cabaret singer, Elsa has been reduced to a freak show ringleader, and she's lost her legs below the knees. Will we find out what happened to her calves? I'd be willing to bet on it.
Stay tuned for more on the episode, but for now, I want to know what you thought. Did you smile when Elsa calls Penny a "peppermint angel"? Did you also hear Elsa say "asylum" and get really happy at the possible Easter egg? Is Dandy your new best/least favorite character? And most importantly, will Twisty keep you up tonight?
Image Source: FX Networks