Cate Blanchett Oscars Press Room 2014
Cate Blanchett on Making Oscars History: "Don't You F*cking Forget It!"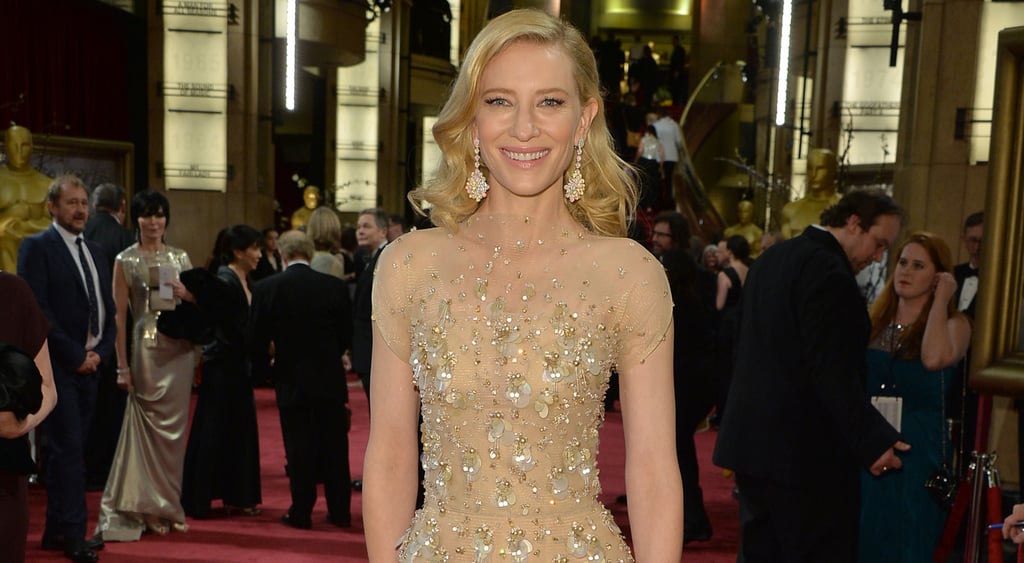 Cate Blanchett is the 2014 best actress Oscar winner! She picked up the award for her role in Blue Jasmine, capping off a wildly successful award season that's also included Golden Globe and SAG awards, among others. She's had her husband, Andrew Upton, by her side for most of it and even thanked him in many of her speeches. Here's what Cate had to say about her big Oscars night:
On yelling "hashtag suck it" to Julia Roberts: "It happened in the bar with Ms. Roberts, and thats all I'm prepared to say."
On the rain: "Oh, this city needs rain so badly. I mean, you know, it's a little slight inconvenience when you're wearing a dress, but it's so good for the reservoir. So, no, I didn't worry about that."
On her morning prepping for the show: "My morning began by being pummeled like kobe beef [getting a massage]. Then, I looked at all the dresses, and I thought, which one is the heaviest? And put this one on!"
On being the first Australian actor to win more than one Oscar: "Don't you f*cking forget it! Roles like this don't come along very often.
On her plans to celebrate: "Well, I called the children. My youngest has stopped vomiting, so that's good. I say I called, but that's a bit predictable. Probably getting into my pajamas, but I'm hopefully going dancing. But remember, it's easy to dance in your pajamas. So yes, I'll say that."
On the pressure of being nominated: "An intense, unbearable pressure which I'm so glad is over. I mean, look, it has been every year. And having been in theater primarily for the last six years, I can say this objectively. Every year I watch this thing remotely, and every year there are five, six, 10, 12, 20 performances by women that I am gobsmacked by and inspired by. And you know, it gets whittled down to five. And, I mean, to be in conversation with those women, you know, by proxy, because we are all crammed together into one category, I mean, that's the privilege. And the rest is just chocolate.