Did Kevin Bond Kill Lincoln Aston?
American Crime Story: The Facts Behind This Week's Chilling Murder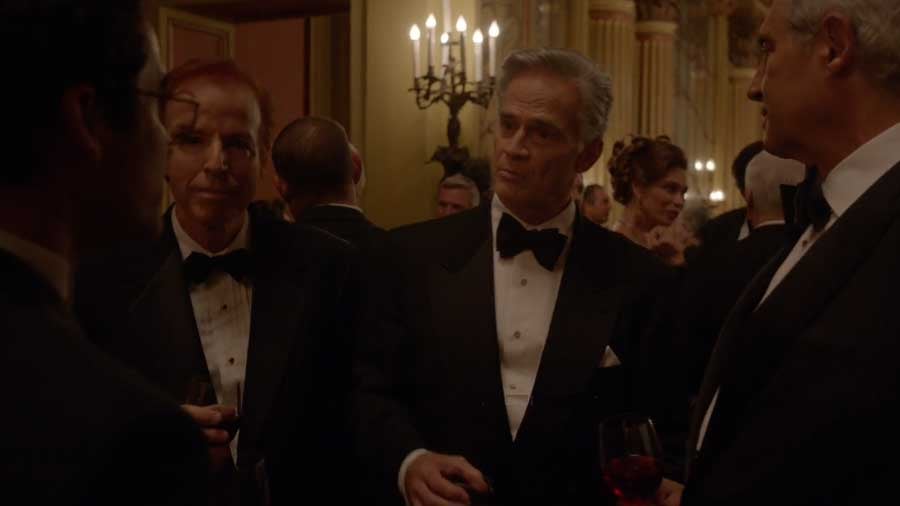 We've been wondering for a month when American Crime Story would get to the murder of Lincoln Aston — since the episode "House by the Lake," in which the show depicts Andrew Cunanan's first two murders, those of Jeff Trail and David Madson. Why? Because in researching the real-life Trail and Madson, we found an interview with one of Trail's friends, Michael Williams, that mentions Aston's murder and how Cunanan possibly could have been connected to it.
On Wednesday, the show finally arrived at Aston's murder in its backwards-running manner, though it does seem to play a little fast and loose with the timeline. In the real events, Aston and Cunanan met in 1992, according to Maureen Orth's book on which the season is based. In the book, a waiter at Canes California Bistro says that Cunanan would come in "four or five times a week" with either Aston or other older gentlemen. That jibes with this episode.
But the episode makes it look as though Aston's murder happens shortly after he meets Cunanan, which is not the case. Aston was murdered in May 1995, so he and Cunanan had been involved for quite a while at that point.
Either way, the show depicts Aston picking up a younger man at a gay bar (who we later find out is named Kevin Bond), and then when Aston tries to seduce Bond, the younger man panics and bludgeons Aston to death with a nearby obelisk. Cunanan is shown witnessing the murder and then telling Bond to run.
Orth's book says that a local socialite named Vance Coukoulis claimed at the time that Aston was trying to quietly get Cunanan out of his life by giving him "twenty or thirty thousand dollars to go away" when suddenly he was found dead. Although San Diego police accepted Bond's confession and always said Cunanan had no connection to the murder and Bond later pleaded guilty and was jailed for the crime, many in the area still think Cunanan had something to do with the murder, based on the fact that he had bragged about being with Aston the night he was killed and had found the body.
Those sentiments are echoed in Trail's friend Williams's interview with the San Diego Reader about Cunanan, in which he says he thinks the Aston and Trail murders are related.
"I do think it's a possibility [the two murders are related]. Aston was a friend of Andrew's and Jeff's. I think that Jeff must have known something in order for Andrew to [attack] him like that," Williams said. "I think it's very odd that the man was killed in that fashion, and Jeff was killed in that fashion."
But Cunanan's involvement is pure speculation on everyone's part. There certainly are eerie similarities between Aston's death and Trail's death, but as we mentioned above, Kevin Bond was sentenced to 15 years to life for the murder and was still in jail at the time Orth's book was published.