Evan Peters's American Horror Story: Hotel Variety Interview
5 Important Things Evan Peters Just Revealed About American Horror Story: Hotel
Repeat American Horror Story victim, er, cast member Evan Peters made his Hotel debut this week. He's playing Mr. James March, the esteemed founder of the Hotel Cortez — who also happens to be a horrifically twisted character. Peters sat down with Variety for an interview about this season, and he divulged quite a few interesting tidbits about what's going on on the show. Here are the highlights!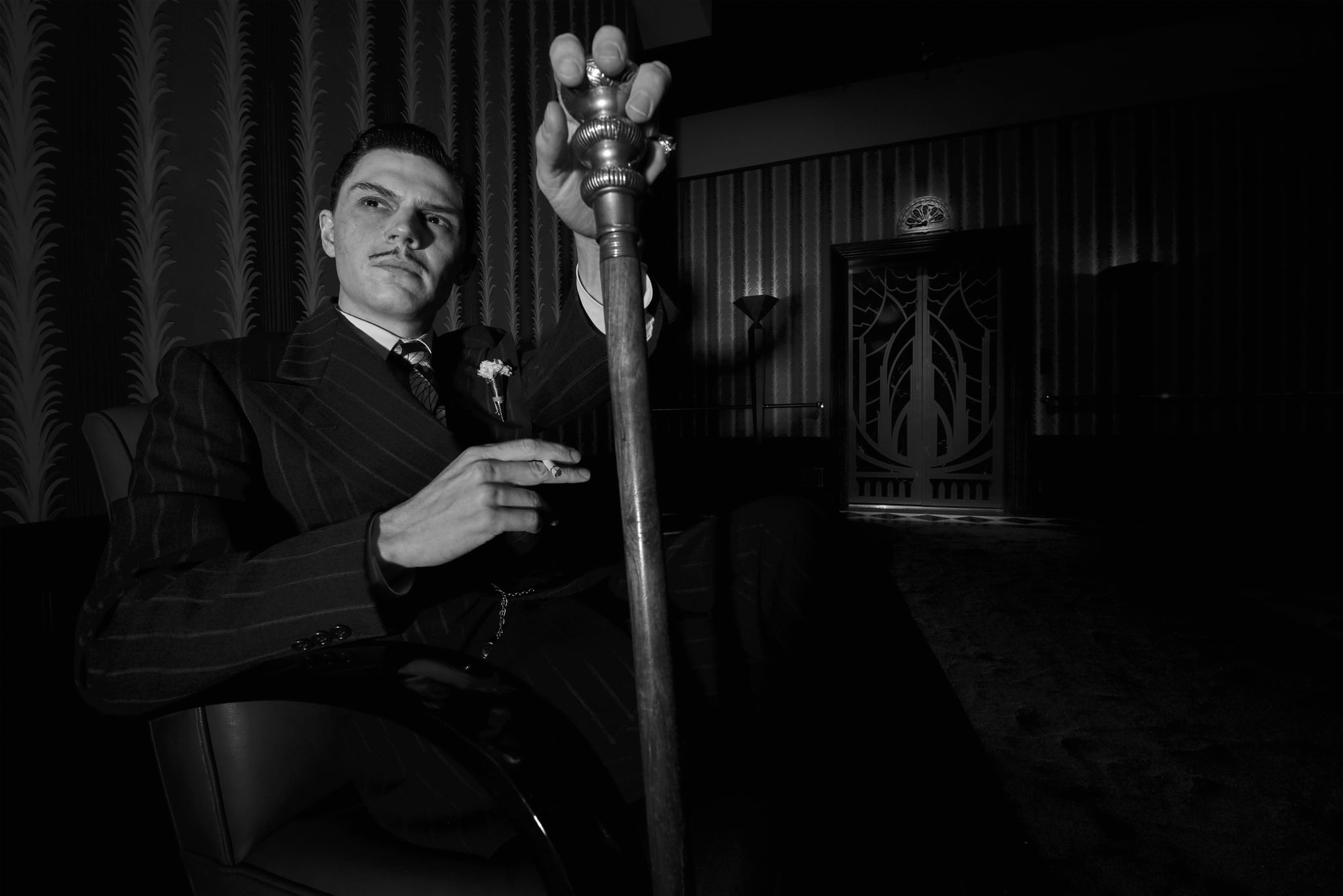 Mr. March is inspired by H. H. Holmes. This season is heavy on the serial killer influence; there's going to be a meeting for the most infamous murderers at the hotel, and Peters confirmed that Mr. March is indeed influenced by Chicago's most infamous killer. "H. H. Holmes had a murder castle in Chicago in the late 1800s and Mr. March was born in the 1920s and '30s, but there's a lot of similarities," said Peters. "He's definitely his own character, but there are definitely things derived from good old H. H. Holmes."
Sarah Paulson is definitely a ghost. After the premiere, it was questionable whether Paulson's character, Sally, is a ghost or has the same blood disease that the Countess and Donovan carry. Peters put the question to rest, confirming that she is dead, and she is a ghost.
The victims are "people with demons." So, how does the Hotel Cortez choose its victims? "It's people with demons, I think. They don't necessarily have to be evil, but they are definitely people that have a dark side to them and they are haunted by some dark demons. I think Mr. March has an incredible ability to sniff out the worst in people and they are sort of drawn to that. It's always interesting to see the people who are staying in the hotel — the ones who check in, but can't check out." He went on to say that not all the residents are inherently bad, but they've all gone through bad things.
Hotel is so violent that even Peters is getting freaked out. After five seasons, the show's dark content is starting to wear on Peters. "There was one point, I won't say what part it was, but I was sitting there and there was a lot of blood and it was definitely an intense moment," he said. "I was sitting there and we were in between takes and I kind of stood there and said, 'Wow man. I've done five seasons and this is starting to really get to me. It's starting to get a little weird. I'm starting to see things a little differently. I think I've got to kind of step out for a minute and get back to reality because you become desensitized to it.'" Might he have been talking about this week's episode, in which Mr. March slashes a woman to death while raping her?
Tate probably won't be coming back this season. Sorry, guys. While there will be more crossovers, season one's Tate probably won't be one of them. "You never know what could happen, but I haven't heard anything about that," he said, of a possible Tate cameo.