Leslie Mann Interview About Blockers April 2018
The Incredibly Sweet Reason Blockers Is One of Leslie Mann's Most Personal Films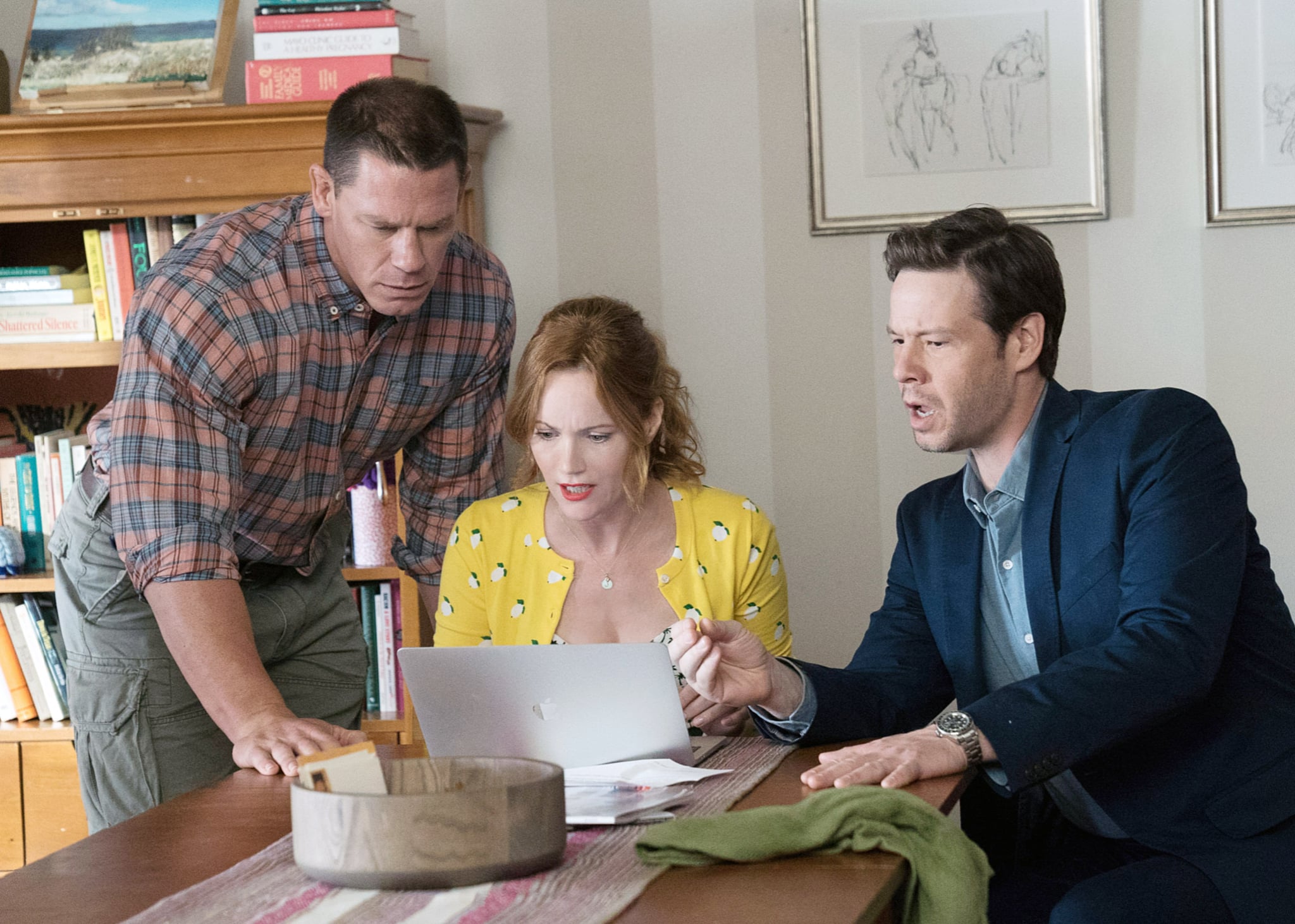 Image Source: Everett Collection
Leslie Mann has so many genuinely hilarious scenes in Blockers that it's difficult to narrow down a favorite. Could it be when she persuades John Cena to butt-chug a beer? Or when she channels Vin Diesel in a car chase reminiscent of Fast and Furious? Maybe it's when she army crawls out of a hotel room in a dress roughly the size of a circus tent? While her physical comedy had both me and the rest of the people in an early screening of the film howling with laughter, she truly shines in the movie's quieter, more emotional moments.
Leslie stars as Lisa in the raunchy feminist comedy directed by Kay Cannon. Lisa is a single mom who's having trouble with the idea that her teenage daughter Julie (Big Little Lies's Kathryn Newton) might choose to go to college all the way in LA instead of somewhere near the Chicago suburbs. It's that anxiety that fuels Lisa's decision to try to keep her daughter from losing her virginity on prom night, along with the help of two other overprotective parents (played by Cena and Ike Barinholtz).
Lisa and Julie's relationship easily could have had a stereotypical nagging-mom/rebellious-teenager dynamic, but instead their bond comes across as having a surprising amount of depth and tenderness, which is in a large part thanks to Leslie's convincing performance. As it turns out, she didn't have to work too hard to imagine she was a mother about to send her high school senior off into the world.
"I was in the middle of sending my daughter away to college when we started shooting the movie, so I really related to that part of the story," she told me recently over the phone. "It was really great having that outlet, to be able to talk about it every day, because that's what's happening in the movie. It was really great for me. Otherwise, I think I would've gone to bed for a month and a half with the drapes closed!"
One of the remarkable things about Leslie's career — of which there are many remarkable things — is the way she's been able to keep many of her roles so personal. Some of her funniest characters have been in movies like The 40-Year-Old Virgin, This Is 40, and Knocked Up, all products of the equally funny mind of her real-life husband, writer and director Judd Apatow. It's no surprise that they've emerged as Hollywood's most hilarious power couple over the years, and later the most hilarious power family; the pair share two daughters, Maude and Iris.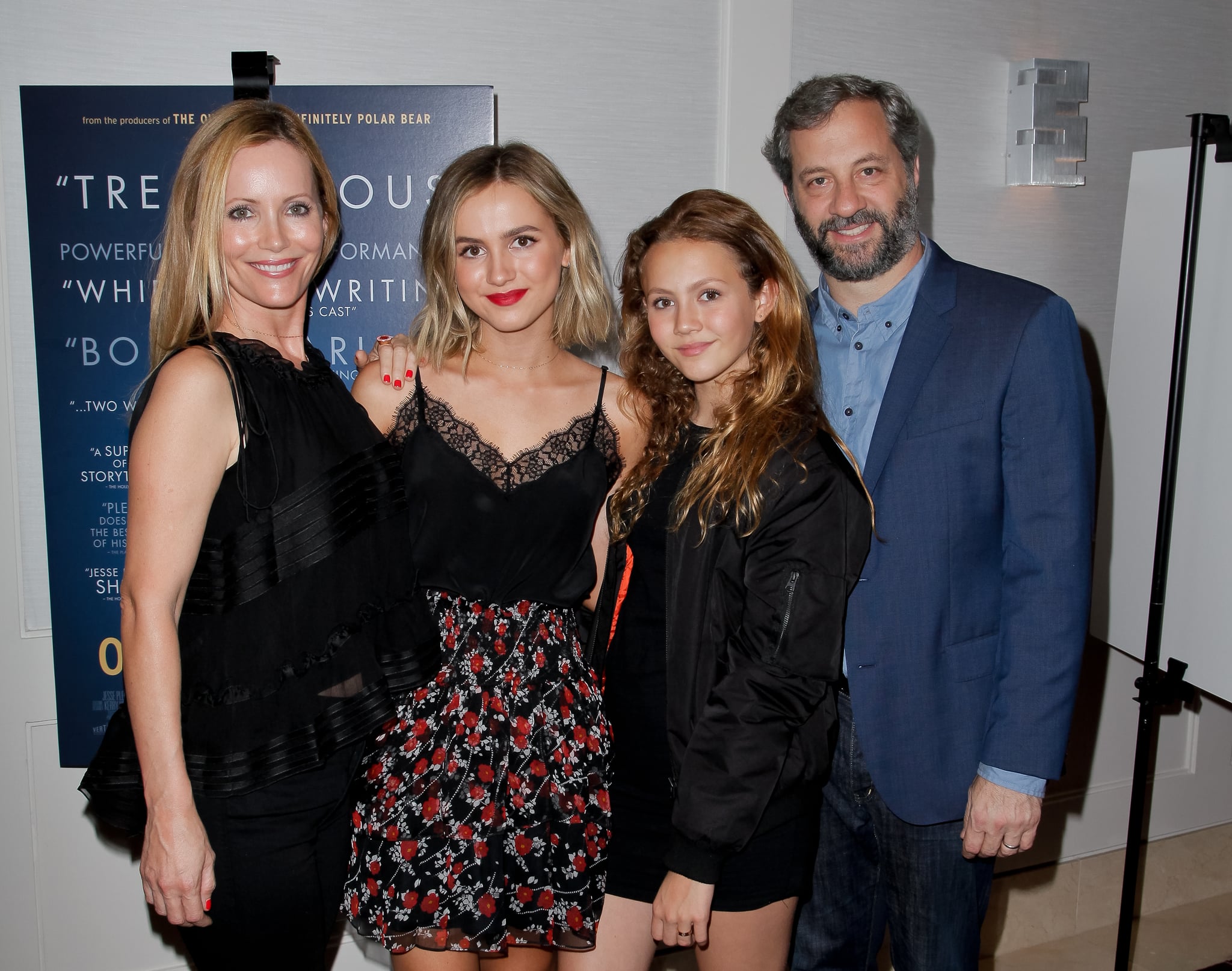 Image Source: Getty / Tibrina Hobson
While Iris is just 15, 20-year-old Maude is busy carving out her own path as an actress. She's appeared in everything from This Is 40 to Girls and the buzzy upcoming Assassination Nation while also balancing her studies at Northwestern University. Her jump from life in California with her parents to the Chicago-based college is coincidentally the reverse of Lisa and Julie's situation in Blockers.
"It was so devastating to have my daughter go away to college," Leslie said of seeing her daughter leave to start school. "I think it's very hard for parents to have little babies and be there for them for their entire lives and be in charge and responsible for them and take care of them — and suddenly they want their independence. They want to make their own choices and live their own lives. It's really scary for parents to let go and let them do that."
Seeing Lisa sort through her emotions about Julie leaving for college in the film is a no-doubt relatable story arc for any parent, and the How to Be Single actress definitely counts herself as one of them. "It's scary! What if they make the wrong decision?" she joked. "I think that feeling of frustration is in our movie, loud and clear."
Blockers opens in theaters on April 6.