Mad Men Season 7 Premiere Recap
7 Questions Answered by Mad Men's Season 7 Premiere
Given all the craziness that happened at the end of Mad Men's sixth season, we had so many big questions going into season seven. I was a little underwhelmed by the lack of action in this week's season premiere, but we did get a few answers to our burning questions. Here's everything we know so far, and hopefully the mysteriously absent Betty and Sally will show up next week!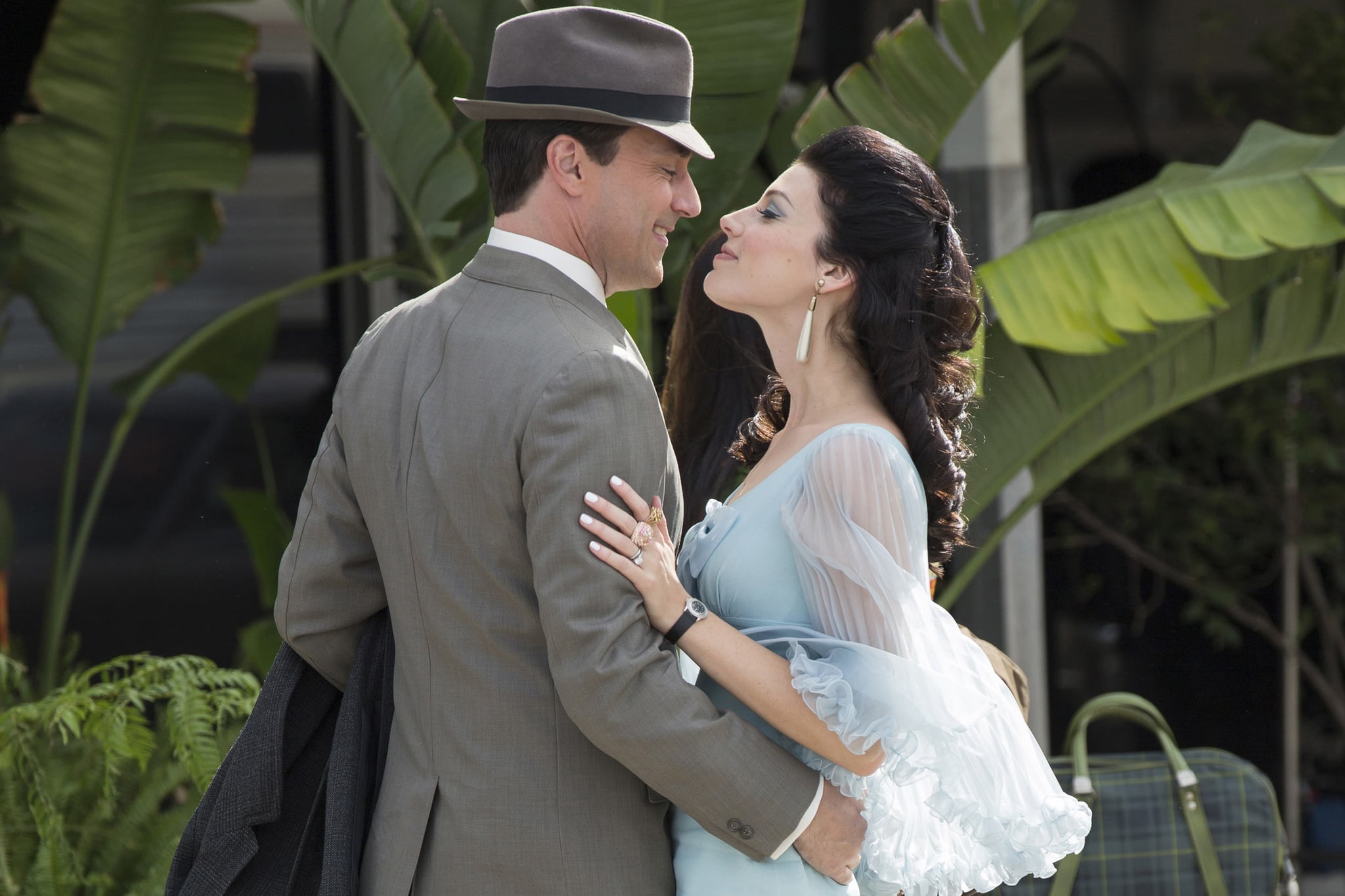 Is there a time jump?
Yes. Toward the end of the episode, former President Richard Nixon's inaugural speech, which took place Jan. 20, 1969, is playing on TV. Since the season-six finale took place in November 1968, it's been about two months.
Are Megan and Don still together?
Things weren't looking good for the couple's relationship at the end of season six, and in the premiere, we find out they're still together but living on separate coasts. The episode finds Don traveling to California to see his wife, but it's clear there's still tension between the two of them. She's making some progress in her career, but there might not be room for Don (and the giant TV he buys her) in her new life.
How is Don's drinking problem?
Don had basically hit rock bottom last season, and for the first time in a long time, he's staying dry. He drinks soda in the episode, and even after a lingering look at a bottle, he puts it down. Instead, he opts to sit outside on his deck in the freezing cold. He's also staying out of trouble in another way: he connects with a widow (guest star Neve Campbell) on his red-eye back to New York but turns her down when she propositions him.
Is Bob Benson still around?
Yes and no. Bob's presence is still in the office — he calls Ken on the phone — but he's not physically there, so his association with the company is a bit unclear. It's a shame that we don't actually get to see Bob (the adorable James Wolk).
Is Don back at the agency?
Nope. He's still on a leave of absence, and he's missed out on a lot of business during the holiday season. But, he still has a presence in the form of Freddy Rumsen. Don has teamed up with Freddy, now a freelancer, who is going in to the agency to pitch Don's ideas as his own. That watch pitch that opened the show? That was actually Freddy speaking Don's words.
Does Pete really move to California?
Yes, and he's tan, he's wearing pastels, and he's a hugger now. It's the best thing ever.
Are Peggy and Ted really done?
It appears so. He's now working from the California office, and though he does show up in the New York office briefly, his interaction with Peggy is awkward, and it's obvious they're over. She's also terribly unhappy, working under a new boss, and struggling as the super of her building. At the end of the episode, she melts down, sobbing alone in her apartment.
What are your thoughts about the premiere? Was it everything you hoped for, or are you also a bit let down?