Manhattan Love Story Interview With Analeigh Tipton
Get Ready to Meet Primetime's Cutest New Couple
You might know Jake McDorman as Evan Chambers from Greek and Analeigh Tipton as the babysitter from Crazy, Stupid, Love — yes, the one who broke out on America's Next Top Model — but they're going to try to win your hearts in ABC's new comedy, Manhattan Love Story. The show premieres this week, and if you haven't seen the show's trailer yet, it's a typical boy-meets-girl tale, but there's a twist: you can hear their thoughts. So as they're spouting pleasantries on screen, you know they're secretly judging each other, super hard. Bonus: the stars are dating in real life, too! I caught up with the stars over the Summer and chatted about their concerns for the new series, as well as the shows they can't live without.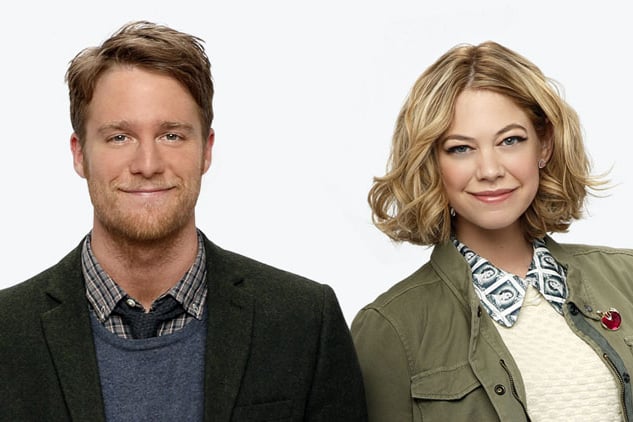 POPSUGAR: The thoughts-as-voice-overs format of the show is really new for primetime; is that something that attracted you to the script?
Analeigh Tipton: If anything, it discouraged me. It's like when they started using text pop-ups on screen; it's an adjustment for viewers. But it makes it interesting! As women, we keep so much inside — at least I do. I look at Dana as an incredible platform for everything that I want to see. I want it to be outgoing and honest, and I think that can be accomplished.
Jake McDorman: It's really interesting when you play a scene regularly. There's always subtext. It's in the writing, it's in the looks. I knew it would be interesting to play someone that would be this vulnerable, publicly. You get insight into their most private thoughts! That's what I like about Peter, even though he comes across as a little bit of a dick, he isn't in his own head.
PS: So do you record in the sound booth together?
JM: No, actually I was shooting a movie in Morocco and I got sent a microphone to plug into my iPad. I had to do it all by myself under the covers in a hotel room, and some of that actually made it into the final cut!
PS: Just to clarify, every season will be following your love story, like season two won't be a whole new couple?
JM: No, it's not like True Detective.
PS: Or American Horror Story . . . Manhattan Love Story? I see a pattern.
JM: I see what you did there. No, there's going to be this core group of people.
PS: Are you concerned at all about criticism that some of the humor in the pilot is rather stereotypical of what men and women are thinking?
JM: That was a real big concern of everybody's. There were versions of the pilot that had to get trimmed down, and there was a scene where you hear my character's thoughts and it doesn't concern relationships, and we had to lose it for time. That worried me, because I didn't want people to think this was just another show where guys like boobs and girls like fashion. I think we're going to surprise everyone in that the focus of the show isn't always about the relationship all the time. There are times when we're completely separate.
AT: It's intimidating, because you need to get them to fall in love with the cast and the characters. The frustrating thing about hooking viewers is I don't want to get them with gimmicks. This show is like a film, but we're cutting it into a half-hour show.
PS: What are you most excited about seeing coming up on the show?
AT: Getting to show New York through "not Sex and the City eyes." I love Sex and the City plenty, but I've experienced New York in such a different way. It's not about fashion and glamour, it's hectic and intimidating. It's more like the Jay Z song.
PS: So, had you heard about Analeigh's America's Next Top Model days when you signed on?
JM: I'm not an America's Next Top Model watcher, but when my sister found out I was doing this with Analeigh, she was over the moon.
PS: What are your favorite TV shows at the moment?
AT: I love Scandal.
JM: House of Cards, Fargo, I'm mourning the temporary loss of Game of Thrones. I did binge on the entire series of Breaking Bad in two weeks.
PS: Don't you have a job?
JM: I'm an actor! I don't always have stuff to do.