Marsai Martin Quotes About Little Movie Cast 2019
Little: Marsai Martin on Why She Casted "Boss B" Women Regina Hall and Issa Rae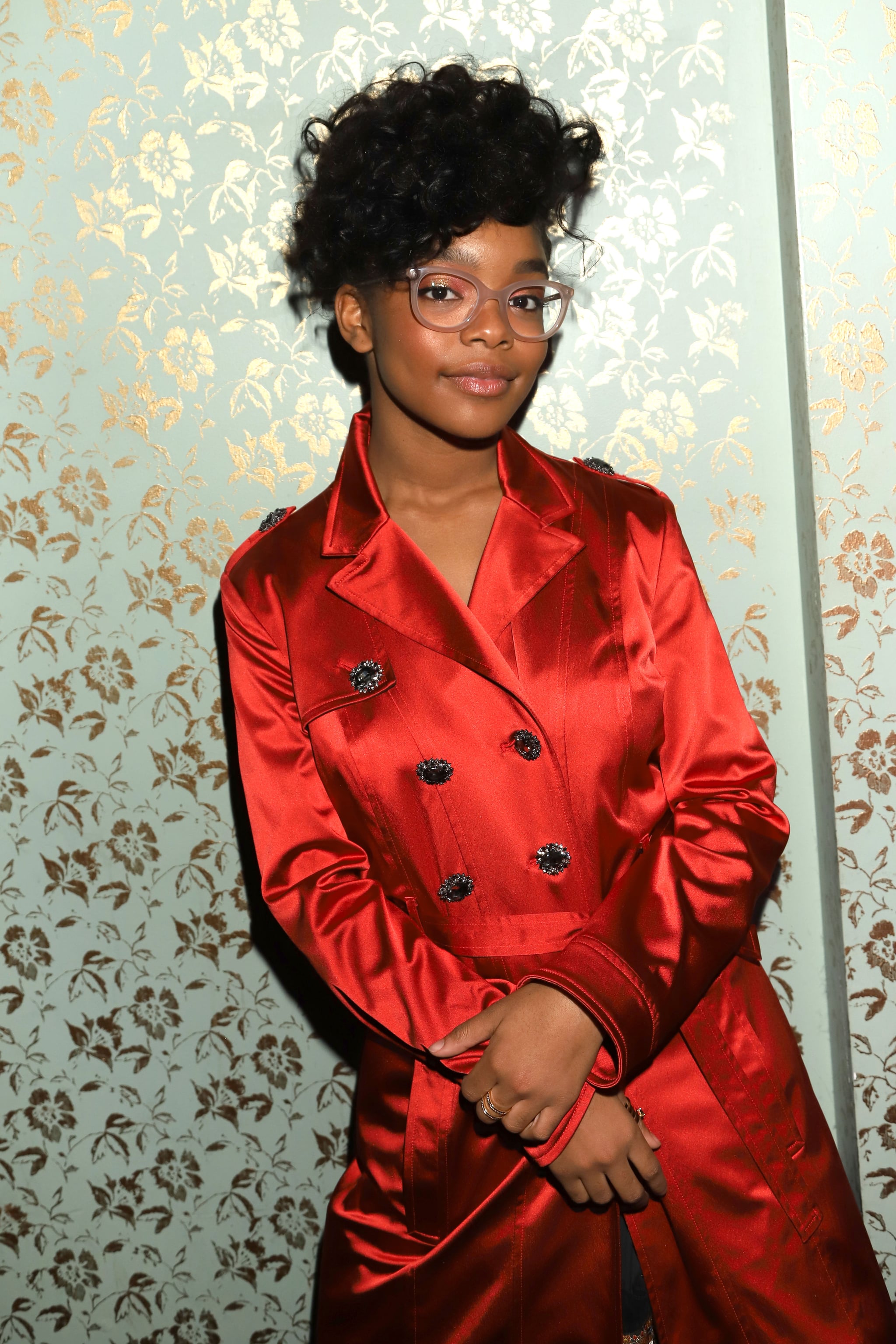 Marsai Martin may only be 14 years old, but she's already making some grown woman moves. After finding success starring in the ABC breakout series Black-ish, the young actress is on track to make history and a hilarious new movie. Her film Little, starring Regina Hall and Issa Rae, will hit theaters on April 12 — and it will also make Martin the youngest executive producer of a major Hollywood movie in history.
The film centers around a woman named Jordan Sanders (Hall), whose cold-blooded attitude causes her to become cursed by a little girl. Jordan then turns back into her 13-year-old self (Martin) and must relive her childhood with the help of her assistant, April (Rae).
Being a producer on the upcoming comedy gave Martin a fun new experience working behind the scenes. She particularly enjoyed learning about the casting process and reeling in big-name stars. One of the first tasks in her new role was to figure out who would play the older version of Jordan. For Martin, the decision was easy.
"It's gonna have to be Regina because she can play a powerful, strong black female — also a 'Boss B,' as my mom would say," she told POPSUGAR at a Facebook event celebrating International Women's Day on March 7. "And then Issa Rae came to be, also because she's just so funny and so cool. They inspire me a lot. I watch mostly everything that they've been in. I basically kind of grew up with them. When I met them, I was like, 'This is so cool! I've got to work with them one day.' So it all started with that."
Martin was also able to help cast a charming young group of actors to star alongside her during scenes when Jordan transforms back into a little girl and is forced to attend school again. "She has to build her own squad, and the squad was three nerdy kids," Martin explained. "That was lots of fun to audition with JD [McCrary], Thalia [Tran], and Tucker [Meek]. You'll get to see more when the movie comes out. I've been in that situation in auditions where it's a long process, so to be behind the scenes was lots of fun."
Little isn't the only project Martin is working on, either. Her production company, Genius Productions, recently inked a deal with Universal Pictures that will allow them to work on a number of enterprises together. The first is an upcoming film titled StepMonster in which Martin will play a teenager adjusting to having a new stepmother.
Although the actress and producer has clearly built an impressive résumé, it took her a little while to realize just how monumental her accomplishments are. "It started with me being on Black-ish and then seeing how well the [Little] trailer did. At first, I was like, 'Is it really this big?' I didn't realize how big of a support system I had," she said. "I've had friends and family that I've been with for so long, and then when something this big comes out, it's like a crazy success. That just made me realize how inspirational that was and of course being a young age."
Now that Martin is more aware of her power and influence, she hopes to remain a positive force in Hollywood with all her ventures. "I just want to continue to inspire young people and make my friends and family proud," she said.
Image Source: Getty / Arnold Turner