Matthew McConaughey Oscars Press Room 2014
Matthew McConaughey's Trying to Teach His Kids a Lesson About Award Season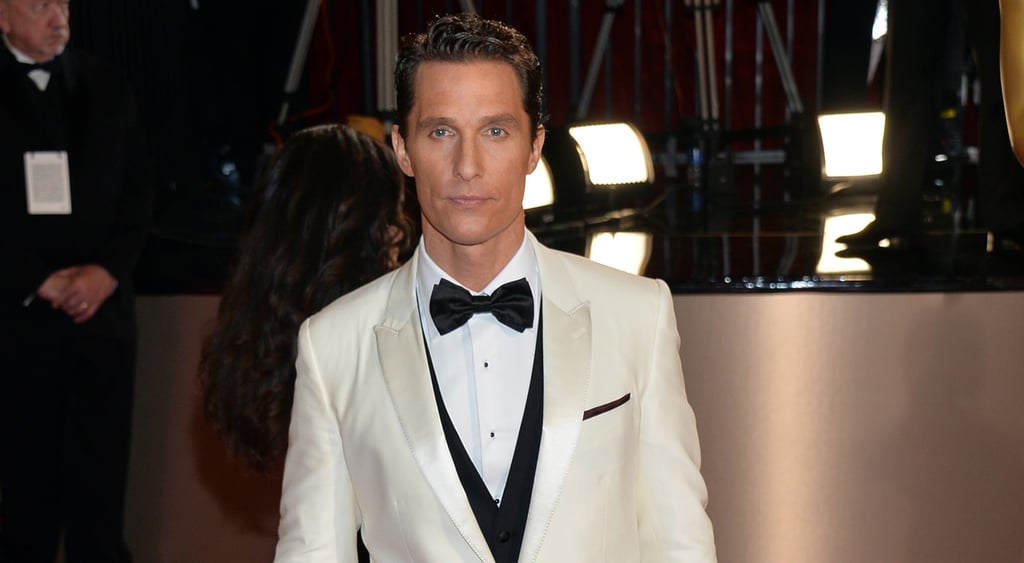 Matthew McConaughey's amazing award season run continued on Sunday night, when he picked up the best actor Oscar for his work in Dallas Buyers Club. Matthew thanked his family and his costars Jared Leto and Jennifer Garner on the stage and, of course, did his signature "alright, alright, alright." The fun continued in the press room, where Matthew talked about how he felt holding that golden statue: "I'm not going to say surreal, I did not expect it, but it's the end of a journey with this film. I got a prize for excellence for the work I do — it's not my job, my hobby, it's my career. That feels wonderful."
The win is the end of a big award season for Matthew, who has been having what some are calling a "McConaugh-ssance" for his many memorable roles lately. When Matthew heard the term for the first time, he said he didn't know what it was, but that "it sounded good" and added that he's "been more process oriented than I ever have been, I've been like 'F' it — go for the experience, Matthew, be fulfilled in the making of that movie. Results came in more than ever by just putting my head down and sticking to the process." Of course, Matthew's family had to move around a lot for him to make multiple movies in such a short amount of time, and he and his wife, Camila Alves, made sure to keep their three children informed about what was going on. Matthew said:
"They understand that papa goes to work, that there's a difference between reality and movies, and that he can be in more than one place at a time. I took Levi to set on Lincoln Lawyer and let him watch a scene and then let him watch it on the monitor, and for him it was a magic trick — you can be in more than one place at one time. This [award] season, where you're going 'we're going out tonight because there's an award show. Remember when we were back in New Orleans and lived in that house? The work that dad did then, the work we all did, people are shining a light on it today, so if you do your best right now, it can have reciprocity later and come back and pay residuals.' That's the lesson were trying to get to them."
Check out all the Oscar winners right here!