Outlander Season 1 Part 2 Details
4 Things We Know About the Rest of the Outlander Season
The rest of the first season of Outlander will begin airing on April 4, and not only do we have a peek at the pictures from the final few episodes, but we also got a few details from the cast, showrunner Ronald D. Moore, and writer Diana Gabaldon when they came to the Winter TCA this week. Many of these details won't be a surprise to those who read the book, but even if you have, it's exciting to get confirmation that some of the scenes you've read about will be on the show as well.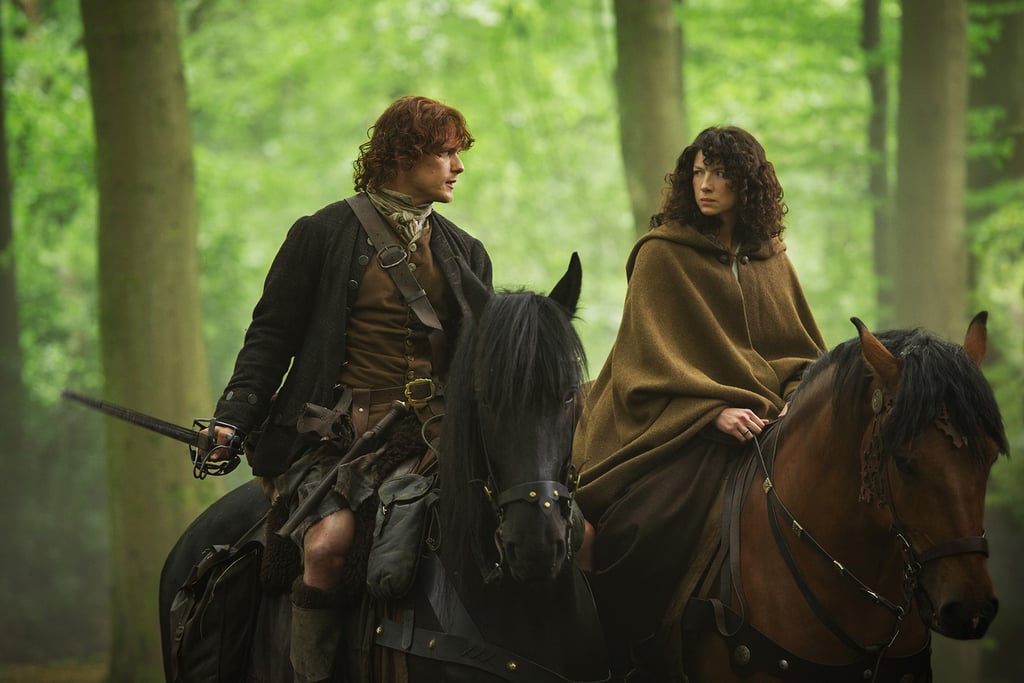 1. Jamie Will Get a Chance to Do Voice-Over
The episodes thus far have had Claire (Caitriona Balfe) providing voice-over and giving her perspective on what's going on, but the first episode back will change gears — to Jamie (Sam Heughan). We'll get to see what was going on from his perspective when Claire gets kidnapped by the English, and accordingly, Jamie will do the voice-over. It's a switch from the book, obviously, which is told entirely from Claire's perspective. Don't get your hopes up for more voice-over from Jamie, though; Moore said it'll be the only episode this season where he takes over.
2. We'll Meet Jamie's Sister
This is no surprise if you've read the book, but Heughan mentioned that we'd be seeing Jamie's relationships develop more, including the one he has with his sister, who resides at Lallybroch, Jamie's homestead.
3. Don't Expect to See Frank Again
Actor Tobias Menzies, who pulls double-duty as both Captain Jack Randall and Claire's left-behind husband Frank, will only be needed in half the capacity. That is, Frank won't be around at all for the rest of this season, because he's not in that part of the book, Moore explained. However, Moore said that Frank will be back in season two.
4. Jamie Is Going to Be Hurt Very Badly in the Second Half
While there was no mention of that book-one scene with Captain Randall, Heughan alluded to how very injured Jamie gets in the second half. After he opened up about the prosthetic that makes up Jamie's horribly scarred back, he added that Jamie "gets a lot of injuries" coming up — so bad that they have created full body prosthetics for him to wear. "It's going to be remarkable and be pretty shocking as well," Heughan told us.