Rebecca Ferguson The Kid Who Would Be King Interview 2019
Rebecca Ferguson Consulted a Very Special Person When Preparing to Play a Villain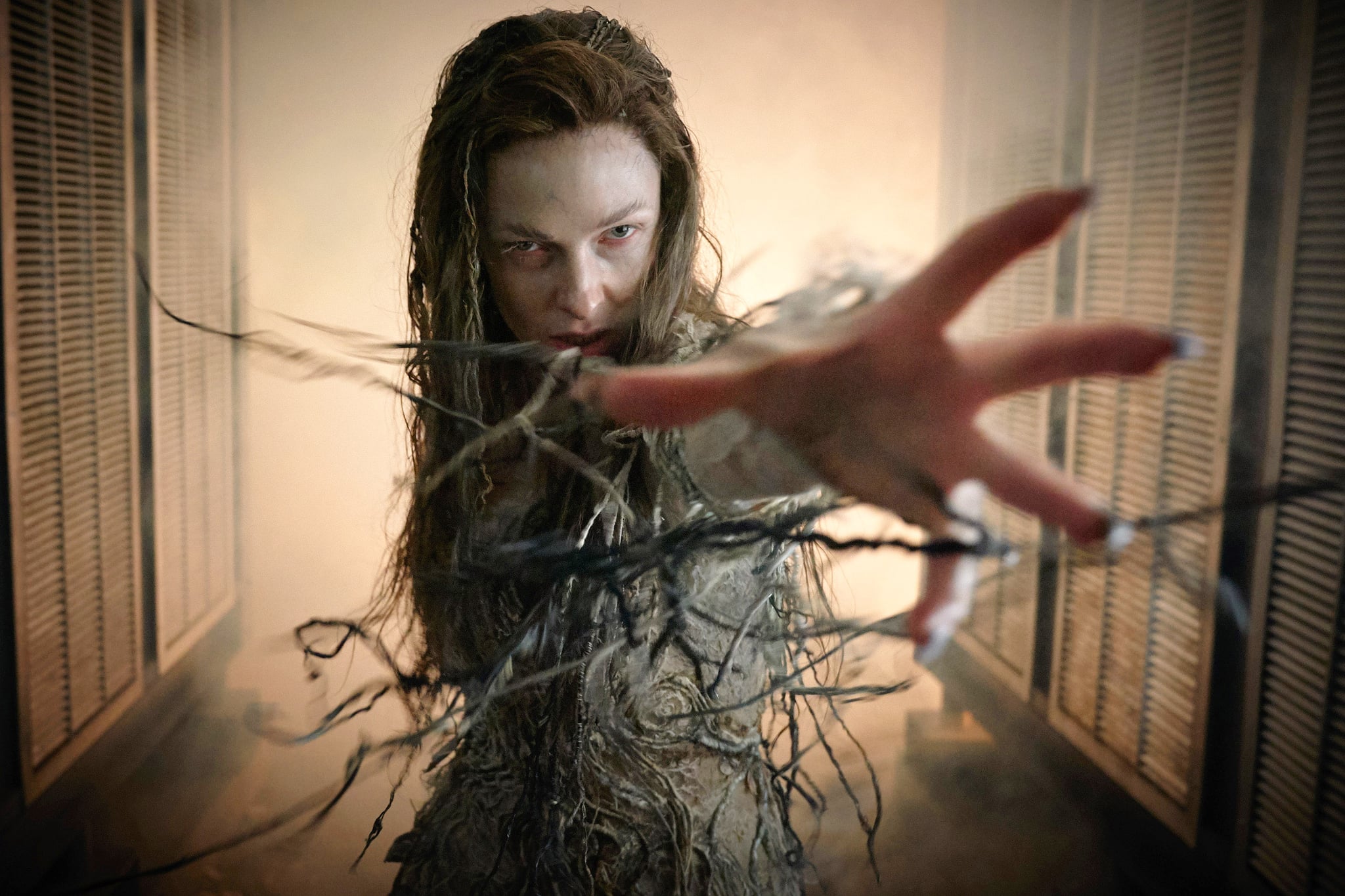 To say Rebecca Ferguson has had a varied career would be an understatement. After beginning her career in the soap Nya Tider in her native Sweden, she caught the attention of international audiences after landing the leading role in the BBC drama The White Queen, before making appearances in movies like Mission: Impossible — Rogue Nation and The Girl on the Train. Her career has encompassed comedy, drama, action, thrillers, and even musicals, with her memorable turn as Jenny Lind in The Greatest Showman opening up a whole new world for the actress, bringing her to the attention of a younger audience.
"Fame for me is when a 5-year-old girl on YouTube has learned my song, and my moves," Ferguson told POPSUGAR. "It's me, as a little 5-year-old! I literally get a bit teary-eyed, because they love it so much. It feels so beautiful to be a part of their journey, of finding music they like, and stories, and colorful events, that's why I do it."
"I think it's much more interesting to find what drives her, because pure evil doesn't really exist in my head."
Ferguson confirmed that the reaction to The Greatest Showman "absolutely, no question" led her to seek out more family film projects. Her latest, The Kid Who Would Be King, is a modern reimagining of the Arthurian legend of the sword in the stone, set in present-day London. In it, Ferguson plays Morgana, the villain of the piece, and she clearly relished creating the character. Morgana is portrayed as being part of what she considers to be a "rotten" Earth, buried deep below the ground, wrapped in roots and vines. Ferguson spoke of how much fun she had bringing the sorceress to life. "When I ripped out of the tree, I wanted to create this weird robotic, nearly like a 'locking' dance, an unworldly movement, which is hard but fun." Though Morgana is a fairly tried-and-true villain, getting to the root (quite literally) of the character was key. "I think it's much more interesting to find what drives her, because pure evil doesn't really exist in my head. It's her belonging to the throne, and her rightful belief that she is the queen of England. Driven from that point, it's her birthright. I see it as a good part of her somehow," she explained.
Ferguson also had a very special consultant on board to help her craft the perfect evil sorceress: her 12-year-old son, Isaac. "He's brought up on set, but to be able actually to do a kids' film, where he can see me turn into a monster, a demon, and I can ask him things as well: what would scare you? What about this voice? Is this too animated? He becomes a part of my world," she explained.
Alongside Ferguson and national treasure Sir Patrick Stewart, the film also features an incredibly talented young cast, including actress Rhianna Dorris in her first film role. A scene stealer who definitely has the best line of the whole film (you'll know it when you see it), Dorris raved about her first on-set experience, telling POPSUGAR, "For me, just the whole experience of working so closely with people, and just having that energy bounce off each other, and having such good chemistry is something I'll never forget."
"I was in a dungeon for eight days."
Though their characters do meet in the film, it's safe to say Ferguson and Dorris had very different experiences making the movie. Much of Ferguson's work was solo on a set ("I was in a dungeon for eight days," she joked), while Dorris traveled the UK, riding horses, walking through swamps, and filming training sequences. "When you film on location it's just different . . . you're not in the studio, you're outside getting fresh air, it's part of the experience, it was great," Dorris said. She cited the cliffs at Tintagel as a particular highlight, despite being scared of heights. Dorris also had one memorable scene where she drives a car, something which involved some clever camera trickery and ended up being one of Ferguson's favorite scenes in the film.
The film's writer/director Joe Cornish has something of a pedigree for finding young talent (his first film, Attack the Block, launched the career of John Boyega), so it's safe to say Dorris's future is looking bright. When asked what she'd like to do next, she kept her cards close to her chest, saying "I'm up for anything, to be honest. I don't want to put all my eggs in one basket." However, Ferguson had some wise advice that we definitely hope Dorris follows. "Do you know what you need to try? I said no to it before. Musicals are so much fun!" she exclaimed. Dorris is no stranger to singing on stage, with credits like Matilda and Charlie and the Chocolate Factory under her belt. "I love musicals! I was doing theater for four years," she reminded us. Perhaps her next move will be to take that experience to the big screen? If so, she now has someone to go to for advice!
The Kid Who Would Be King is in theaters now.