Ryan Eggold Interview For Lucky Them
How Ryan Eggold Goes From The Blacklist to the Musician of Your Dreams
Ryan Eggold has raised his profile for playing mysterious character Tom on The Blacklist, but he's about to break out in a whole new way. In Lucky Them, currently playing at the Tribeca Film Festival and in theaters on May 30, Eggold shows off his musical side, with his character, Lucas, singing his way into the heart of rock journalist Ellie (Toni Collette). When we caught up with the actor in NYC, he revealed how his "naive, puppy-ish" character helps Ellie through a midlife crisis, when we can expect to hear more of his original music, and some fun memories from his first series regular TV role on Dirt with Courteney Cox.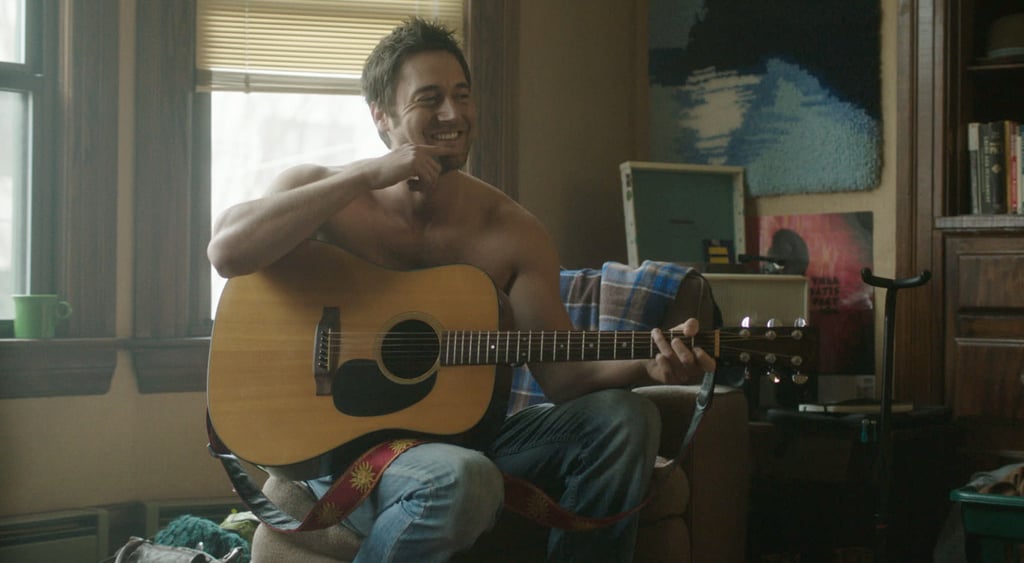 Source: IFC Films
POPSUGAR: What's interesting about Lucky Them is that it's not confined to one genre — it's not a romantic comedy or a full-on drama. How would you describe the film?
Ryan Eggold: That's interesting that you thought it was genre-less. That's very, very cool. I think it's a coming-of-age piece. It's a coming-of-age piece for Toni's character, Ellie, about a gal going through a sort of — I hope Toni doesn't get mad at me for saying this — a midlife crisis. She's young and beautiful, but she's a woman who is sort of still a teenager.
PS: She kind of loses her youth by losing her boyfriend, Matthew, and you kind of give that to her as Lucas, the young nice musician.
RE: Yeah, I think Lucas is sort of a reminder to her of this guy that she lost. And then there's this other version of her. I think that he's a great foil for her because he's very naive and sort of innocent and puppy-ish, and she's much more hardened and sort of cynical and has lost that view. She's more jaded about this rock-and-roll business, while he's sort of at the beginning, like wide-eyed, just wanting to do it. He reminds her of a different version of herself.
PS: You have such great chemistry with Toni in the film. Though this isn't a romantic comedy, could you see yourself taking a foray into that world?
RE: The rom-com? If it was smart, absolutely. Like you say, this movie isn't just the rom-com where the boy meets the girl and they fall in love and then they break up and then they get back together.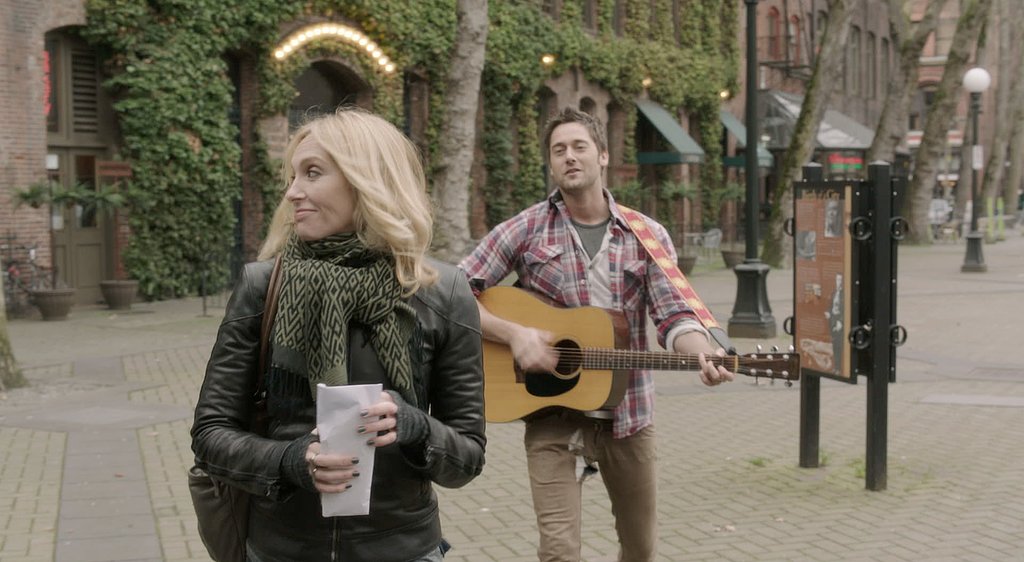 Source: IFC Films
PS: You also worked with Toni on an episode of The United States of Tara way back when. How was that dynamic? Weren't you in a hot tub?
RE: Way back when, I was in a hot tub with Brie Larson. It's just so weird. Yeah, Toni said she remembered, but she's a dirty liar — she didn't remember. I wouldn't have remembered!
PS: You wrote and sang the music in this film — tell me a little bit about the process. Did the producers approach you about it, or did you pitch them songs?
RE: I made a tape in New York and sent it over there, and then Megan [Griffiths] the director and Emily [Wachtel] the writer and producer wanted to Skype. I think they had it down to like three guys, and they wanted me to play music. I would have happily played live for them, but playing across Skype? Performances across the Internet are often lost in translation, so I just didn't want to do that. So I sent them a few songs, and I really enjoyed the film and the role and I wanted to do it. I was — it sounds lame to say — but I was inspired on a subconscious level, and I just started writing stuff. And I wrote sort of the beginnings of some of the songs that are in the movie and sent it over and was like, 'Here are some ideas.' And they were like, 'These are great!'
PS: Is that something that you plan on doing more of now?
RE: I think I'm going to record a little bit in May or June, and, you know, have something. Even a five-song EP.
PS: Do you think that music may be the next professional step for you, or do you want to stay in acting and kind of dabble in performing on the side?
RE: It's more of a hobby and a passion. It's sort of my second love to acting and this other world. I don't know — I really enjoy it. And I'd love to play with it and put something out. It was a surprising and nice thing that people like the songs. If there's something to pursue there, I will. Totally.
PS: When you got cast in this, you had come off of a myriad of different roles. I loved you on Dirt with Courteney Cox.
RE: Oh, thanks! I really enjoyed it, that was my first series regular role. I wish that show went on, too, I really enjoyed that.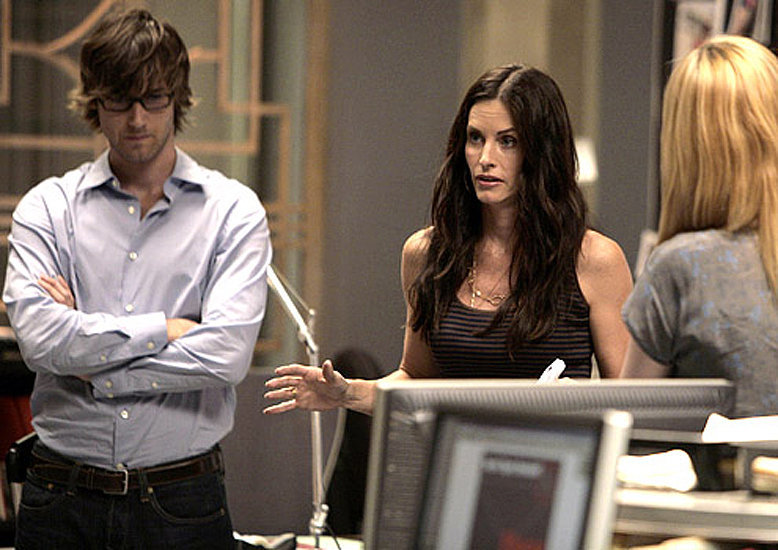 Source: FX
PS: Your character, Farber, was a very cunning sort of sneaky guy, too, though not exactly like Tom.
RE: Farber was more pretentious, intellectually speaking. He was supremely confident in his own ego and his own intellect and pretentious, snobbish about this tabloid magazine. And considering himself a real journalist, so that's different kind of. But obviously ego like that comes from deep-seated insecurity, so there is that.
PS: In the grand scheme of things, he's probably the least morally corrupt of all the characters you've played.
RE: Yeah, I mean, really he's harmless. The worst he's going to do is try to intellectually dominate you and insult you. But that's just because he's a nerd and he wants to be cool, but he's not cool.
PS: But you did get Courteney in the end, kind of.
RE: Did I?
PS: Perhaps in an alternate universe?
RE: In my head, I certainly did, because I was in love with her. I'm still in love with her, because she's amazing.
PS: So we're going to see you in Cougar Town soon, I hope?
RE: That would be really fun, actually!
PS: She just had her directorial debut too here at Tribeca with Just Before I Go. Have you seen her?
RE: No, I haven't! That's super duper awesome. I have to see her movie.