Taylor Swift Reputation Stadium Tour Personal Essay
I Attended My First Taylor Swift Concert With My Mom, and We Had "The Best Day"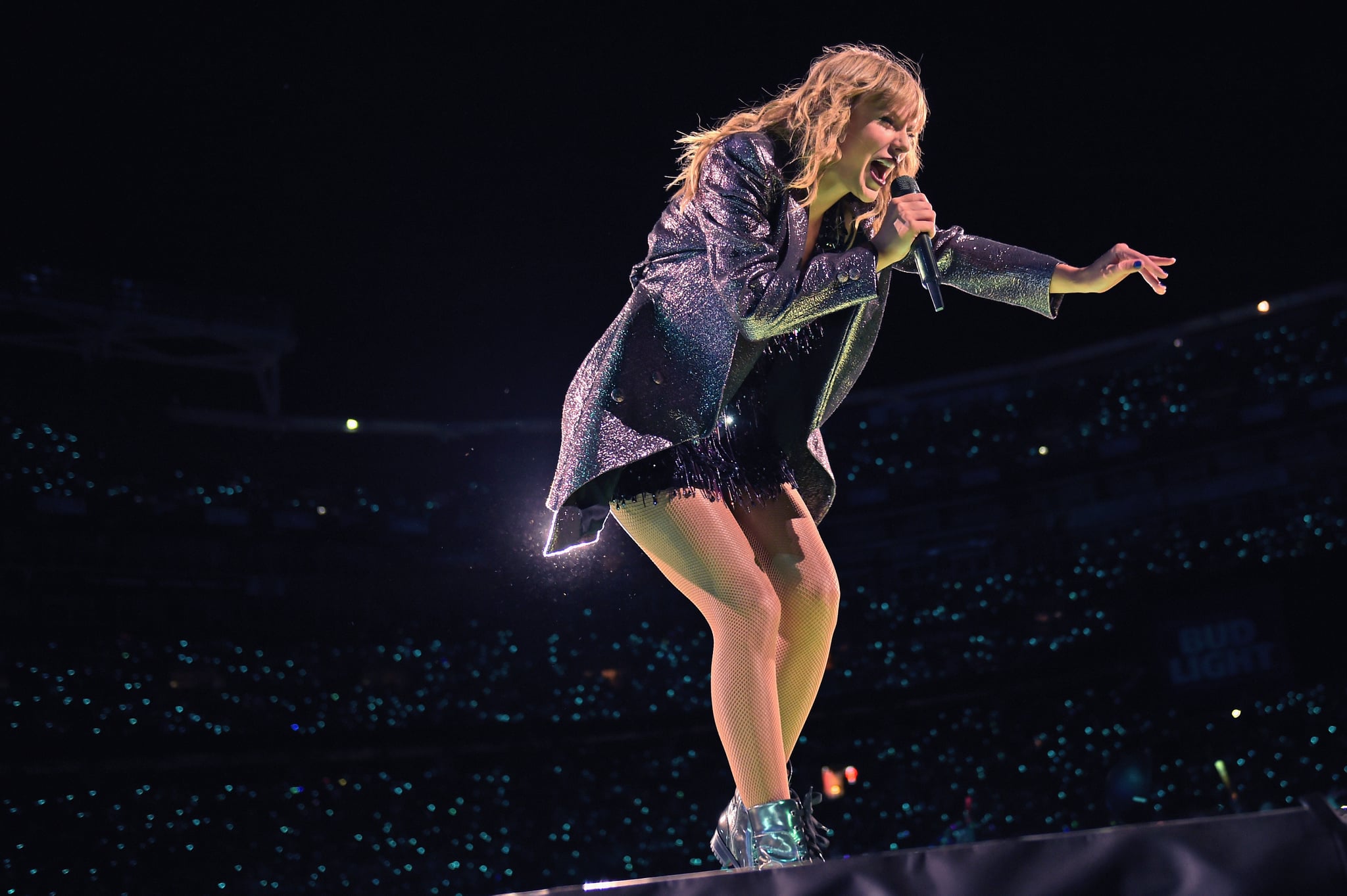 Image Source: Getty / Jason Kempin / TAS18
"You know you hate to say a cliché, but I've learned in life that clichés are there for a reason," Taylor Swift told thousands of fans at the MetLife Stadium in East Rutherford, NJ, on July 21. "And that's why they tell you, you know your real friends will show up for you rain or shine. Regardless of what happens tonight, this crowd is absolutely sacred."
The singer was only a few songs into her Reputation stadium tour stop, and it was already pouring down rain. Though, it didn't seem to bother her, and it certainly didn't bother me. My mom and I were finally at our first Taylor Swift concert, and we were soaking it all in (pun intended).
I can't pinpoint the exact moment I became a "Swiftie," but I know it started sometime around when "Our Song" dropped. Since then, Swift has been the soundtrack for my life (cliché, I know, but you heard what Taylor said). I've essentially had one of her albums for every pivotal moment of my life: Taylor Swift for my first breakup when all I wanted to do was blast "Picture to Burn," Fearless for those awkward high school years, Speak Now for when I headed off to college and "Never Grow Up" became my anthem, Red for my carefree time in college, and 1989 when I entered adulthood and said, "Welcome to New York."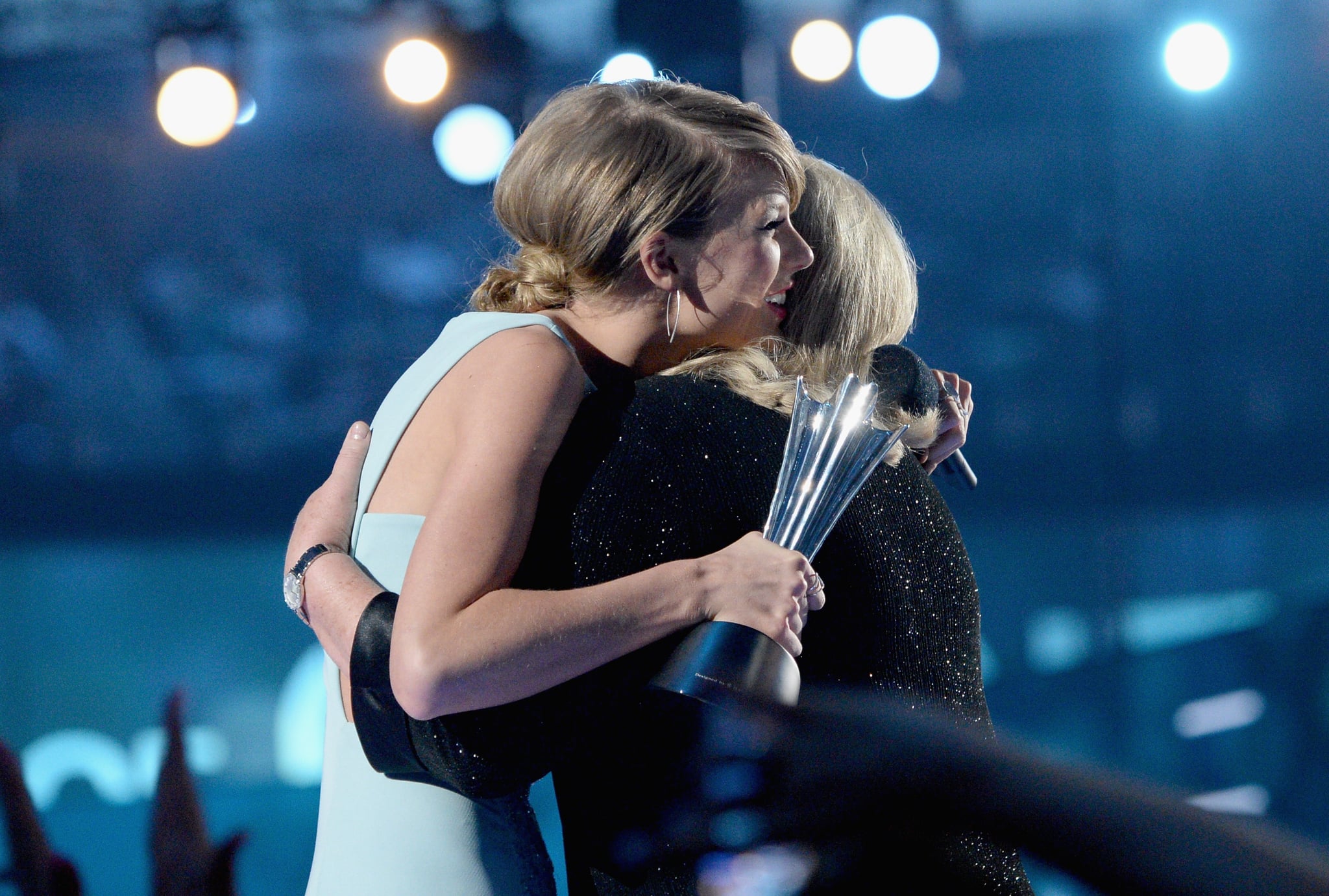 Image Source: Getty / Mike Windle / ACM2015
While I've always related to Swift's music, I've also related to the close bond she shares with her mom, Andrea. Over the years, Swift's mom has not only been her biggest supporter, but she's also been her closest friend, just like my mom is with me. They make dorky videos together, they cut up during award shows, and Andrea is usually there cheering on her daughter during concerts. Swift even wrote an entire song, "The Best Day," about their unbreakable bond. So, when the singer announced her Reputation stadium tour, I knew I would be taking my mom (aka my go-to concert buddy) to my very first Taylor Swift concert.
After scoring floor seats during the presale, we knew we had to go all out for the occasion, including finding the perfect costume. If you've ever been to a Taylor Swift concert, you know what I mean. We decided to go with Swift's song "This Is Why We Can't Have Nice Things," since it includes a reference to her mom. I dressed up as Jay Gatsby from The Great Gatsby for the line "feeling so Gatsby for that whole year," while my mom dressed up as the lyric "Here's to my mama . . . had to listen to all this drama" by wearing a shirt that said "Mama" in Reputation font and headphones that read "drama."
Once the day for our concert finally came, we were more than . . . ready for it. The days leading up to the big event, I made my mom watch countless Taylor Swift videos and had Reputation playing on repeat in preparation. Although, nothing could prepare us for the actual thing. Before the concert had even started, we were already both an emotional mess. As we made our way to our seats and found out we were sitting right next to the B stage, we actually broke into tears. The rest of the night played out quite similarly as we sang along to our favorite songs and danced in the storm in our best ponchos, fearless (sorry, I had to).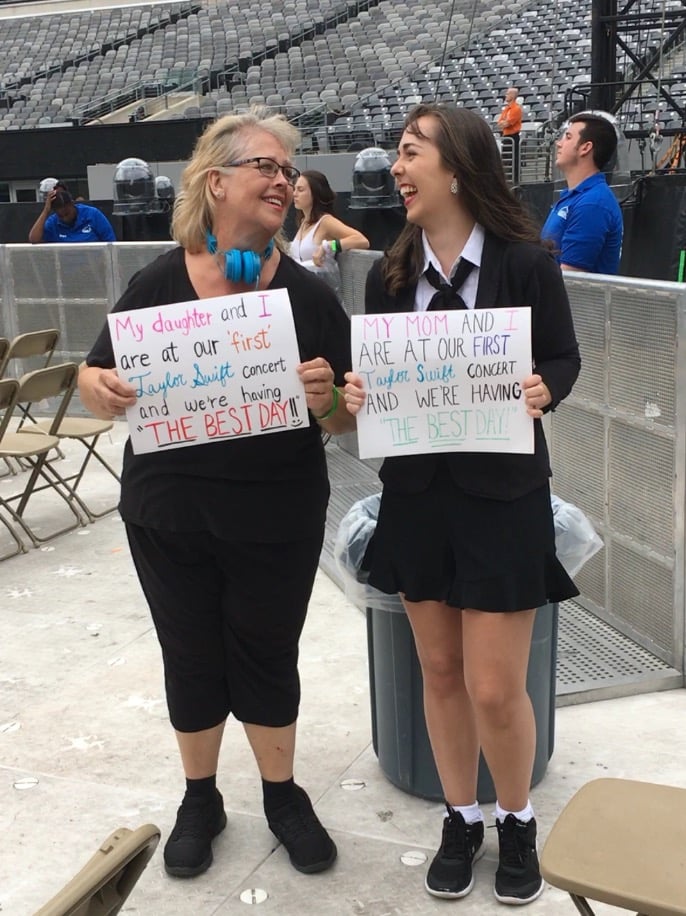 Image Source: Kelsie Gibson
While attending my first Taylor Swift concert was thrilling in itself, I'm even happier I got to do it with my best friend. We laughed, we cried, we got soaking wet in the rain, but we had the "time of our lives" singing and dancing together. It may sound cliché, but I truly had "the best day" with my mom.