What Happens After Flowers in the Attic?
Thought Flowers in the Attic Was Disturbing? You Won't Believe What's Next
This weekend, Lifetime brought V.C. Andrews's bestselling 1979 novel, Flowers in the Attic, to life, starring Mad Men's Kiernan Shipka as main character Cathy and Heather Graham as her mother, Corrine. The story follows teenaged Cathy as she's locked up in the attic of her grandparents' home with her siblings — a plan of her mother's to keep them a secret. It's a horrific tale of physical and emotional abuse, psychological torture, and, of course . . . incest. The viewer reaction seems to be WTF to many of Flowers in the Attic's scenes, but to that I say: you ain't seen nothin' yet.
I've read the whole Flowers in the Attic series, and things only get worse after the first installment — we're talking revenge, more sordid sex, suicide, and general scandal. Given that Lifetime is adapting the next book, Petals on the Wind, after this, I thought I'd share the most shocking events that are still to come in this series. Warning: lots of spoilers ahead.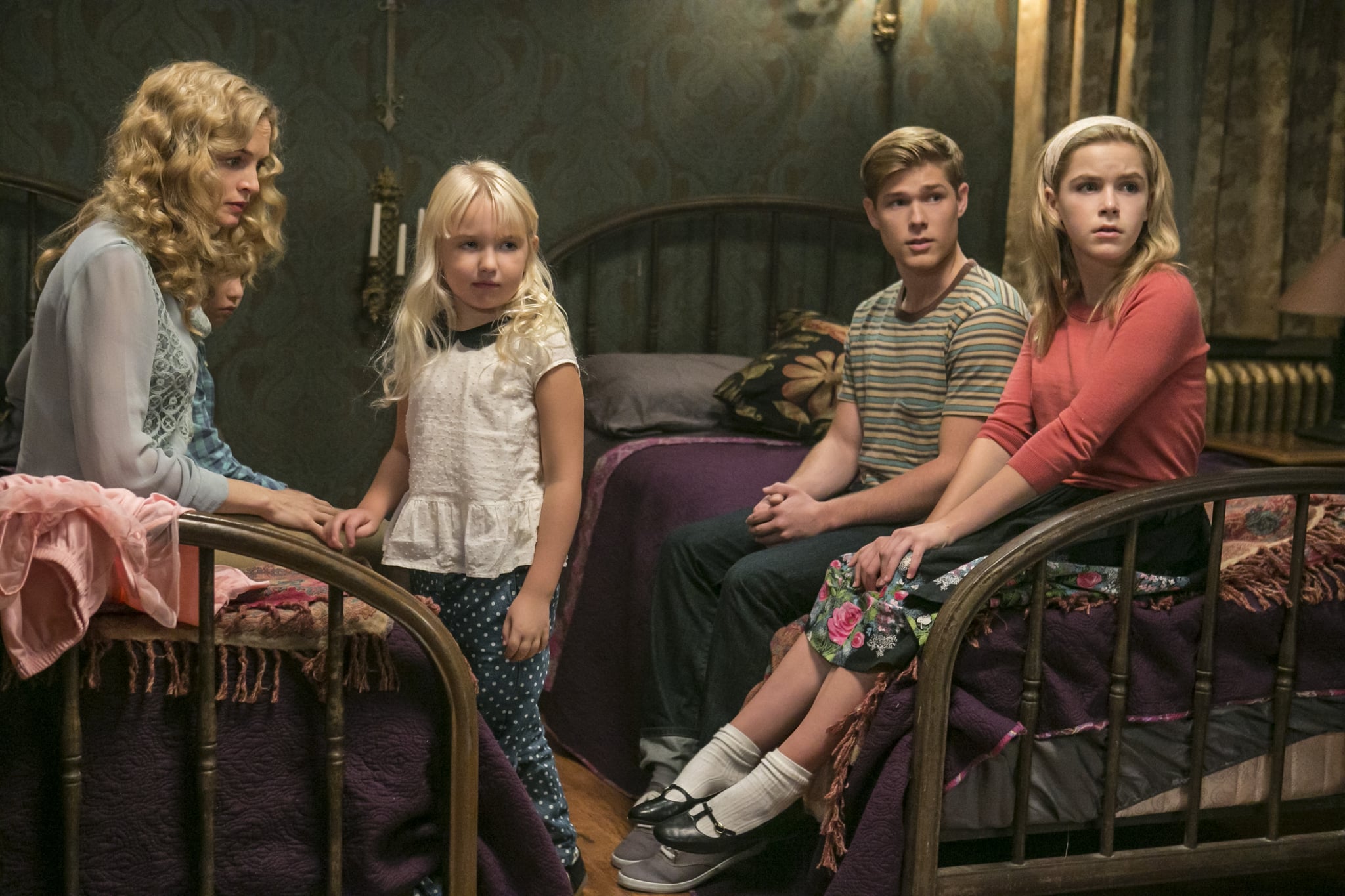 Cathy gets her revenge, and it's gnarly. The sequel Petals on the Wind picks up immediately where Flowers in the Attic leaves off and then chronicles the next 15 years of Cathy's life. Though she falls for an older man then marries a male ballet dancer and has a child, item No. 1 on her to-do list is to exact revenge on her mother and her grandmother. One night, she heads back to Foxworth Hall, finds that her grandmother is an invalid who can't move or speak, and tortures her by whipping her and splashing candle wax on her naked body. Cathy doesn't get that far before she starts feeling guilty and takes off, but it's still a pretty horrific scene.
Cathy seduces her mother's husband. As for her mom, Corrine, Cathy has an emotionally damaging plan — seduce her husband and steal him away from her vain, selfish mother. Cathy pursues Bart (whom Cathy kisses while he's sleeping in Flowers in the Attic), they have an affair, and she gets pregnant with his child. She reveals her identity to Bart and their affair to Corrine simultaneously at the Foxworth Hall Christmas party, Bart believes Cathy, and Corrine confesses. Corrine then goes insane and sets the whole place on fire, burning Foxworth Hall to the ground and killing Bart and her mother inside.
Carrie commits suicide. Part of the reason Cathy is so hellbent on revenge is that her younger sister, Carrie, kills herself after years of mental anguish stemming from the attic lockup. She's constantly sickly from the arsenic donuts that killed her twin, Cory; she never grows to a normal size; and (like everyone in these books) she's confused about sex. The final straw is when she sees their mother, Corrine, on the street years later and runs to her, only to be cruelly rejected. Carrie ends it all by poisoning herself with arsenic, the way her brother died.
Cathy was actually pregnant by Chris. That little incident in the attic Cathy talks about pretending never happened? Not so easy. Not only do Cathy and Chris never get over their attraction to each other (more on that later), but also, in Petals on the Wind, Cathy realizes she had miscarried a child and that it's not the progeny of her fiancé at the time — it would have been Chris's baby. So there's that.
Cathy and Chris end up together. So these two try to stay away from each other, but they just can't. After they each have relationships with others and Cathy has two kids by other men, she realizes her heart was always with her brother, and they ride off into the sunset, change their last name, and pretend like they're not related. All together now: ewww.