What Is Three Billboards Outside Ebbing Missouri About?
What You Need to Know About Three Billboards Outside Ebbing, Missouri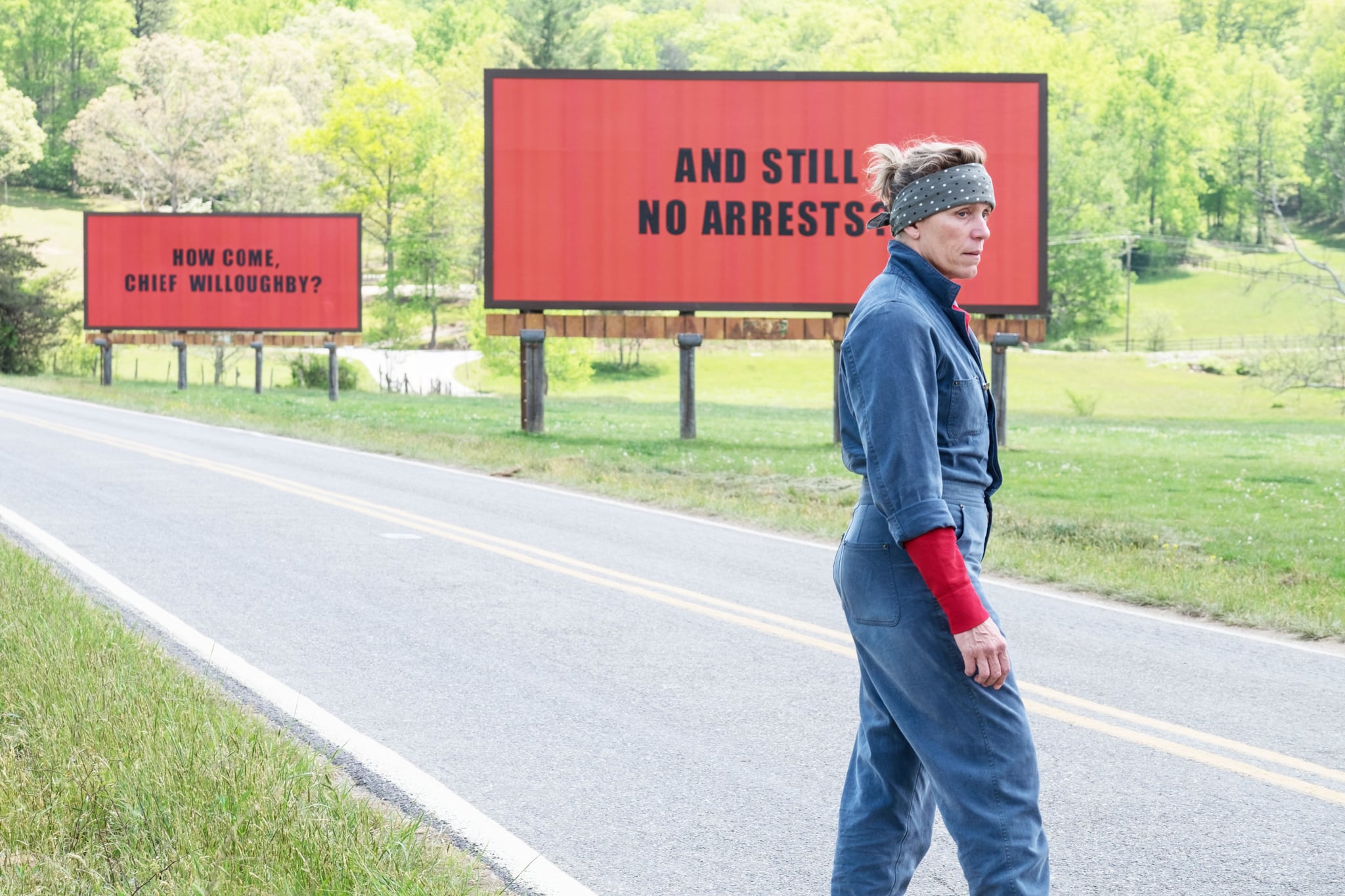 One movie with a strange title has emerged as one of the top Oscar contenders: Three Billboards Outside Ebbing, Missouri. The dramatic comedy starring Frances McDormand nabbed six Golden Globe nominations on Dec. 11, and that's in addition to the movie's nods from the Screen Actors Guild, the British Independent Film Awards, and the AFI Awards. Over the course of award season, Martin McDonagh's controversial film has won many of those awards — including multiple best actress and best supporting actor trophies for McDormand and Sam Rockwell, respectively — but what is Three Billboards Outside Ebbing, Missouri about? That seemingly innocent title is your introduction to a story about the searing power of a mother's rage let loose on small-town America.
McDormand's Mildred is a woman fueled by anger and grief. Seven months prior to the events in the movie, Mildred's daughter, Angela, was raped and brutally murdered. The police have yet to find the person responsible, and Mildred takes matters into her own hands by renting out three billboards that force the town to confront her pain every single time they enter Ebbing. Without giving too much away, here's what you need to know about the hottest award season movie of the year.
What Do the Billboards Say?
Three derelict billboards sit on the edge of the town of Ebbing at the start of the film. They become Mildred's inspiration to keep her daughter's death in the mind of the police and her neighbors. In order, the billboards say: "Still No Arrests?" "How Come, Chief Willoughby?" "Raped While Dying."
As soon as the billboards go up, they begin drawing attention not only from the people in town, but from the local media, as well. And the people of Ebbing are not happy about the stir that Mildred is causing.
Is It a True Story?
While the film's subject matter sadly feels like it could be ripped from the headlines, Three Billboards is thankfully the stuff of fiction. Moviegoers also shouldn't head to the theater expecting to see a true-crime-style mystery. Despite its heavy subject matter, Three Billboards has a comedic edge. As the trailer illustrates, Mildred is a ball of fury that can't be contained. At one point, she attacks the town dentist.
This is a movie that defies categorization — which is exactly what you would expect from writer/director McDonagh. The man behind In Bruges and Seven Psychopaths is known for eschewing genre expectations, and he does it again with Three Billboards. Despite a crime being the catalyst for the story, it's not the point. This is very much a character-driven film about violence, grief, and forgiveness that's far more concerned with helping its leading lady move forward than it is in actually solving the crime at its center.
Who Else Is in Three Billboards?
McDormand is the movie's searing heart and soul, but the film isn't a one-woman show. Woody Harrelson stars as Chief Willoughby, the police officer who cares far more about finding Angela's killer than Mildred will let herself admit, and Rockwell has a starring role as a racist cop who undergoes a surprising transformation. Game of Thrones fans will be happy to know that Peter Dinklage appears as well.
If you're ready to see why critics can't stop praising this unwieldy titled movie, Three Billboards Outside Ebbing, Missouri is in theaters now.