What Were the Menendez Brothers Sentenced To?
Law & Order: The Real Outcome of the Menendez Brothers' Trials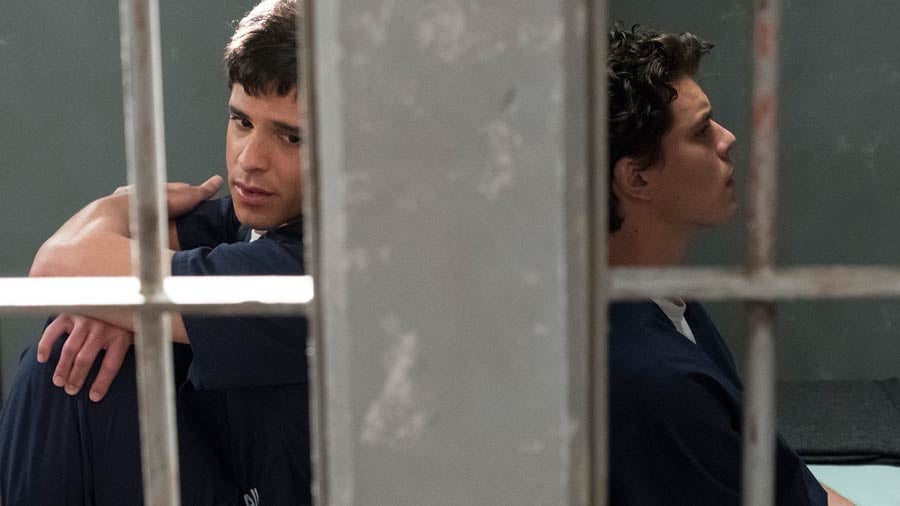 The 1990s trials of brothers Erik and Lyle Menendez were long and drawn out, spanning nearly three years before the siblings were sentenced. If you're currently watching NBC's new drama Law & Order True Crime: The Menendez Murders, the first trial is just getting started. In case you're wondering exactly how everything wraps up, here's a quick rundown.
In July 1993, the first trial began for the brothers, lasting more than six months. Erik and Lyle were tried together, as in the trials were held together because the evidence and witnesses were nearly identical for each brother, but each of them had their own jury for the purposes of being found innocent or guilty. In the first trial, both juries came back deadlocked. Interestingly, the juries were split largely along gender lines, with men typically voting for first-degree murder and women typically voting for second-degree murder or manslaughter.
After the deadlocked juries, Los Angeles County District Attorney Gil Garcetti, fresh off losses in the Rodney King and O.J. Simpson trials, immediately began the process of retrying the siblings.
The second trial commenced in August 1995 and was quite different from the first trial. There were no cameras allowed in the courtroom, and Judge Stanley Weisberg did not permit the jury to consider that the brothers were reacting to years of abuse by committing the murders. Taking away that defense omitted the testimony of 40 different witnesses from the first trial.
Finally, the judge also did not permit the jury to consider a manslaughter charge, which left them with three options: first-degree murder, second-degree murder, or not guilty.
After five months, the juries in the second trial both delivered decisions of first-degree murder and conspiracy to commit murder. The brothers were sentenced to life in prison without the possibility of parole — one life sentence for each murder and for the conspiracy charge.
There were appeals by each brother, but the Supreme Court of California upheld the verdicts. Both brothers were deemed maximum-security inmates, with Lyle currently incarcerated at Mule Creek State Prison in Ione, CA, and Erik being held at the Richard J. Donovan Correctional Facility in San Diego. Both brothers have gotten married since being put in jail; Lyle has actually been married, divorced, and married again.