Who Do Diane Lane and Greg Kinnear Play in House of Cards?
With Kevin Spacey Out, Diane Lane and Greg Kinnear Are Joining House of Cards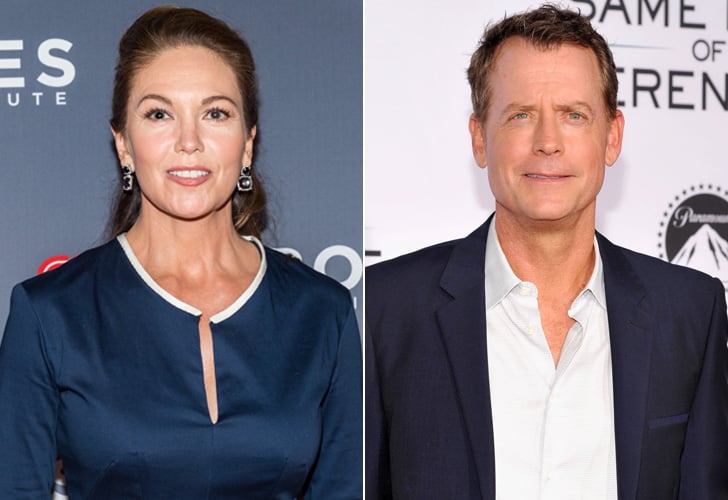 At the end of 2017, we all learned that House of Cards would move forward with filming its sixth and final season without Kevin Spacey. The actor had effectively been ousted following a series of harrowing sexual assault allegations. Naturally, some fans wondered how the political drama could possibly go on — what would it be like without the devious President Frank Underwood on board? Incredible, as it turns out.
Not only will the last season center around Robin Wright's brilliant, icy Claire Underwood (the true lead of House of Cards, if you ask me), but the cast is getting a little bigger. Although Neve Campbell's Leann Harvey won't be returning — season five ends with the Underwoods's former campaign manager (likely) murdered by Frank — but two familiar faces are joining the Netflix drama: Oscar nominees Diane Lane and Greg Kinnear. Not much is known about their characters at the moment, other than that they'll play siblings. The move marks Lane's first series-regular role on TV, following her Emmy-nominated appearance in the 1989 CBS miniseries Lonesome Dove. Kinnear made the jump to TV more recently, popping up in Philip K. Dick's Electric Dreams on Amazon and HBO's Confirmation.
It's still unclear how Spacey has been written out of the series, but the move is certainly not a stretch. In the Michael Dobbs novels that inspired the series, which take place in England rather than the US, Frank actually dies. Fortunately the rest of the cast is returning with Wright: Michael Kelly, Jayne Atkinson, Patricia Clarkson, Constance Zimmer, Derek Cecil, Campbell Scott, and Boris McGiver. A season six premiere date has yet to be nailed down, but we'd bet it'll arrive sometime at the end of 2018 or early 2019.