Why Is Jessica Capshaw Leaving Grey's Anatomy?
Everything We Know About Why Jessica Capshaw Is Leaving Grey's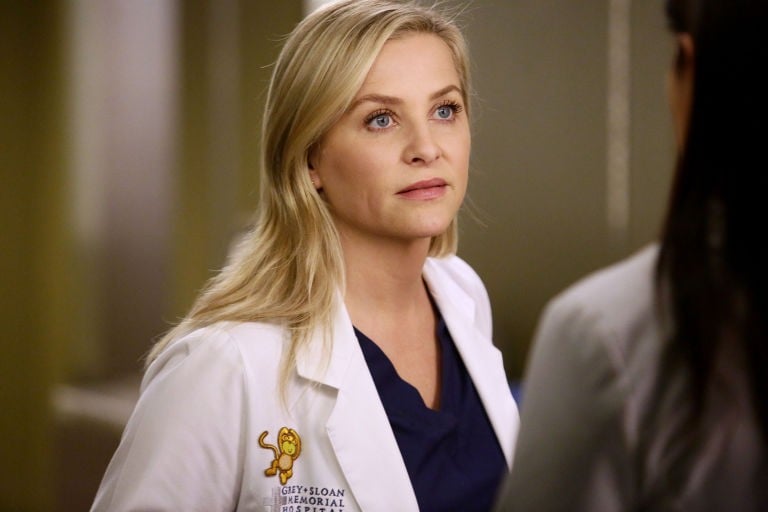 Image Source: ABC
Ever since its fifth season, Grey's Anatomy has blessed fans with the presence of Arizona Robbins, Grey Sloan's quirky chief of pediatric surgery and fetal surgeon. When she first stepped foot into the hospital, Arizona spread an infectious joy that captured the affections of Callie Torres. Arizona would soon become a series regular in season six and grow into her role. She's gone through hell and back over the last 10 seasons, surviving a plane crash and a child custody battle and training for a whole new specialty.
That's why we were absolutely crushed when executive producer Krista Vernoff announced to Deadline that Jessica Capshaw and Sarah Drew would be leaving Grey's Anatomy this season.
Capshaw issued a statement on Twitter expressing her gratitude for the opportunity to play Arizona. "For the past ten years I have had the rare privilege of not only playing Arizona Robbins, but also being madly in love with playing her. Arizona Robbins is kind, intelligent, funny, insightful, bold, playful, fierce and really good at her job," Capshaw explained.
March 8, 2018
She emphasized how Arizona's character affected the LGBTQ+ community, since the bubbly surgeon is one of the first lesbians on network television to be a series regular. "She was one of the first members of the LGBTQ community to be represented in a series regular role on network television. Her impact on the world is forever. Forever," the Grey's Anatomy star said.
"I am grateful that I have gotten to bring her to life and for the life that she has brought to me," Capshaw continued. "I am so sad to see her go, but I am consoled by the idea that she will continue to live on and on in all our consciences and imaginations. Shonda, thank you for the ride on this incredible rollercoaster. With a heart full of love, Jessica."
In its report of Drew and Capshaw's departures, Deadline mentioned Ellen Pompeo's $20 million raise and two-year contract renewal, which led to speculations about how this may have affected Capshaw and Drew's departures. Firing back, Vernoff debunked these speculations, calling them "wrong and hurtful and misguided." She emphasized that the decision to let Capshaw go came from a creative standpoint. "We love these actresses and we love these characters and it felt true and right creatively to wrap up their stories," the executive producer stressed.
Regarding #GreysAnatomy and @EllenPompeo pic.twitter.com/d2ynURphsR

— Krista Vernoff (@KristaVernoff) March 8, 2018
Capshaw has played Arizona since 2009. Her IMDb page does not indicate any upcoming projects, but we may see her on television again sometime soon. She's a seasoned actress, having appeared on various shows such as The L Word, Bones, and The Practice before coming to Grey's. In her statement, Shonda Rhimes said that Capshaw and her costar Sarah Drew "will always be part of our Shondaland family," suggesting that fans may see them again on Grey's or the TGIT lineup.
https://t.co/ASqMUZAKy5 pic.twitter.com/Vcnbc8BI8s

— shonda rhimes (@shondarhimes) March 8, 2018
There are no openly bitter feelings about Capshaw's departure from the actress's end or the production's end. It's a resolution that, in a way, makes sense in terms of Arizona's loose story arc right now. Ever since Callie left the show, Arizona's time at the hospital has been relatively drama free, with the exceptions of her relationships with DeLuca's sister and Eliza Minnick. Her fate is still up in the air until the end of season 14, so we'll just be anxiously sitting on the edge of our seats until then.