X-Men Dark Phoenix Movie Details
Sophie Turner Is on Fire (No, Literally) in the First Look at X-Men: Dark Phoenix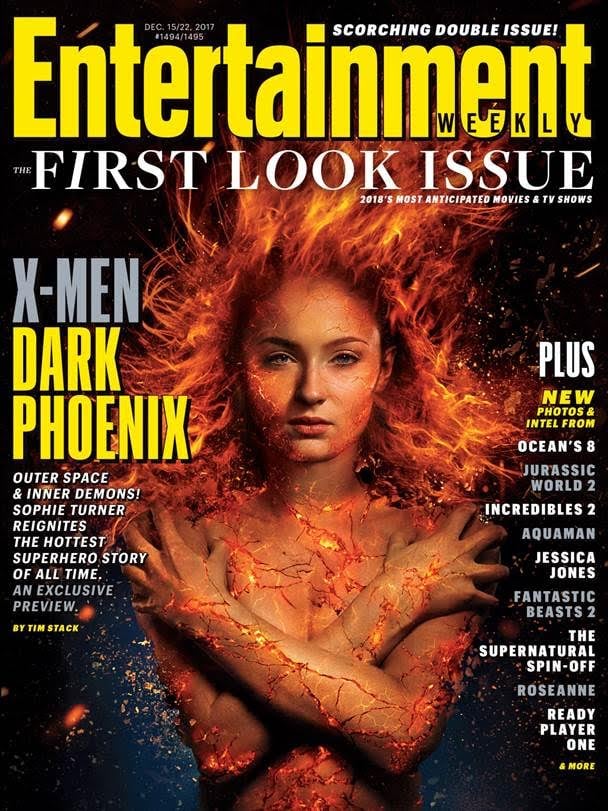 You might want to grab a bucket of water, because the latest issue of Entertainment Weekly, on newsstands Friday, is on fire. Or rather, Sophie Turner is the one aflame, and we couldn't be more excited about it.
The cover is our first look at the Game of Thrones actress in the upcoming mutant superhero film, X-Men: Dark Phoenix. Turner will be reprising her role from 2016's X-Men: Apocalypse as a young Jean Grey in the Simon Kinberg-directed movie, which will see a "malevolent, power-hungry new force" awaken in Jean when a solar flare hits the X-Jet during a rescue mission in space. The surge of energy replaces the kind-hearted telepath we know and love with the Phoenix, making her both hero and villain.
Read on to see all the other details we've been able to scrape together ahead of the film's 2018 release.
The Cast
Joining Turner is Jessica Chastain in an as-yet-unnamed, top-secret role. EW reports that her character will be a shape-shifter and will attempt to manipulate Phoenix for her own dark agenda. Chastain couldn't be happier about playing the big bad and told EW that Kinberg's female-driven script is what attracted her to the role in the first place. "I've always wanted to do a big comic-book film, but I had some issues with the female characters I was being offered," she explained. "This definitely passes the Bechdel test, and I don't know how many comic-book films can say that."
A collection of familiar faces are also on board: James McAvoy as Professor Charles Xavier, Nicholas Hoult as Beast, Olivia Munn as Psylocke, Michael Fassbender as Magneto, Evan Peters as Quicksilver, and more. Jennifer Lawrence is also back as the shape-shifting Mystique, so we can only imagine the kind of tussles she'll get into with Chastain's character.
The Production Team
Brett Ratner, who was recently accused of sexually harassing multiple women, is still listed as a producer on the movie. Fortunately, it seems he hasn't been directly working on it and is not on set. According to Chastain, the set with Kinberg at the helm is "the most loving, strong, happy" place to be. Lawrence is also thrilled about the new environment. "It was unrecognizable. Everything was on time. Everything was organized. These movies have always been fun amidst chaos, and now they were fun with no chaos."
The Premiere Date
X-Men: Dark Phoenix will hit theaters on Nov. 2, 2018.