Yes, That's Really Aimee Garcia Delivering Pop-Star Vocals in "Christmas With You"
In Netflix's new holiday rom-com "Christmas With You," Aimee Garcia plays Angelina, a Latin pop star dealing with career burnout who's tasked with writing the next "All I Want For Christmas Is You"-level holiday song. Garcia steps into the role of the singing-dancing extraordinaire so seamlessly that one might assume she's actually a pop star. So, is Aimee Garcia really singing in "Christmas With You"?
The answer is yes, and Garcia, who is not a trained singer — believe it or not — tells POPSUGAR taking on the role of an international pop sensation was "terrifying." While Garcia has some singing experience after recording a song for a season five musical episode of Netflix's "Lucifer," the role of Angelina presented a whole new challenge.
"Netflix had offered me this role in 'Christmas With You' because of the musical episode on 'Lucifer,' but I barely sang and danced [for that]," Garcia says. "And [I] may or may not have taken a shot of tequila in the sound booth. I cannot confirm nor deny." Making matters even more intimidating, Garcia was on a time crunch to nail Angelina's powerhouse vocals. "I only had three days to learn all the songs . . . so when they said, 'You're going to play a professional singer with multiple Grammys and platinum records worldwide,' I had a minor panic attack."
Panic attack number two came when Garcia heard which pop stars the producers behind "Christmas With You" were hoping for Garcia to emulate. "[When I asked], 'What kind of voice are you guys thinking?' And they're like, 'Oh, you know, Mariah Carey, Kelly Clarkson.' 'Oh, so the best singers of our generation?' I said, 'Not gonna happen in three days.'"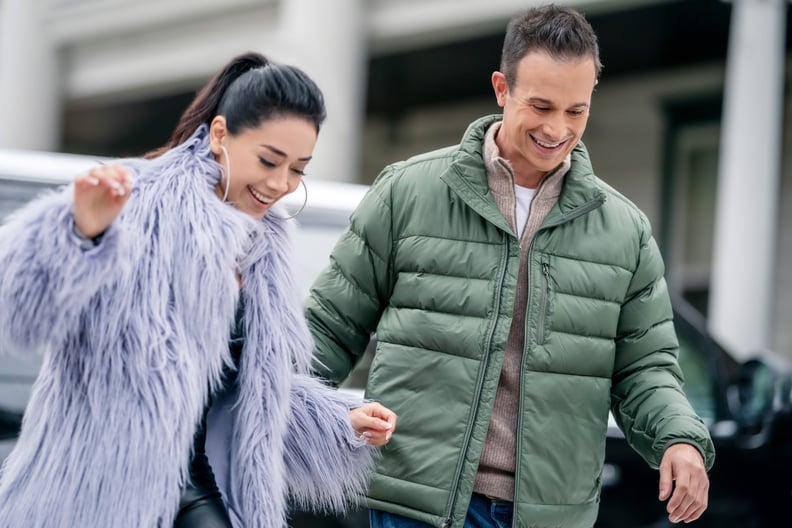 In the end, Garcia let go of the doubts in her head and instead studied pop legends like Madonna and Britney Spears, whose legacies helped her reach an encouraging epiphany. "Their performance is undeniable, right? They are pop stars. They are legends," she says. "And I said, 'I'm just going to lead with my strengths of dancing performance and sing from the heart . . . And that's all I can do."
According to her costar Freddie Prinze Jr., who plays Miguel, the widowed music teacher who reignites Angelina's passion for writing, Garcia isn't giving herself enough credit. "Girl, they cut a soundtrack and are releasing it . . . because you killed it so nice," Prinze Jr. says. "They don't do that unless it's good!"
You can watch Garcia show off her pop-star-level singing and dancing skills in "Christmas With You," streaming now on Netflix.