"Atlanta"'s Latest Episode Tackles Reverse Racism and an Identity Crisis
FX's "Atlanta" is famous for taking inspiration from real-life events and controversy, but season three's ninth episode picks up a new storyline we have yet to see from the series. In yet another detour episode without our mainstay crew — Earn (Donald Glover), Paper Boi (Brian Tyree Henry), Darius (LaKeith Stanfield), and Van (Zazie Beetz) — titled "Rich Wigga, Poor Wigga" (a clever nod to JAY-Z's "The Story of O.J."), we follow a new protagonist named Aaron (played by Tyriq Withers), a high school senior who struggles with being biracial.
Throughout the episode, "Atlanta" tugs at Aaron's inner quarrel that pits his Black and white identities against each other through a series of ridiculous scenarios and subtle hints (like the Outkast "Stankonia" poster recreation Aaron pays no mind to or his out-of-touch views on police violence) that eventually force him to make a tough decision. By way of its signature style of dark humor, "Atlanta" treads on a very fine line to make a poignant point about race in America by tackling reverse racism.
"Atlanta" Season 3, Episode 9, Explained
"Rich Wigga, Poor Wigga" starts off with slight references to Aaron's inner war with identity after he hurls racial slurs at two Black kids playing an intense video game with him. The episode peels back more layers once Aaron reveals that he didn't get a scholarship from the same college his girlfriend, Kate (Rachel Resheff), is attending. However, he thinks he may have found a solution to his financial troubles when a wealthy alumnus of Stonewall Jackson High School, businessman Robert "Shea" Lee (played by Kevin Samuels), returns to his school to pay tuition bills for all the seniors — but only if they're Black.
If you're following along with "Atlanta"'s method of madness, you'll know this portion of the episode is ripped straight from a news headline about billionaire businessman Robert F. Smith. In 2019, Smith famously announced to the graduating class of Atlanta HBCU Morehouse College that he vowed to pay off all their student loans.
To top it off, "Atlanta"'s version of Smith also reveals that he plans to change the high school's name from "that degenerate slave owner" and replace it with "one of the richest Black men [on] this side of the Mississippi" — a nod to the existing debates about removing the names of racist figures from buildings across America. These real-life connections in "Atlanta" are clear as day, but the show's racially motivated pledges tie right back into Aaron's dilemma.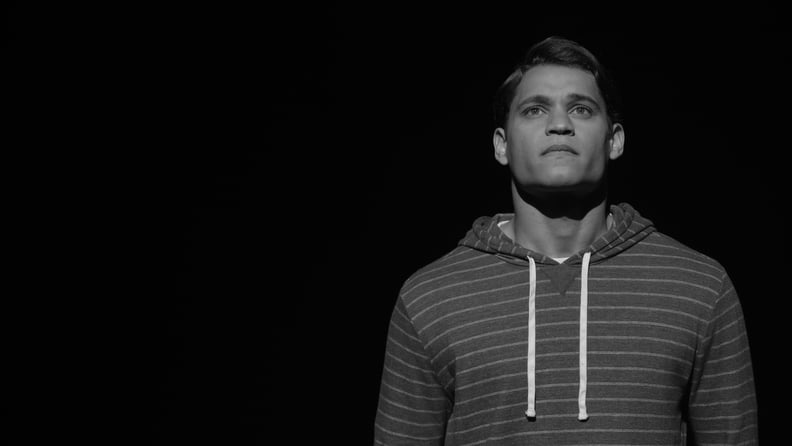 To take the episode a step further, students in Aaron's position can only receive Lee's generous donation if they can prove their Blackness. From there, Samuels's character, alongside guest stars George Wallace and Anthony Daugherty, proceeds to quiz said students with a series of questions to basically see if they deserve their "Black card."
Aaron, who at that moment doesn't seem to have a clue about his own culture, fails the test miserably as Wallace's character points out repeatedly, "You are white! . . . Blacks only!" And after his girlfriend breaks up with him for no longer fitting into her world, Aaron comes up with the only solution he can think of to help him fit in: burn down the place he feels he doesn't belong at with a flamethrower. But, of course, someone has already beat him to the punch. (I mean, this is "Atlanta" we're talking about.)
After another failed attempt to prove himself, Aaron finally chooses to stick to the identity he's been avoiding all his life, and one year later, we find him working at an electronic store with a low fade, gold chain, and stud earrings to match — he chose his Blackness. It's ironic that episode nine ends with Loose Ends' song "Hangin' on a String" to tie everything together. But in true "Atlanta" fashion, the black-and-white episode (a genius touch to the storyline) still leaves us scratching our heads about all the unanswered questions the episode doesn't quite resolve. Is there another hidden meaning behind it? Is this Emmy bait like the episode description suggests? Will these one-off episodes finally make sense in the finale? Guess we'll have to wait for episode 10 to arrive on May 19 to find out.