Dash & Lily: Austin Abrams Talks About Season 1
Dash & Lily: Austin Abrams on Filming His Favorite Scene and the "Magical Reality" of NYC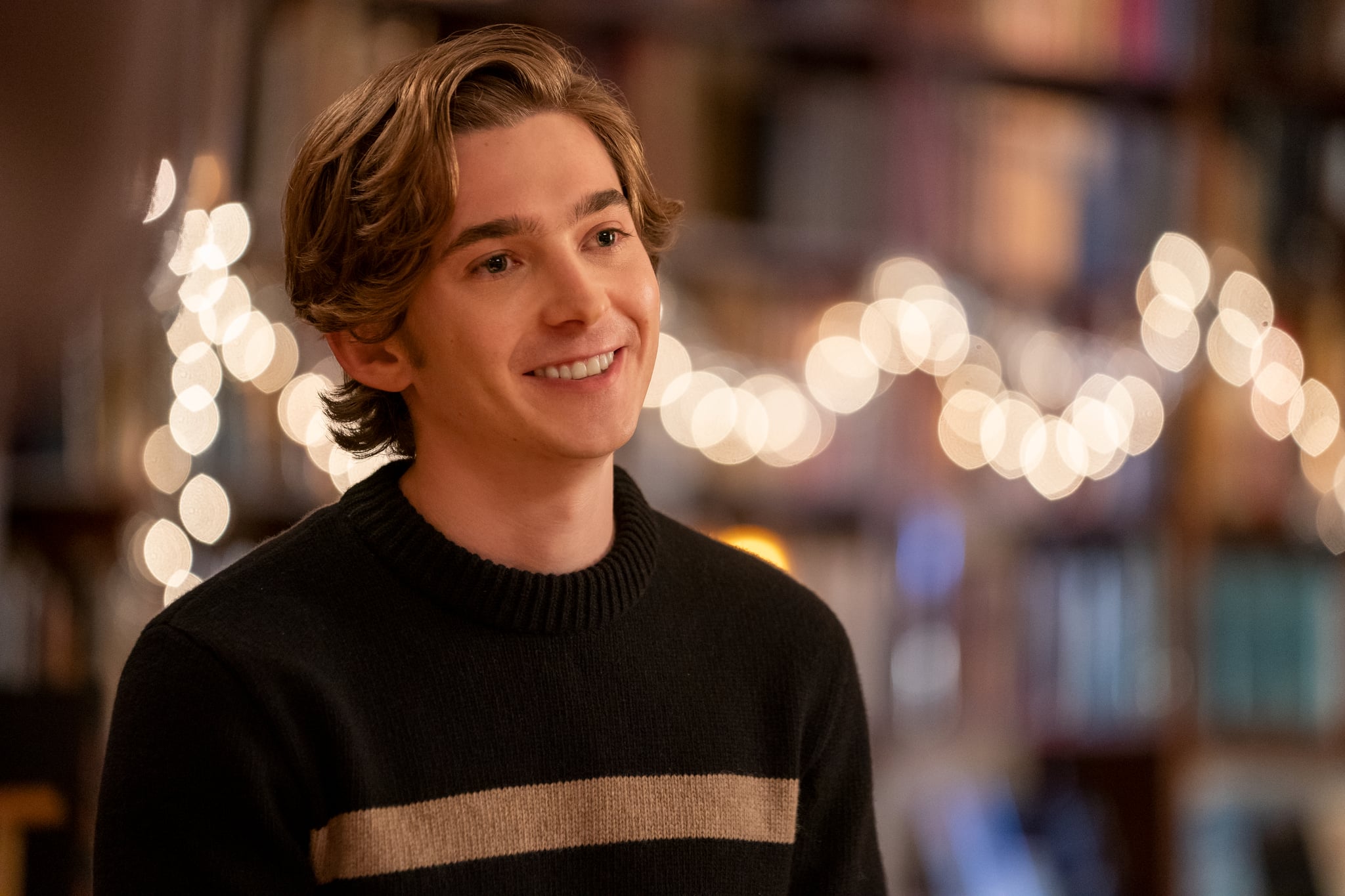 Netflix is really coming through with heartwarming holiday content, and the latest to lift our spirits is Dash & Lily. The series — an adaptation of Rachel Cohn and David Levithan's 2010 novel, Dash & Lily's Book of Dares — follows characters Dash (Austin Abrams) and Lily (Midori Francis) as they develop a relationship by writing anonymous letters to each other in a notebook. Taking place during Christmastime in New York City, the feel-good show is escapism done right as Dash and Lily challenge each other to step out of their comfort zones and see their respective lives through a different lens. In an interview with POPSUGAR, Abrams spoke about bringing Dash to life, working with Francis, and his thoughts on a potential season two.
POPSUGAR: Were you a fan of the book before being cast or was this project your introduction into the world of Dash & Lily?
Austin Abrams: I was aware of David as a writer, but I wasn't aware of the book until I was doing the show. I went back and read the book and tried to capture the tone of the book and put that into the show as much as possible.
PS: What did you like most about your character?
AA: He's got a lot going on internally, which is interesting to explore. He's got these two parents that just give him money and let him go off on his own. They don't really give him a lot of love or compassion. There's a lot of depth to him, and I found that compelling.
PS: This show is also a sort of love note to New York, which is especially meaningful right now because New York has gone through a lot this year. Did filming this show give you an evolved perspective of the city, and do you think it stayed true to depicting New York?
AA: I've been to New York a lot throughout the years with family and friends, so I've been going for quite some time. I also lived there for a bit because of work, so I don't think there was anything specific that I came away with while filming. But I would say that it stays true to depicting New York. Our show definitely lives in a bit of heightened reality — a more magical reality — but it captures the feeling of the holidays in New York. And the best feelings of the city, in general, are definitely captured.
PS: What was your favorite scene to shoot?
AA: I really enjoyed doing the scene with Midori at the party when we first meet each other, just because we never really got to work with each other. That was definitely a nice moment.
PS: I actually spoke with Midori about the show, and she mentioned that you both started your own notebook behind the scenes. How did that help you and Midori connect?
AA: Yeah, we were working completely separately, very similar to how it is in the show, so we thought it would be interesting to try and mirror the show as much as possible and get to know each other in a similar way to our characters. It was helpful with building trust and intimacy. I think it benefitted us and the show.
PS: If you were to form a connection with someone in real life through a notebook, what would you write as the opening entry?
AA: Oh, gosh, I don't know what the hell I would say. I guess, "What's going on? How are you doing?" [Laughs]
PS: Since there are a couple more books in the Dash & Lily series, there's more source material for a second season. Would you be on board for another installment? And, if so, what would you want to explore more of?
AA: Yeah, I've already signed a couple of contracts, so I'm on board. I'm not really sure what the plan is exactly, and I'm not sure what I would want to see. I can only assume they'd want it to be in the spirit of the second book.
PS: What should readers and viewers be most excited about with this adaptation?
AA: We do a good job of honoring the book, and, now, because the world is different, there's a nostalgia factor. There's a lot of warmth. Another aspect that works is, you have two different sides. You have the side of Lily that likes Christmas, and then you have the other side of Dash that doesn't, so there's room for people to relate to the characters.
PS: Finally, what's your favorite holiday movie?
AA: I love the Charlie Brown movies.