Fresh Prince of Bel-Air Reboot Cast Interview
The "Bel-Air" Cast on Reimagining a '90s Classic
Watch out! This post contains spoilers.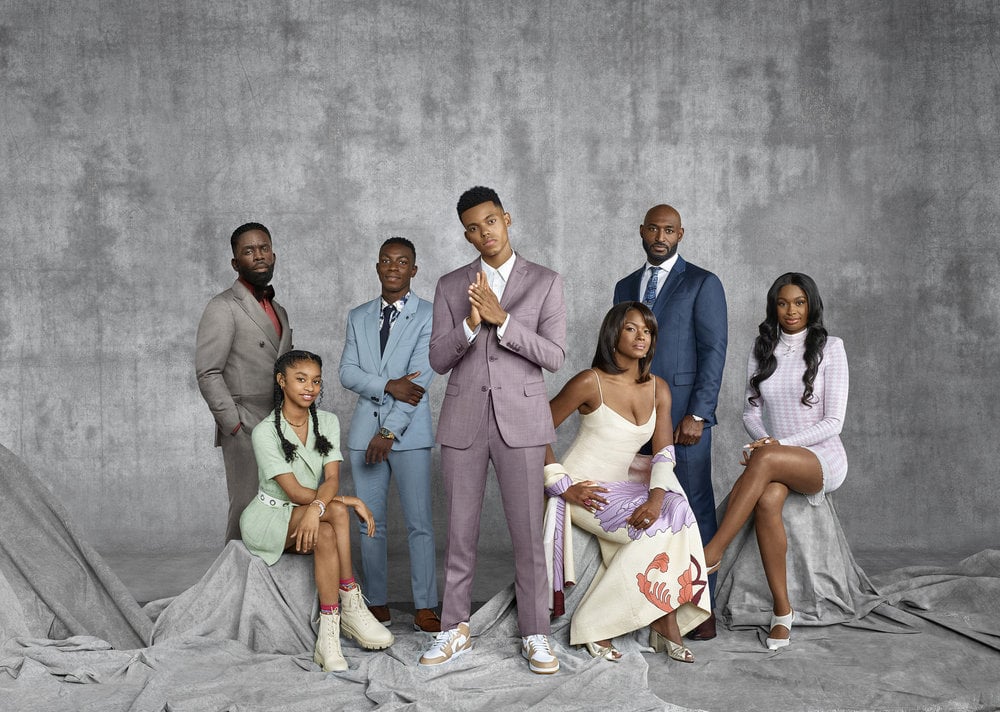 Rebooting a beloved TV show is no easy feat, especially when that show is "The Fresh Prince of Bel-Air." But it's a little easier when you've got the support of a few familiar faces. When newcomer Jabari Banks stepped into the titular role of Will Smith for Peacock's reimagining of the iconic '90s sitcom, aptly titled "Bel-Air," his nerves were inevitable. The actor says he found himself slipping into Smith's cocksure, wisecracking mannerisms more than once as the cameras were rolling, but it was the Oscar nominee's wise words that made a huge difference. "The best advice that I got from Will was just to be myself, because he was just being a fictionalized version of himself in the original," Banks tells POPSUGAR. "Bringing myself to the role has been an amazing experience because [the character] Will isn't too far off from Jabari. To lean into my own instincts and my own upbringing is definitely going to bring authenticity to this character."
"When you see Will and Jazz standing on Mulholland Drive and they're like, 'Oh my god, this is crazy. Is this even real?,' a big part of that is Will, but a huge part of that is also Jabari."
The 23-year-old actor wasn't born yet when "The Fresh Prince" originally aired from 1990-1996, but like his character, Banks hails from West Philly. "This is my first time out in LA, and this is Will's first time in LA," he says. "When you see Will and Jazz standing on Mulholland Drive and they're like, 'Oh my god, this is crazy. Is this even real?,' a big part of that is Will, but a huge part of that is also Jabari."
In case you haven't yet tuned into "Bel-Air," which premiered on Peacock on Feb. 13 and was picked up for a two-season deal, a lot has changed since 1990: Aunt Viv (Cassandra Freeman) is an artist, Uncle Phil (Adrian Holmes) is a zaddy, Geoffrey (Jimmy Akingbola) is now a manager who could rival Olivia Pope, Ashley (Akira Akbar) is a teen figuring out her sexuality, Hilary (Coco Jones) is a thriving entrepreneur, and Carlton (Olly Sholotan) is a villainous rugby player.
"Bel-Air" doesn't go out of its way to be different; it's just changed with the times. "It is a darker turn, but that's what we like about this story. We all sort of know it from the sitcom, but there are parts of it we really haven't examined, and we're trying to give that to you in this new version," showrunner and executive producer Rasheed Newson explains. "Will's mother sends him across the country to go live with his aunt and uncle. That's a very big decision for a mom to make. So we're just trying to take the story as we know it and say, 'What if this were real?'"
Fans of the dramatized Banks family will agree that one of the most jarring changes is the not-so-happy-go-lucky Carlton, who has it out for Will from the minute he steps foot into the Bel-Air mansion. By episode three, viewers witness Carlton snorting Xanax, allowing his white friends to use the N-word while singing along to a rap song, and staying silent when his white friend Connor plants drugs on Will. "On the surface, Carlton is unlikable, he's privileged, he's kind of prissy, he looks down on Will, but as the show goes on, you'll see how these are the ramifications of a 16-year-old kid who doesn't feel like he belongs with his own people," Sholotan says. "In the original show, so much of Carlton's struggle was just played for laughs. I challenge anyone who says that Carlton is unlikable to think back to when you were 16 . . . If someone took a video of you at your worst moments, would you be the most likable person?"
Another surprise? The reimagining of style icon Hilary. In "Bel-Air," Jones transforms her from a ditzy, bougie daddy's girl into a strong-willed, independent cooking influencer. Before reprising the role, Jones spoke with the original Hilary, played by Karyn Parsons, who's nothing like her scene-stealing character. "It was based on different people [Karyn] knew," Jones says. "When I spoke with her, she said, 'You are like [Hilary]. You are confident, headstrong, determined, passionate. I love that you get to really put yourself into this character.'"
"[Hilary] finds herself in these situations when she's presented with a huge opportunity, but at what cost?"
Jones adds that she's most excited for anyone trying to succeed in an unconventional way to watch Hilary's journey, saying, "Like a lot of boss babes, she finds herself in these situations when she's presented with a huge opportunity, but at what cost?" The 24-year-old star continues, "When she gets back to center, she reminds herself that who she is and what she brings to the table is enough for the right table. I think that's super motivating to watch."
Akingbola, on the other hand, appreciates the cooler, edgier Geoffrey, as well as the newfound camaraderie between his character and Uncle Phil. "They're equals, they're like brothers," Akingbola says. "Seeing that positivity between two Black men on screen is so important for the young ones coming up."
Nearly a decade ago, Akingbola and Joseph Marcell, who played Geoffrey on the original "Fresh Prince," worked together in an episode of the crime drama series "Death in Paradise." Akingbola still has a photo of them pointing at each other in the Guadalupe Islands, where the UK drama is filmed. To be able to retell Geoffrey's story through a 21st-century lens is a full-circle moment for the British actor. "I called [Joseph] when I [landed the role of Geoffrey] straight away, and he said, 'Jimmy, I know, congratulations! We're all happy for you guys. Will's 100 percent behind this, and we are backing you,'" Akingbola recalls. "It made me cry to be reminded that we've got everyone's blessing and that I'm a part of a show that I loved growing up."
Amid an era of constant reboots and cast reunions of TV shows from the '90s and early aughts, the "Bel-Air" cast and creators aren't interested in trying to catch lightning in a bottle twice. At the same time, they're not afraid to call upon a few key players who made the original so special the first time around, even sprinkling Easter eggs throughout each episode. The show handles racism, police brutality, and classism with more grit this time around. To call it a reboot wouldn't be fair for those who waited three years since seeing filmmaker Morgan Cooper's fan-made viral trailer. Nah, don't call it a reboot. A rebirth, a re-creation, a remix even? That's more like it.
"Bel-Air" airs new episodes on Thursdays on Peacock.
Image Source: Kwaku Alston/Peacock