Let's Just Take a Beat to Appreciate the Black Girl Magic in the 2020 Emmy Nominations
Growing up, I didn't watch the Emmys every year. Apart from a few big names, not many of my favorite actresses (and none of my favorite shows) ever made the cut. It was rare that I saw women who looked like me being praised for their work at the Emmys, and when the rare occurrence came along, it was always just one, maybe two, Black women who were acknowledged. Case in point: Tracee Ellis Ross didn't get her first Emmy nomination until 2016 for Black-ish. I mean — did Emmy voters not watch Girlfriends? As a young Black girl who praised actresses like Ross, Brandy, and Angela Bassett, it was frustrating to see these talented women ignored year after year.
But this year, something big happened.
This year's Emmy nominations are oozing with Black Girl Magic. 2020 has the most nominated Black women in Emmy history (17 in the acting categories alone!). I couldn't be more thrilled that Black women are finally getting the recognition they deserve and the shows I relate to most have made their mark on primetime award season.
"It is a clear message that our hard work does pay off, our talent is seen, and we can be celebrated in all spaces — even white, male-dominated ones."
Even before the winners are revealed on September 20, the 2020 Emmys are already monumental because of the number of firsts and huge steps forward it possesses. In the ceremony's 72-year history, Insecure is only the eighth comedy series starring Black talent to be nominated for a primetime Emmy award, let alone one created by and starring a Black woman. Nicole Byer became the first Black woman to be nominated for outstanding host of a reality/competition program for Nailed It!. This year is also the first time that Black actresses dominate the "Outstanding Lead Actress in a Limited Series or Movie" category — Kerry Washington, Octavia Spencer, and Regina King. The hilarious A Black Lady Sketch Show snagged three nominations in its first year, and can we acknowledge Maya Rudolph's double nominations in the same category for outstanding guest actress in a comedy series? Some of these queens have been in the industry for years and are finally getting a nod.
The reactions from nominees was even a joy to see. After Insecure's Yvonne Orji heard she was nominated for outstanding supporting actress in a comedy series, she called her parents immediately to share the news. "My heart is so full. Had to call the parentals," Orji said in the Instagram post. The actress's tears of joy made it impossible not to smile and celebrate with her. Euphoria star Zendaya, Serengeti narrator Lupita Nyong'o, Robin Thede (creator, writer, and actress of A Black Lady Sketch Show), and many more publicly reacted to their nominations with honor, appreciation, and shoutouts to those alongside them. "LOOK WHAT BLACK WOMEN DID!" Thede said via Twitter.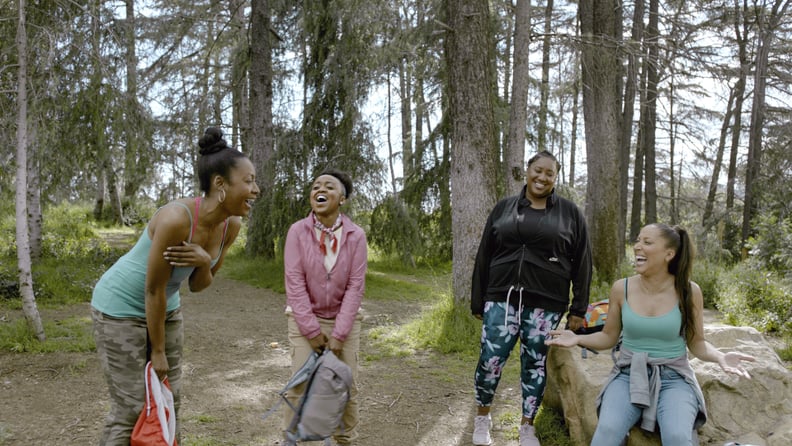 "2020 isn't just about the global health crisis," said CEO and TV Academy Chairman Frank Scherma, before turning over the nomination announcements to Leslie Jones. "This year, we are also bearing witness to one of the greatest fights for social justice in history, and it is our duty to use this medium for change."
Whether or not the momentum of the Black Lives Matter movement and the fight for racial equality drove these nominations, these women are finally being recognized for how I have always seen them, as the incredible talents they are. This recognition is important for Black women of all ages to see. It is a clear message that our hard work does pay off, our talent is seen, and we can be celebrated in all spaces — even white, male-dominated ones.
These nominations are the beginning of change and an awakening in Hollywood. Pretty soon, award show hashtags like #OscarsSoWhite won't be a trending topic because diversity and inclusion will be the norm. However, as a Black woman myself, I know that we have a long way to go. Although this year's Emmy nominations were a big win for Black women and women in general, some issues remain unaddressed (and inclusion for all is one of them).
The only other women of color that were nominated in acting categories included Killing Eve's Sandra Oh, Top Chef's Padma Lakshmi, and Razor Tongue's Rain Valdez. Where is the recognition for shows like Never Have I Ever or One Day at a Time? It's also extremely important to mention that the trans women of Pose were left out of this year's nominations despite the superb acting on the show. All of these women deserve recognition for their talents as well.
This is only the beginning of a much-needed change in the Hollywood industry and there is much more work to be done. But brava to the Black women who are getting their shine this year! It was long overdue. I can't wait to see award shows like the Emmys only progress even further.