There Is No Set Date For BTS's Comeback
HYBE Label Chairman Says He "[Hopes]" BTS Will Reunite in 2025 — but the Date's Not Guaranteed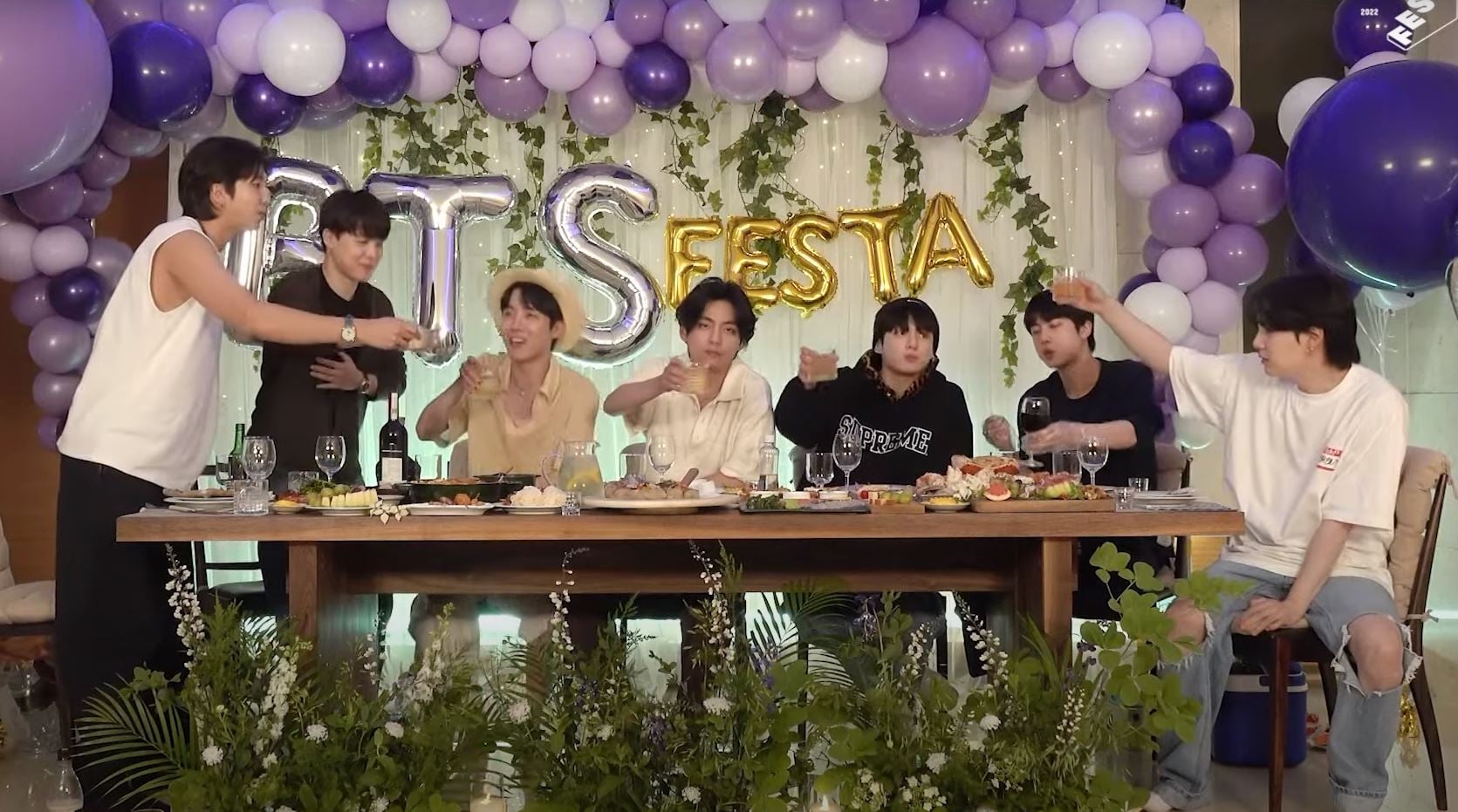 A BTS comeback is still very much in the cards. Still, fans hoping for clarity on when that might occur will have to wait longer, as a rep for the group has confirmed that there's no set date for their reunion. During a Q&A on March 15, HYBE label chairman Bang Si-hyuk revealed that there's no clear date for BTS's comeback at the moment, per Rolling Stone.
BTS first announced their ongoing hiatus in June 2022, four days after they released their anthology album "Proof." On June 14, 2022, they released their final Festa content, a video of the group gathering for dinner and drinks to celebrate their ninth anniversary, and while BTS had released countless Festa dinner videos over the years, the mood felt quite different from their previous ones, because RM, Jin, Suga, J-Hope, Jimin, V, and Jungkook were preparing to make a major announcement they knew would send shockwaves through the fandom.
Many fans had sensed that BTS's "Proof" era comeback differed from their previous, supersized ones. "Proof" is an anthology album that focuses mainly on highlighting their biggest, most impactful hits from their expansive discography that spans nine years. They only released three new songs: lead single "Yet to Come," "Run BTS," and "For Youth." BTS opened up about their decision to have a scaled-back comeback during their Festa dinner, explaining it was because they were slightly burned out and wanted to focus on finding themselves as individual artists for a while.
When Are BTS Going to Get Back Together?
Since the announcement, many fans have held on to hopes that the band would come back together at some point. In October 2022, per Billboard, HYBE's Bighit Music said all of the group's members had to complete their military service and added that the group would likely reconvene in 2025.
However, during the March 15 press conference, Si-hyuk clarified that there isn't a set date for their reunion yet and also asked that fans respect the band members' privacy regarding their military service and careers. "The enlistment schedules (of each member) are private information, so I cannot speak about it here. But we will disclose the dates in order transparently once their schedules are confirmed," he said, adding that "we said we 'hope' the members can resume in 2025, not 'will,'" and that "BTS and the firm will both work for it, but it doesn't mean we can target then." He also said that the status of the band's contract renewal is still uncertain. "We still have time left (until the contract ends)," he said. "We'll discuss (with the members) within the time, and I believe it will be right for us to speak about it after the discussion ends."
Why Did BTS Go on Hiatus?
"I realized the group has definitely changed. We have to accept that we've changed," RM explained during the dinner as the other members echoed his thoughts. "Whenever I write lyrics and songs, it's really important what kind of story and message I want to give out, but it was like that was gone now. I don't know what kind of story I should tell now. I've always thought that BTS was different from other groups, but the problem with K-pop and the whole idol system is that they don't give you time to mature. You have to keep producing music and keep doing something. After I get up in the morning and get makeup done, there's no time left for growth. And it's not just about music and work. I've changed as a human over the past 10 years, so I needed to think and have some alone time, and then those thoughts can mature into something uniquely mine. I could balance this with work before. But after 10 years of living as BTS and working all our schedules, I can't physically mature anymore."
BTS took their promotions back to their roots for "Proof," appearing on three Korean music shows to perform "Yet to Come" and "For Youth," both mid-tempo songs, which notably doesn't BTS's trademark high-octane choreography. BTS also made it clear they fully intend to come back together as a group after exploring solo activities, and that's when fans can expect choreography for fan-favorite up-tempo "Proof" track "Run BTS."
"Honestly, many people will be expecting a performance for 'Run BTS' [on the music shows]," RM explained. "The excuse I'd like to make is I don't think we should perform with this kind of attitude . . . I'm glad that we got to do music shows. We're so sorry we can't do performances like 'Mic Drop' or 'Fake Love' that people want, but we'll show you proper performances for songs like 'Run BTS' when we're all together again."
What Are BTS's Solo Plans While They're on Hiatus?
All the members of BTS have been active since announcing their hiatus. J-Hope released an album called "Jack in the Box" in July 2022 and headlined Lollapalooza that same month. V has been pursuing modeling and acting, starring in "In the Soop: Friendcation" with Peakboy, Park Seo-joon, Choi Woo-shik, and Park Hyung-sik in 2022, and he also appears in Prime Video's cooking-travel series "Jinny's Kitchen," which premiered in February 2023. Jungkook released a single called "Dreamers" ahead of the 2022 FIFA World Cup in Qatar, and headlined the December 2022 event. Jimin is releasing his debut album, "Face," on March 24, 2023. SUGA has been working as a brand ambassador for Valentino and will embark on a solo tour in April 2022. Jin released his first solo single, "The Astronaut," in October 2022, and RM released his debut solo album, "Indigo," in December 2022.
When they announced their hiatus, the band also revealed that all the members would be releasing solo albums (not mixtapes, RM clarified) in turn, and had already chosen the release dates. They also said that their VLive variety show "Run BTS" would continue in some capacity, and released a two-part special in August 2022.
BTS's Final Messages to Fans Before Their Group Hiatus
At the end of that last dinner in June 2022, after confirming they'd be getting friendship tattoos to signify their ongoing connection as a group, the members tearfully assured fans that even though they wouldn't be promoting as a group for the foreseeable future — as their new lead single "Yet to Come" says — the best for BTS is still yet to come. They're confident that this time they're dedicating to their individual artistry will make them an even better group when they reunite. Watch the Festa dinner in its entirety, and then read their final messages to fans from the dinner below.
Suga's 2022 Festa Dinner Ending Message to Fans
"Being in this line of work I was happy most of the time but I've had a lot of painful moments too. I just wish the members don't experience that same pain in their solo work. Of course, not every moment of every promotion can be fun. That would be true for anyone living in this world. If we think about why we started this, why we chose to do this, it's because it's what I wanted and for me to become happy. I don't know when the end is or when we'll die, but I just want all seven of us to be very happy until then. I'm trying to pursue my own happiness these days. Whether that's playing games, working on music, or just resting, I just love that we get to do those things freely now. We should live doing what we want to. We'll all die anyway when we become 100 years old, and we won't be working as BTS until we're 100. I don't think that's possible... I just want us to be happy doing what we do until then. I want us to have fun."
Jin's 2022 Festa Dinner Ending Message to Fans
"I wanted to become an actor at first. The reason I wanted to become an actor is because I would learn and experience lots of different things depending on the roles I get. That's the reason I wanted to be an actor, but I became an idol instead and experienced and learned even more than I could've ever imagined. Now that I've had all those different experiences, I don't have any regrets about it. I don't think I have any regrets about not pursuing that. Life is long so I might or I might not [act]. I don't feel like I would right now. Anyway, I got to have a lot of different experiences as an idol. I enjoyed it so much, and I'll enjoy it so much more going forward. I've got to meet such a great team I hope we get to experience many more fun things. And thanks to our fans cheering for us Thanks to ARMY we got to have these experiences, so I wanted to thank them. Thank you."
Jungkook's 2022 Festa Dinner Ending Message to Fans
"I realized again today that everyone has a timeline that's right for them. ARMY will have their own motivations and time as well. This timing should've come to us earlier, but I guess we held it off. It should've come way earlier. I don't know when but there should've been a time that we talked about this. And I think today's the day... How should I put this? You were with us for almost... let's say 10 years. You were with us for ten years. It's not that we want you to understand but, but it'd be nice if you could understand us. We're each going to take some time to have fun and experience lots of things. We promise we will return someday even more mature than we are now. So I just hope that you could give us your blessing. That's what I hope for I'll do my best."
V's 2022 Festa Dinner Ending Message to Fans
"For me, I honestly have so many things I want to do. I have a lot of things I'd like to do. I hope there comes a chance to show my music to the world. And not just music. I've wanted to show the things that are inside me for a long time now. At some point, having these thoughts started to feel wrong. I became cautious in even mentioning the things I've wanted to try, and it was hard to even say that I'm going to try it. Like Jungkook said, when the opportunity comes, I want to show you the me that's different from the V that you've known while I have the chance. So I won't be just resting or not doing anything. I'll be trying to become someone that has a lot to show you, so please give us your support. Please think of it as a new us."
J-Hope's 2022 Festa Dinner Ending Message to Fans
"We've been together for the past nine years and, now going on our 10th year, I want to thank the members, and I want to thank our fans that have always been with us. I've talked a lot about this with the members, but I think we should spend some time apart to learn how to be one again. I think that timing is really important right now. So I hope you don't see this as a negative thing and see that it's a healthy plan. It's not that we're disbanding We're just living apart for a while. I think BTS could become a stronger group that way. This is a very important time for us and for BTS's second chapter. I think this is the best time and step, and it's something we all need. So I just hope since ARMY has been with us for 9-10 years that you could understand. That's all I just hope that all our members stay healthy while they spend time on their own I hope we all live. I just wanted to say that I hope you could understand us."
Jimin's 2022 Festa Dinner Ending Message to Fans
"For me, I just wanted to say this. Whenever we say 'Our ARMY,' what does that mean to you? I always wondered if we could ask our fans how they would answer that question. Because for us, just saying the word 'fans' makes us really happy and I don't think the meaning of that word should change. I'm not asking for your understanding. When the members call our fans as fans, as ARMY, I hope the meaning behind that word doesn't change when you hear it. All this time, when we've had conflicts, fought, and talked, our fans were in the heart of it all. So, my hope is that you'd take that meaning for what it is. I don't say this to try to make you understand. We can't separate our fans from us. We wouldn't be here without our fans. That's what I thought about a lot recently. How would we dare to dream that? It's all thanks to our fans. So how would we talk about us without them? We've talked about this a lot together, but we can't tell you everything directly, and that's very sad and difficult at times. But if you'd take our words as they are, that would be great."
RM's 2022 Festa Dinner Ending Message to Fans
"I saw 'Doctor Strange' not long ago. There's this concept of the multiverse. I still think in some multiverse there could be a Kim Namjoon that's a normal office worker and doesn't make music at all. But in this universe, luckily, I wanted to do music and, luckily, I got in this company and met Bang Sihyuk PD, met Big Hit, and I met these guys that are even more talented than I. We're better known as BTS now, but to me, we're Bangtan. I got to meet the Bangtan members and make music together, make a speech at the UN. We would have already been to the White House by the time this is out. We got to go to the White House. It's not that I'm special that I got to do all these things. I still think about this a lot. I debuted as a singer and happened to take on a responsibility in society, and even the world in a way. We might not even be qualified for all those things. We're not that special or smart, but the seven of us went towards a united goal with all we've got. And when people think of BTS or Bangtan, they always mention ARMY. You are actually the essence of what we are. That's why we can't separate you from us. And when I said that recent promotions have become difficult for us, I felt so guilty because I'm scared of you being disappointed in us. When I say I want to take a break, it feels like I'm doing something bad. All the members and I were just lucky. We just happened to start out from a small place in Nonhyeon-dong and somehow made our way to the White House. Everything I want to say is in 'Yet To Come.' This version of the universe is the best version I can possibly think of. The thing I want to do and the thing I wish continues is that we'll be together and be sincere when we perform on stage, and when we gather and talk like this that we could talk and be happy without thinking about the rules of the world. That's all I want. I want BTS to go on for a long time. We have to go through this to do that. I want it to last long, and for BTS to last long, I think I have to retain who I am. Because I'm not BTS I'm just a part of BTS. So we couldn't fulfill all of your expectations. I have so many things I want to say, but I can't be open about all of them. I always feel sorry about that. However, we're always sincere. We could make mistakes because we're not perfect. We make lots of mistakes, and I know that I'm not perfect either. Maybe I was lucky enough to speak at the UN and meet President Biden, but what I know for sure is that we're BTS and we made it here thanks to you. We never know how long we'll be together, but I hope we do last long. And even if we can't perform as well as we did in the past, I always want to be RM of BTS. So I hope you recognize our sincerity. Right now, we might be stopping for a break and being lazy, but that's all for the future ahead of us."